Can You Work Remotely From Another Country?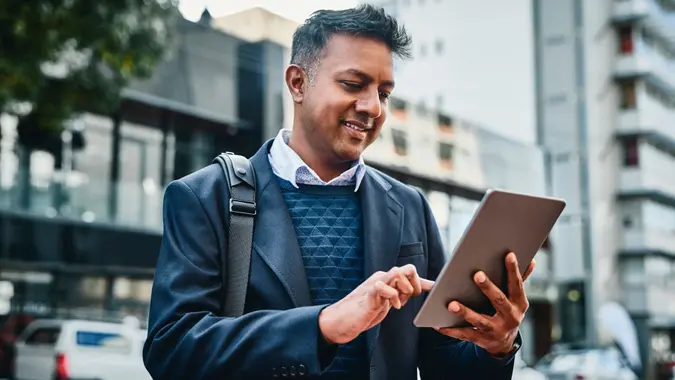 Digital nomads move at will from place to place, enjoying their travels while connecting digitally in their work. Due to the nature of this work lifestyle, there's no set pace or itinerary because it's totally up to you.
Also See: Pros and Cons of Living in a State With No Income Tax
With a Recession Looming: Make These 3 Retirement Moves To Stay on Track
You can choose to travel from country to country while alternating work with vacation time or relocate to a single country outside the U.S. and only travel there.
Even if you've never heard of digital nomads, there are more people who choose this path than you might think. In 2019, there were about 7.3 million American digital nomads. However, after the dawn of COVID-19 in 2020, that number increased almost 50% to 10.9 million.
According to the third edition of McKinsey's American Opportunity Survey, 35% of Americans have the opportunity to work remotely five days per week, which equals a standard workweek. So what's to stop any worker who has such an arrangement from embracing the digital nomad lifestyle? 
Make Your Money Work Better for You
To find out more, GOBankingRates interviewed people who have actually lived the digital nomad lifestyle. Read on to find out what they said about working remotely from another country. 
Also see the 10 safest countries for digital nomads.
Obstacles of Working for a US Company in Another Country
"The first thing to take notice of are the company rules for/against this set-up," said digital nomad Pamela Medina, owner of Happy Living Punta Cana who has lived abroad and worked remotely from the Dominican Republic as well as Madrid, Spain.
Take Our Poll: Do You Have a Second Job or Backup Plan in Case You Are Laid Off?
"I was able to work in Spain under the radar and without my employer really knowing," she said. "I was only in Spain for 2 1/2 months; but, if you are looking for a permanent location, then I recommend you ensure your company is OK with it. … Many EU countries have tax laws that companies need to ensure they follow in order to allow employees to live there. These laws require that employers pay a significant amount of taxes, and they could get into trouble if they do not follow these rules and allow employees to work out of certain countries without paying up."
Make Your Money Work Better for You
Kelli Lovett, owner of The Nomad Reports, has been remote since 2018. Here are her thoughts on obstacles to moving and working abroad. 
"Employers have obligations to regulatory authorities depending on where their employees are located," Lovett said. "If the company you are working for does not have an entity set up in your destination of choice, then moving there — if even only for a short time — could create difficult regulatory requirements for your employer. If you are employed, you will need to work closely with HR to navigate the nuances of visas and tax requirements abroad.
"The quickest way to make the jump would be to partner with one of the remote work companies, such as Remote, which acts as an intermediary allowing your employer to issue employment contracts in countries where they do not have physical or tax presence."
How Long Could It Take To Move From the US and Start Working Remotely?
"For me," Medina said, "it was quite easy because I found a short-term co-living space. … They had everything set up, and all I had to do was arrive with my luggage and get settled. I had my job ready before I left abroad, so I was not in another country while trying to look for work. It was really quite easy as I was only there short term — for 2 1/2 months in Spain and one month in Punta Cana. I currently go back and forth from Miami to Punta Cana."
Make Your Money Work Better for You
But Medina's experience won't be the case for everyone. 
Samantha North has worked remotely for over 10 years. The founder of Digital Émigré said she has helped hundreds of remote workers and digital nomads — many from the U.S. — to relocate and gain residency in Europe.
North said the length of time it will take depends on the following factors:
How long it takes to get approved for a visa if you need one
Length of time needed to find suitable accommodation in your new country; in some cases, you may need to have this prearranged before applying for the visa
How long it will take to arrange shipping of your possessions from the U.S. to your new country (e.g., in Europe there are usually customs issues to overcome, which can cause delays).
"As a ballpark figure," North said, "I'd recommend starting to plan your move at least six months before you intend to arrive in country."
What Are Some Advantages of Living Abroad and Working Remotely?
"Living in a lower cost-of-living city allowed me the flexibility to save a lot more money and live less anxious about money troubles," Medina said. "Living in a city that was so well connected allowed me to explore neighboring towns that were easily accessible by train/car. Being in a beach town allowed me to be able to do water-related activities on a consistent basis rather than only when I was on vacation. I was able to learn Spanish better by being in countries that are fully Spanish-speaking."
Medina said another advantage was that she had the ability to go to a co-working space to meet people with a similar mentality who were also living the digital nomad life.
"I still have friends from these experiences and we meet up all around the world," she said. "Having access to a co-working space is key!"
What Are Some Disadvantages of Living Abroad and Working Remotely?
Medina shared the following disadvantages from her experiences. 
"There is a sense of loneliness if you are used to being in a work environment and office setting," she said. "If there is a time zone difference, there is an adjustment to working different hours. I was working EST hours but living in CET. This meant I started work later and ended work later. This was a huge adjustment for me and didn't allow me to attend any happy hours or evening events with friends."
Medina also said making new friends can be challenging. "It really requires additional effort to meet and get to know new people in a city you are not from." 
More From GOBankingRates
Make Your Money Work Better for You