ChatGPT and AI in the Workplace: 16 Most In-Demand Skills HR Managers Say You'll Soon Need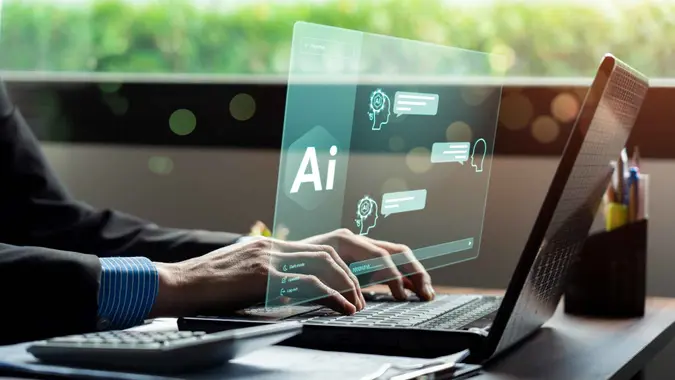 Shutthiphong Chandaeng / Getty Images
The rapid ascent of artificial intelligence is triggering many changes, especially in the workplace. Amid some fears of humans being replaced by AI in the workplace, some HR managers are now taking steps to bring employees up to speed in terms of their skillset.
A new TalentLMS research report on navigating success in an AI-driven future found that 64% of HR managers agree the rise of AI is changing key in-demand skills. Further, 43% think their company will face a skills gap.
In turn, TalentLMS has identified which high-demand AI skills HR managers will be on the lookout for.
"Wanting to examine the high-demand skills without touching upon role-specific skills, we centered our research around four skill clusters: digital, interpersonal, cognitive, and self-management skills," said Τhanos Papangelis, co-founder of TalentLMS and co-founder / CEO of Epignosis.
Digital skills
HR managers ranked using AI tools as the top digital skill. Papangelis explained that this includes navigation of AI-powered systems, familiarity with AI interfaces, and usage of generative AI. Digital literacy and digital enablement were second and third, according to HR managers.
"Digital literacy involves using information through computerized information systems and digital tools. Digital enablement is about choosing the right technology, and creating an environment where digital transformation can flourish," Papangelis said.
Interpersonal skills
The most crucial of these, according to HR managers, is the ability to listen.
Make Your Money Work Better for You
"Organizations can benefit from this skill on multiple fronts, from having exceptional teamwork and smooth workflows to building meaningful workplaces," added Papangelis.
In addition, skills related to personnel management are runners-up, as voted by HR managers, followed by the skill of creating synergies — which is necessary for cohesive and agile teams, Papangelis said.
Cognitive skills
Papangelis noted that the top cognitive skills are problem solving, creativity, originality, imagination and the ability to learn.
Self-management skills
HR managers ranked adaptability and agility at the top of these skills.
"Reflecting a need for finding a way through the overwhelming information overload of the high-tech era, the second-voted skill was decision-making and ownership," said Papangelis, adding that planning and prioritizing are rounding out the list of key self-management skills in the new world of work.
Bridging the gap
To overcome the skills gap caused by AI, 58% of HR managers said they will use upskilling and reskilling initiatives along with investing in AI training tools. In addition, 41% of HR managers will hire new employees to overcome the skills gap caused by AI. A full 85% said they're planning learning and development investment for training employees on AI.
Papangelis said that in light of AI adoption in the workplace, 63% of HR managers find upskilling, as well as reskilling of employees important.
"Investing in online courses is the number one initiative HR managers will take, according to our research with almost half of HR managers planning to allocate a budget for them," he said. Additional initiatives include face-to-face training and live events, as well as workshops, online platforms to train employees — and the hiring of subject matter experts.
Make Your Money Work Better for You
How the change is affecting employees
Considering the rapid changes AI is bringing to the workplace, employees increasingly worry it will take over their jobs and feel pressured to keep up, Papangelis said.
"In fact, 56% of HR managers in our survey said that AI-driven urgency to develop new skills is increasing employee stress, while 58% agreed that AI is increasing job insecurity but is affecting generations disproportionately."
While younger employees will shift to digital skills and roles to adjust, older generations will feel less confident at work compared to their younger coworkers, he added.
"It is important for organizations to recognize the potential stressors and effects AI has on employee well-being and take steps to address them: offer upskilling and reskilling programs, redefine job roles, and offer mental health support where needed."
More From GOBankingRates