Common Mistakes To Avoid When Filing For Unemployment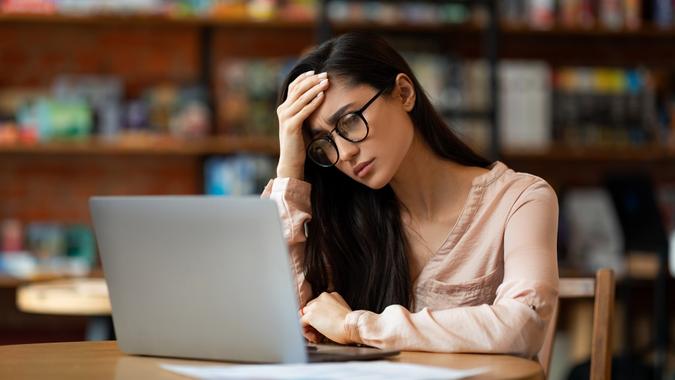 Prostock-Studio / iStock.com
To make sure you receive unemployment benefits, you first have to parse through the many steps on your state's unemployment insurance (UI) website to submit a claim. It's easy to miss something, or fill out a form incorrectly, delaying your much needed money. The best way to ensure you do everything you need to do to receive your benefits is to know the common mistakes people make when filing. Here's what to watch out for when you're applying for unemployment benefits. 
Find Out: 22 Side Gigs That Can Make You Richer Than a Full-Time Job
See: The 26 Highest-Paying Jobs That Let You Work From Home
Not Submitting Every Necessary Document
It's a pain, but take note of every specific document the application requires. For example, to file an unemployment insurance claim in California, you need to provide information on your last employer, like your supervisor's name, wage and reason for leaving. In addition, you'll need to name all the employers you've had in the past 18 months, gross wages earned, hours worked per week, and hourly rate of pay. You also need to submit two forms of identification. If any of these required documents are missing, your claim could get delayed or denied.
Make Your Money Work Better for You
More Tips: 5 Careers To Pursue To Become Rich Faster
Missing or Ignoring the Notice of Determination
Once your submitted claim has been reviewed, you'll receive a Notice of Determination. This is documentation that someone has verified your previous employer is responsible for paying your benefits. However, sometimes the reviewer will find that, based on the information you submitted, your previous employer isn't accountable for your benefits. If you want to appeal that decision, you have to do it by a certain date, which is on the Notice of Determination. If you miss that notice or throw it out, you won't know that you have to appeal, and you'll miss the deadline. 
Good Question: Should You Be Looking To Make a Career Change in 2022?
Missing a Call from Someone at the Unemployment Office
Occasionally, someone from your state's unemployment office will need to speak to you about your claim. This doesn't necessarily mean your claim is being denied. In fact, it most likely means they want to approve it, but have a few questions. These questions might be about a missing document or something you left blank. If you don't answer these calls, the representative can't verify your claim, and it will be denied. 
Make Your Money Work Better for You
Also: How To Start Upgrading Your Career in a Week
Filing in the Wrong State
This might seem obvious, but when you file for unemployment, use the system for the state you worked in. If you've moved out of state since you stopped working, you're not entitled to benefits in your new state–only in the one in which you worked. If you've worked in multiple states for your previous job, you can file for unemployment benefits in any of the states you've worked. However, if you're currently living overseas and are trying to apply for benefits from your last employer in the United States, you're not entitled to unemployment at all.
Check Out: 10 Ways To Build Wealth Fast
Certifying Incorrectly
In most states, you need to prove that you're looking for work each week. This is referred to as certifying for benefits. In California, for example, every two weeks, you need to submit the names, dates and positions of the jobs you applied to, and whether you heard back from the employer. If you fail to provide proof that you've submitted for work each week, or that you're available to work, you can be denied benefits. Pay careful attention when you're filling out the forms. For instance, answering  "were you too sick to work this week?" with "yes" can terminate your benefits. Don't assume every question is a yes or a no just because the first one was. 
Make Your Money Work Better for You
You are also responsible for reporting any earnings you get each week from work you might pick up. If you don't report these and it's found you were earning money while collecting unemployment, your claim can be terminated. If you get a full-time job, you need to indicate it on your claim as soon as you accept, not when you get your first paycheck. 
Related: How To Make the Most Money With Your Free Time, According To Experts
Forgetting Your Password
Most of the time you can just say "forgot password" if you don't know your password and automatically get it sent to you or reset. However, with some state's unemployment websites, you have to call the office and talk to a representative to get your password reset. Since the pandemic, unemployment agencies have been overloaded with calls and work, so getting through to an actual person can take hours. Make sure you keep your password somewhere safe and don't rely on autofill. 
More From GOBankingRates
Make Your Money Work Better for You