Many Companies Heading Back to the Office Sooner Than You Think, Experts Say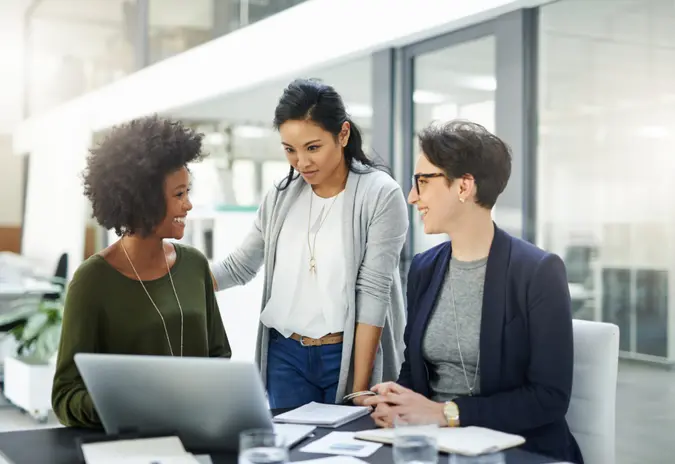 AJ_Watt / Getty Images
With the pandemic now entering its third year and the future still uncertain, the big question about the American workplace remains the same as it was in 2020: Should it still be an actual place at all? For many employers, the answer is a resounding "yes."
See: Accelerated Hiring, More Remote Work and 3 Other Major Changes Experts Predict for the Job Market in 2022
Find: Small Business Owners Say Remote Work Made Them Better Team Leaders
Despite the Great Resignation and nationwide shift to remote work amid the ongoing COVID-19 pandemic, businesses large and small are heading back to the office to rediscover the access to technology and camaraderie that only a physical workspace can provide. Despite all the talk about the legions of remote workers who have vowed to never go back, many of them will soon be doing just that — and more quickly than they might think.
Here's why.
The Fear Factor is Fading
While the Omicron variant was highly contagious, it wasn't nearly as deadly or disruptive as the Delta strain before it. More than 252 million people — three out of four Americans — have received at least one dose of the COVID vaccine and 64% are fully vaccinated.
Most experts expect another strain to follow Omicron and are on record saying it's irresponsible to treat the pandemic as if it's over. However, the first maskless Super Bowl since 2020 did just bring an undeniable sense of normalcy to a nation that's been craving exactly that  — and it's not just sports.
Make Your Money Work Better for You
Related: Gen Z May Never Work in an Office, but at What Cost?
Concerts and other live entertainment are back in full force, restrictions and mandates have been loosened or eliminated all over the country and the world, and a return to the office now feels like a natural extension of this post-pandemic period of limbo.
Finally, many employers didn't want their grand reopenings to coincide with flu season with the pandemic still raging for obvious reasons. According to Legacy Community Health, flu season peaks between December and February, which means the worst has passed — spring is just about here and America will survive the winter.
Businesses went remote in the first place out of well-placed fear. The pandemic isn't over, but there's a lot less to be afraid of in 2022.
There's Precedent for Returning to the Office
No business wanted to be the first to break lockdown protocols and demand that their employees return to on-site work in a potentially unsafe environment. But now, employers who wanted to go back but were afraid of pulling the trigger prematurely can find plenty of cover in the floodgates that have busted wide open.
Make Your Money Work Better for You
Learn: Want To Work From Home? These Are the Hottest Remote Jobs Right Now
Financial giants like Citigroup, JP Morgan Chase and Goldman Sachs have all announced a pending return to life in the office in one capacity or another, as have Netflix, Disney, Microsoft, Starbucks, Adobe and many other big-name companies. With that kind of roster blazing the trail, the path back to the office will be well-worn for those who follow.
"As a company leader, I believe it is possible to go back to the office despite the challenges," said Samantha Moss of Romantific. "But we should note that we may not be able to return to the normal we once knew."
Hybrid Format Makes Transition Back Easier
Many companies stayed remote longer than intended just to avoid the costs and challenges associated with planning a big reopening — especially with the pandemic still making for an uncertain near future. The hybrid model removes that psychological and financial barrier by allowing businesses to test the waters and ease back into office life slowly over time.
"There's no doubt that the hybrid workplace is here to stay," said Daniel Javor, founder and CEO of Step By Step Business. "What we learned during the pandemic is that hybrid and remote work environments are productive and that employees want those environments. Most companies have the tools in place now to facilitate it, so they've already made the investment. And the fact is, employees have the option now to go elsewhere if hybrid and remote options are not available, so if companies want to retain talent, they need to embrace a hybrid future."
Make Your Money Work Better for You
Explore: 22 Side Gigs That Can Make You Richer Than a Full-Time Job
'Back to the Office' Doesn't Mean 'Back to 2019'
It's clear that many employees don't want to return to the old way of doing things, but that doesn't mean office culture is dead. The biggest companies in the world are re-evaluating the very concept of on-site work so when employees do return to their desks, it won't be the way they remember.
"Companies may open regional hubs or provide access to co-working spaces rather than have their workforce at one central office," said Stephen Curry, CEO of CocoSign.
Tips: 5 Careers To Pursue To Become Rich Faster
In fact, it's already happening. According to Business Insider, Google is abandoning the campus format that — as with so many other tech giants — has long embodied its hip, casual and social work culture.
Instead, it's building sprawling networks of satellite hub offices that are scattered across the country instead of being clustered in the Bay Area, and much of Silicon Valley is following suit. Apple, Uber and Amazon have all begun working on plans to build similar hub offices that offer employees greater flexibility to work where they live.
More From GOBankingRates
Make Your Money Work Better for You