Could Your Facebook Profile Be Costing You a Potential Job?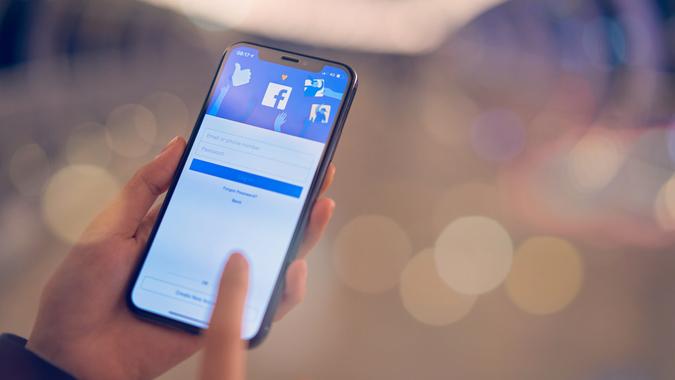 sitthiphong / Shutterstock.com
When you apply for a job, you can assume a recruiter will be looking at your online portfolio and LinkedIn page, but it's likely that they'll also be checking you out on Facebook. A recent LiveCareer survey found that 74% of recruiters and hiring managers checked potential candidates' online presence on the social media platform — even more than LinkedIn, which was checked by 56%.
Check Out: Don't Miss Out on Nominating Your Favorite Small Business To Be Featured on GOBankingRates — Ends May 31
"Facebook still seems to remain the most popular and natural platform when it comes to personal presence," said Weronika Cekala, a career expert at LiveCareer. "It allows recruiters to see one's personality — without Instagram filters and LinkedIn professionalism. Those private aspects are precisely why recruiters and hiring managers keep tabs on applicants' Facebook accounts. It can help them get a more transparent idea of who you are outside of your resume — a closer view of your personality."
Make Your Money Work Better for You
Find Out: Does Your LinkedIn Profile Need a Makeover?
In addition to wanting to get more insight into your personality, recruiters will be looking for red flags — and if they spot them, you likely won't make it to the next phase of the application process.
Types of Red Flags on Your Facebook Profile
According to recruiters and hiring managers, the top red flags they look for on social media profiles are discriminatory comments related to race, gender or religion (66% said this is a red flag), provocative or inappropriate content (57%), content about drinking or using drugs (57%), and bad-mouthing or sharing confidential information about previous employers or fellow employees (51%).
Extreme political views were only considered to be a red flag by 36% of recruiters, and only 31% considered bad language to be a red flag. Although those percentages are low, it's still best to steer clear of this kind of content, as you won't know how the recruiter who is looking at your page feels about these potential red flags.
"Recruiters are looking for red flags that would tell them you'd not be necessarily a person to hold in their offices," Cekala said.
Make Your Money Work Better for You
Prepare Now: The 10 Most Common Job Interview Questions — and How To Answer Them
Consider Cleaning Up Your Facebook Profile Before Applying To Jobs
If you've posted anything recently on your news feed that could potentially be a red flag — or had other people post these types of content on your wall — you should consider deleting the posts when you are actively applying for jobs. But it's not just your wall recruiters will be looking at.
"Apart from the main wall, be sure to polish two sections of your Facebook profile — 'About Me' and photo albums, as recruiters and hiring managers tend to concentrate their efforts on those," Cekala said. "In the 'About Me' section, they will check your spelling and grammar as well as your self-description. A common practice among hiring professionals is taking the way you describe yourself on social media and comparing it with a cover letter and resume description. When it comes to your photo albums, recruiters will be checking not only your photos but also your comments, as it will tell them if you present yourself professionally. To come off in the best pre-interview light, avoid using questionable references."
Read More: Obstacles Different Generations Face in Their Job Search
Use Your Facebook Profile as Another Avenue for Self-Promotion
In addition to scrubbing your profile of red flags, you may also want to add some things to your profile to impress potential recruiters — after all, most of them will be looking at it.
"A resume can tell recruiters your qualifications, but your Facebook account can help them learn more about your personality and decide if you would be a good addition to their company. Use it as your secret weapon to win their favor," Cekala said. "It's always proper to share initiatives or charitable work that interest you — whether they are directly related to work or not. You can also share industry news with your comments to show that you are up to date with business trends."
Make Your Money Work Better for You
Check Out: What It's Like To Job Hunt During a Pandemic
"Personally, I like to post my latest articles on the Facebook wall so my friends can use the advice and speak their thoughts," she continued. "Sharing career achievements on your private social media shows that work is an important part of your life and will definitely leave a good impression on a potential employer."
Should You Make Your Facebook Profile Private?
Having your Facebook profile accessible to recruiters is a double-edged sword. Red flags on your public profile could cost you a potential job, but using it as another way to let your personality and professionalism shine could help you get to the next phase in the application process. So, is it best to make it private just to be on the safe side?
Tips: How To Interview For a Job When You're Wearing a Mask
"On the one hand, making your Facebook profile private may indicate you have something to hide, and this is certainly not an impression you want to leave on a potential employer," Cekala said. "On the other, sometimes the best solution is to leave certain things a secret, especially if you're unsure what the nooks and crannies of your Facebook wall are. If you are unsure of the content on your profile but don't want to remain hidden, let someone monitor your social media accounts prior to application. Friends and family can privately let you know if something you post comes across negatively."
More From GOBankingRates
Last updated: May 4, 2021
Make Your Money Work Better for You