December Job Growth Halts for First Time Since April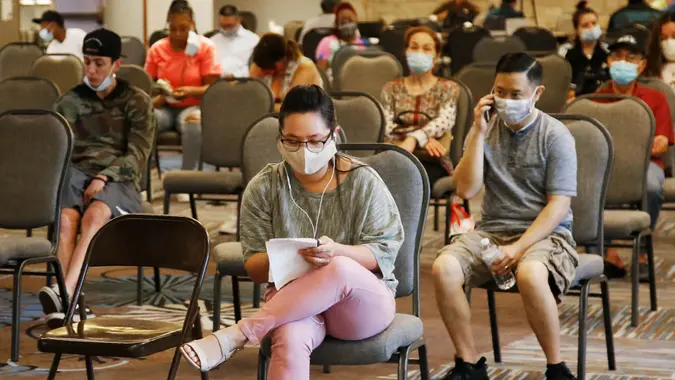 Sue Ogrocki/AP / Shutterstock.com
In December 2020, U.S. job growth turned negative for the first time in eight months, reflecting the increase in COVID-19 cases across the country. Yesterday marked a record number of more than 4000 deaths in the U.S.
See: Pandemic Job Losses Hitting Gen Z the HardestFind: Unemployment Benefits Are Going Up $300 Per Week — But Not Everyone Is Getting Their Money
Total nonfarm payroll employment declined by 140,000 in December, and the unemployment rate was unchanged at 6.7%, the U.S. Bureau of Labor Statistics reported today. "The decline in payroll employment reflects the recent increase in coronavirus (COVID-19) cases and efforts to contain the pandemic," the Labor Department said in a statement.
In December, job losses in leisure and hospitality and in private education were partially offset by gains in professional and business services, retail trade and construction.
Due to numerous lockdowns and restrictions, the leisure and hospitality sector took the brunt of the economic effects of the pandemic once again, with employment declining by 498,000, with three-quarters of the decrease in food services and drinking places.
See: How the Coronavirus Outbreak Is Devastating the Livelihood of Hourly WorkersFind: What 2020 Meant for Women in the Workforce
Employment also fell in the amusements, gambling and recreation industry, as well as in the accommodation industry. Since February 2020, employment in leisure and hospitality is down by 3.9 million, or 23.2%.
Both the 6.7% unemployment rate and the number of unemployed persons, 10.7 million, remained unchanged in December. However, although both measures are much lower than their April highs, they are nearly twice their pre-pandemic levels in February — 3.5% and 5.7 million, respectively.
Make Your Money Work Better for You
Minorities are also still being affected the most by unemployment, with Black unemployment standing at 9.9% and Hispanic unemployment at 9.3%, compared to 6.0% for Whites.
More From GOBankingRates: