Do Creative Jobs Make Money? 5 Careers To Consider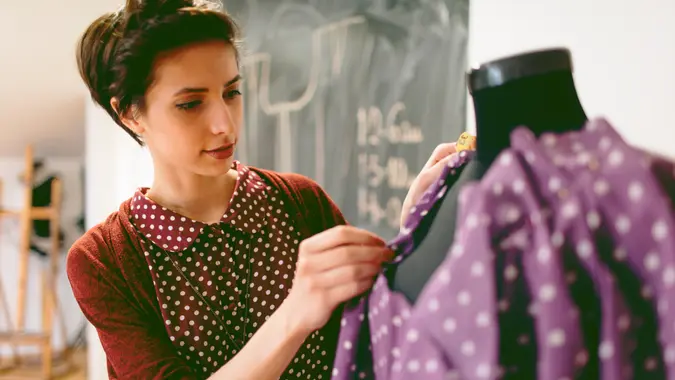 vgajic / Getty Images
Not everyone is cut out for a job that requires constant computer work, analyzing and inputting information, or grinding in a cubicle. Some people crave situations where they can unleash their imagination and find motivation in innovation and self-expression. Creative jobs allow for exactly that, but many people worry that they must sacrifice income potential in favor of a creative profession. However, that's not always the case. There are plenty of creative jobs that also allow you to maximize your earning potential. 
What Makes a Job Creative?
A creative job doesn't have a single definition. Creativity can come in the form of original thinking, artistic skill or the ability to weave the written word for the betterment of a platform or company. 
Creatives can be found working in fields like: 
Graphic design
Advertising and marketing
Industrial design
Film and television industry
Teaching
Music production/composition
Architecture 
These are just a few examples of creative jobs that let you flex your imaginative prowess.
What Kinds of Creative Jobs Make Money?
Not every creative job comes with a large salary. Some are passion projects while others are done by people dedicated enough to stick with the career even though it won't fill their pockets. 
If you are creative and want to invest in your future financial security, here are a few well-paying creative jobs to consider. 
Make Your Money Work Better for You
Fashion Designer
For an entry-level position in fashion design, most employers require a bachelor's degree and approximately five years of experience in a related field. You can gain this experience from job areas like fashion journalism, costume design, fashion merchandising, apparel design or any similar employment where you've had regular encounters with the fashion world. 
As a fashion designer, you are primarily responsible for creating and developing items that can be worn. Fashion designers will sketch out their designs for items like clothing or footwear and then conceptualize their ideas through the production process. 
Technical Writer
Every industry needs knowledgeable people to write materials that everyone else can understand and follow. Technical writers do exactly that. They write how-to guides, instruction manuals and other supporting documentation necessary for effective communication of information.
To be a technical writer, you need a bachelor's degree. It also helps if you have enough experience or knowledge of a subject to make you proficient in disseminating the information to others. Technical writers primarily work in the computer and science industries. 
Special Effects Artist/Animator
If you are drawn to the more visually artistic side of creativity, you might consider going into the special effects and animation field. These professionals bring images to life, creating captivating visuals and stunning effects for media and entertainment platforms. 
While positions like this can still require a bachelor's degree, it is more important to have a strong portfolio of work. Employers highly value evidence of your technical and artistic abilities. You can gain experience doing freelance work or interning at an already-established organization.
Make Your Money Work Better for You
Art Director
This is a creative position that can find you working in print, sales or video media. An art director is responsible for styling the design of a product's packaging, a newspaper's layout or the overall design choices that a movie or television show will make to market itself. 
Advancement to the position of art director requires at least a bachelor's degree. Most art directors begin their careers as graphic designers, illustrators, photographers or in other design-heavy fields, and work their way up to that position.
Entertainment Industry Graphic Designer
Graphic designers can work in a number of different job fields, but not every field brings in the same pay. Those who choose to work in the entertainment industry tend to have the largest salary by far. Studios, television stations and streaming networks always have a need for the specific blend of technical and creative flair that graphic designers bring to the table. 
While most entry-level positions require a bachelor's degree, specialized certifications can also be beneficial. Specific job positions will be looking for specific skills. Learning the most you can about things like interactive design and animation can help you work toward a higher salary range in less time.
Final Thoughts
Creative jobs give you an opportunity to follow your passions, but that doesn't mean you have to be a starving artist. On the contrary, there are a lot of well-paying creative positions that cater to those seeking to maximize their earning potential. Embracing certain creative career paths can allow you to combine your creative passion with financial success.
More From GOBankingRates
Make Your Money Work Better for You
All salary data is from the BLS.