6 Employment Trends That Will Dominate in 2023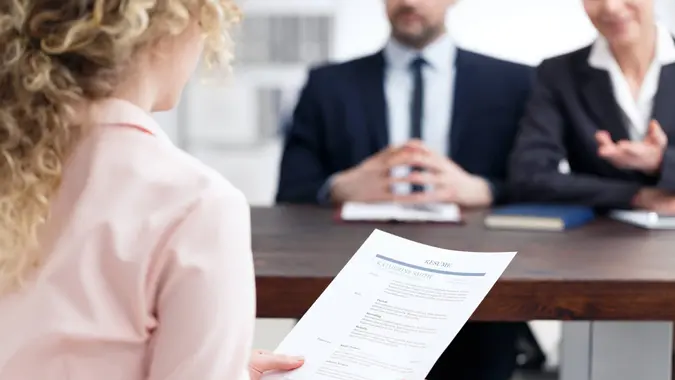 Photographee.eu / Shutterstock.com
It has been a rough end of the year for many workers as big corporations announce massive layoffs and hiring freezes. We could be in for a rocky year ahead as well, as job openings are expected to dip.
Take a Look Back: 2022 Year in Review
Find Out: States Whose Economies Are Failing vs. States Whose Economies Are Thriving
But employment trends will still carry on. In 2022, we saw The Great Resignation, quiet quitting and, toward the end of the year, career cushioning. 
What employment trends will 2023 bring?
Upskilling 
"Organizations have picked up on employee desire for continuous learning and will move to provide opportunities to develop new skills as a prominent retention strategy," said Robert Boersma, VP of operations at Talent.com. "Employers will create environments where taking part in unique learning opportunities is encouraged to allow employees to develop soft and hard skills that will further enable employees to succeed in their roles, benefiting the organization."
Make Your Money Work Better for You
The tight job market in 2022 created challenges for employers looking to attract the finest talent — and pressured both employees and employers to close any skill gaps. 
Boersma said, "Offering the opportunity to job seekers/employees to improve or learn new skills is a solution for employers to remain competitive in the market and/or increase the efficiency of their current team." 
Hybrid and Flexible Work 
"Employees are increasingly more interested in flexible work environments after experiencing the flexibility and independence remote work allowed for during the pandemic," Boersma said. "People do not want to feel micromanaged and prefer to skip long commutes, hence the preference for hybrid work environments.
"This setup will continue to be adapted by workplaces, giving employees the flexibility they desire while also providing teams with the opportunity for in-person face time and collaboration."
Higher Importance Placed on Benefits
"Employees already place a high importance on the benefits included in their compensation packages," Boersma said. "Talent.com recently conducted a study that showed 60% of job seekers found benefits to be an important element when looking for a role.
"We're continuing to see a talent crunch in the employment market — which may be more apparent across specific verticals — so employers will turn to comprehensive and attractive benefit packages to attract and retain top talent. Benefits including access to fertility treatments, financial wellness programs and pet insurance may currently be untraditional, but will become more apparent in the market."
Make Your Money Work Better for You
Pay Transparency 
"We've begun to see the impact of pay transparency in the workplace this year, with New York City and Colorado already enacting laws requiring employers state salary ranges in job descriptions," Boersma said. "California will be the next to put pay transparency into legislation, with a similar law coming into effect on Jan. 1, 2023."
Mental Health and Wellness 
"Employee mental health and wellness will be a priority within workplaces due to upcoming economic uncertainties," Boersma said. "Many employees are concerned about their employment status due to recent coverage around layoffs and looming recession.
"We saw many important conversations about mental health and wellness in and out of the workplace during the pandemic. Although the world has returned to a pre-pandemic state, now is not the time to move backwards on the tremendous progress made, which allowed for employees to be open about the mental health issues they are facing." 
Boersma added that times of economic uncertainty have the power to bring upon an entirely new set of fears that can negatively affect an employee's mental health. 
Make Your Money Work Better for You
He said, "Employers have the responsibility to provide resources that can aid in improving the mental wellbeing of their workforce, which will in turn improve employee performance."
Efforts To Measure Employee Productivity 
"Although flexible and remote work environments are favored by employees, many employers have started to wonder how to ensure their teams are productive while working remotely," Boersma said. "As already discussed, hybrid and flexible work is not going anywhere, so we will begin to see increased efforts to measure employee productivity. Employers will be looking to gain insight into how their teams are spending work hours and how time can be optimized to increase results. It is important to note, however, that moving forward with productivity measuring efforts can be viewed negatively by employees and indicate a lack of trust."
More From GOBankingRates
Make Your Money Work Better for You