Executives Are 3x More Likely To Want To Return To the Office Than Other Employees — Why the Disconnect?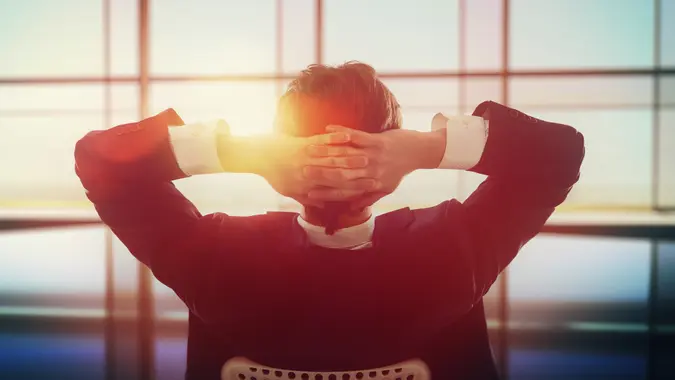 Choreograph / Getty Images/iStockphoto
While many employees are dreading the prospect of a return to the office (if they haven't returned already), many executives are on the opposite end of the spectrum and are eager for the transition back. Slack's Future Forum Pulse Survey found that of those currently working remotely, executives are nearly three times more likely to want to return to the office full time than non-executive employees — nearly half of all executives in this group (44%) want to work from the office every day, compared to just 17% of employees.
Discover: Costco, Amazon and 16 Other Companies That Raised Their Minimum Wage to $15 (or More)
Explore: As 'Inflation Wipes Out Real Gains,' How Much of a Raise Will You Need in 2022 To Keep Up?
So, what's causing this disconnect?
Executives Have Higher Job Satisfaction
One factor driving this disparity in attitudes surrounding a return to the office is differences in overall job satisfaction.
"The differences between the executive and employee experiences are glaring — our data shows that executives' overall job satisfaction is 62% higher than their employees'," said Brian Elliott, executive leader at Future Forum and SVP at Slack. "Alarmingly, this divide is only getting wider. This past quarter, as some companies ordered workers back to the office, executives' satisfaction with their working environment rose 3% while non-executive employees' satisfaction dropped 5%."
Make Your Money Work Better for You
Economy Explained: What You Need To Understand About the Relationship Between Inflation and a Rising Minimum Wage
Tips: 15 Ways To Work Better From Home

Contributing to executives' higher job satisfaction is their better work-life balance — something many employees felt was improved by working remotely. Overall, executives' sense of work-life balance is 78% higher than their employees'.
"One possible explanation is that executives tend to have more resources than the average employee, which means it's easier for them to afford the support and space — like robust child care and a dedicated office at home — that they need to meet both their work and family obligations," Elliott said. "Sense of belonging is also an important indicator of overall job satisfaction, and we found that executives score 52% higher than their employees on this metric. Why? Executives have more power to shape the culture of their teams, and they can draw on deeper professional networks for solidarity and support."
Dream Job Alert: These 10 Companies Let You Work From Home AND Have Unlimited Vacation Time
Check Out: Highest-Paying Work-From-Home Jobs
Another factor contributing to job satisfaction is flexibility, something that tends to go hand-in-hand with remote work for the average employee. However, executives don't need to be officially working from home full time to enjoy the flexibility they desire.
"Executives have far more flexibility in their work than their employees (51% higher scores)," Elliott said. "Even before the pandemic, executives had more leeway to work from home and dictate meeting times to accommodate their personal and professional schedules. Executives' greater autonomy and control over their working lives is a key differentiator that sets their experience apart and above their employees."
Make Your Money Work Better for You
Executives Tend To Have a Better In-Office Setup
Another reason for the disparity is that "returning to the office" means very different things for an executive going back to an office and an employee returning to a cube or an open office plan.
Read More: The Best and Worst Things About Working From Home
"When we talk with executives in our small-group dialogues, they point out that their experience of going back to the office is also often far different," Elliott said. "Executives have offices with doors and executive suites with more space. The average knowledge worker is at a desk in an open floor plan, and over the past decade, the space per employee shrank by 40%. They're living different experiences, both at home and in the office."
Being Office-Centric Can Lead To Employee Dissatisfaction
The survey found that many executives are not actually incorporating employee feedback into their return-to-office planning — 66% of executives report that post-pandemic planning conversations are happening mostly at the executive level, with little to no direct input from employees or consideration of their preferences. This disconnect could end up costing them in the midst of the Great Resignation.
Find Out: 5 Unexpected Work-From-Home Jobs You Can Do Right Now
"A record number of Americans are quitting their jobs, and our data shows that on a global basis, more than half of all knowledge workers (57%) are open to looking for a new job in the next year," Elliott said. "Amid the intensifying battle for talent, it's important for executives to recognize that flexibility is a key priority for employees — in fact, when we look at the drivers of overall job satisfaction, flexibility ranks second only to compensation. Employees who aren't satisfied with their current level of flexibility are significantly more likely to be open to switching jobs (71%)."
Make Your Money Work Better for You
More: Companies That Let You Work From Anywhere
"All this means that if executives with office-centric worldviews aren't really listening to employees — either because they're convinced that their way is the right way based on their own personal experiences decades ago, or because they distrust employees' reasons for wanting flexibility — they're likely to land on policies that will disappoint current employees and disenchant prospective applicants," he continued.
Executives Will Need To Compromise To Retain Their Workforce
"Leaders have realized that there are tremendous opportunities to move forward, based on everything we've learned, instead of falling back to old paradigms of 9-to-5, five days a week in the office, in order to attract, retain and engage talented people. There is no going back to the way work used to be," Elliott said.
The survey found that 76% of employees want flexibility in where they work, and 93% want flexibility in when they work.
Discover: 72% of Remote Workers Admit To Napping on the Job, Survey Finds
"With that said, we urgently need to evolve beyond an all-office or all-remote mentality," Elliott said. "The future of work will be hybrid, with employees empowered to work where and when works best for them."
Elliott recommends that executives implement a "digital-first" work environment.
Find Out: $30,000 A Year Is How Much An Hour?
"Invest just as much time, money and energy in your digital infrastructure as you did in physical real estate," he said. "Begin thinking of these channels and platforms as your digital HQ, where all of your employees can collaborate, find information and get work done. 'Digital-first' doesn't mean 'never in person.' The office has a role to play, but now, it's just another tool in a company's toolkit. Going forward, the primary purpose of the physical office will be as a venue for occasional in-person team-building, which helps to build the social ties and psychological safety that's needed for effective communication, creativity and innovation in the long run. Executives who are eager to make the office more appealing to employees should optimize their spaces for this purpose, instead of focused solo work. Don't focus on in-office perks as lures when the biggest benefit your employees want is flexibility."
More From GOBankingRates
Make Your Money Work Better for You