2 Factors Are Stopping Women From Climbing the Career Ladder, but You Can Overcome Them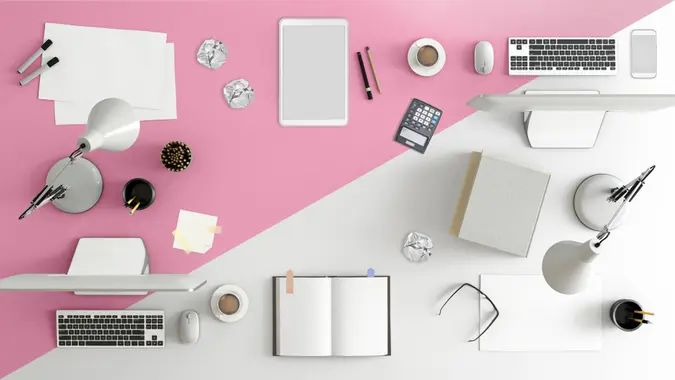 ExperienceInteriors / iStock.com
The number of women in leadership positions in the American workforce has increased by just 1% in the past six years, from 36% in 2016 to 37% in 2022, a recent LinkedIn analysis found. The analysis also found that women are less likely to make the climb from entry-level roles to leadership positions, even in fields where they hold the majority of positions, like hospitality and administrative services.
So what's holding women back? The analysis posits that two major factors are a comparative lack of strong professional networks and a lack of mentor relationships. Just 14% of women said they have a strong professional network, compared to 20% of men. Additionally, 27% of women said they have a workplace mentor, compared to 42% of men.
In this "Financially Savvy Female" column, we're chatting with Blair Heitmann, a LinkedIn career expert, about why networks and mentors are powerful tools for climbing the career ladder, and how women can harness these tools to help them land leadership roles.
Make Your Money Work Better for You
What are some tips for women to build a professional network?
Connect with people you know. Start by reaching out to your nearest and dearest — friends, family, professors and people outside of your current field of work who you know personally. These are the people who likely know you best and can speak to your work ethic and who you are as an individual. You'll probably realize you have a wider network than you think, even if you're just out of school or in your first job. Coaches, classmates and former professors can make strong connections.
You can also connect with people from additional communities, within your company, industry, etc., who share your professional interests, as you'll have common ground to start a conversation.
Ask for warm introductions. A great way to create new connections on LinkedIn is to ask someone in your network to make an introduction to someone in their network. Once you've been introduced by a mutual connection, take the time to craft a personal note — be specific and start by letting the person know what you have in common. You can look through their LinkedIn profile to see what, if any, experiences or interests you share.
Make Your Money Work Better for You
Stay in touch with your connections. It's a small world. You never know when you may cross paths with a former boss or colleague, so it's important to keep your network warm, whether it's commenting on a post, sharing an article or sending a message just to check in.
Why is having a strong network such an important factor for women's career growth?
While your skills and what you know are important for growing in your career, a lot of your career advancement also hinges on who you know.
Since so much of hiring today happens through network connections, having a strong professional network can go a really long way in getting your name to the top of the list for a new opportunity. For example, our data shows that LinkedIn members are four times more likely to get a job at a company where they already have a connection.
What are some tips for women to find a professional mentor?
Start by taking a look at the successful women at your current company, and don't be afraid to reach out to them to ask if they'll talk to you about their own career path. It's a great way to determine if they could be a good mentor for you.
Make Your Money Work Better for You
If you're looking for a job, consider looking within companies that offer mentorship programs. Several of this year's LinkedIn 2023 Top Companies offer robust mentoring programs. A few examples include:
Amazon offers a growing Mentoring Program, which has grown from 18,800 participants in year one to 159,000 employees in 2023 YTD, with 94+ programs available. Plus, the company's Returnship program offers a clear path to return to work, with candidates hired for a 16-week period with coaching and mentoring, with offers often extended for full-time roles.
Oracle offers a global mentoring program that matches mentees and mentors, and the company also offers the Oracle Latino Alliance Mentorship Program that focuses on growing the next generation of Latinx leaders.
EY Mentor Connect connects potential mentors and mentees, and the Reverse Mentoring program flips the script with junior-level team members mentoring senior colleagues.
If you don't have mentorship opportunities at your current company, there are lots of opportunities to connect with others on LinkedIn or in networking groups.
How can having a mentor help women advance in their careers?
Having a mentor can be a great asset for women who want to advance in their careers, as they can offer invaluable advice and insights on things like knowing what salary to ask for, how to negotiate, etc.
Our survey research showed us that while 40% of men say they've leveraged a mentor relationship to advance their careers, just 28% of women say the same. Some of this could be because a lack of women in leadership means that fewer women have access to female mentors, which is really important.
Make Your Money Work Better for You
Women benefit from being able to see and hear from other women about their journeys, their challenges and their secrets to success — gatekeeping is a thing of the past. As seen with the rise in conversation around salary transparency, professionals are really pushing for a more honest and equitable workforce. Women are leaning on other women to share personal experiences and exchange knowledge, and supporting others helps foster a better workforce.
More From GOBankingRates