Ask Yourself These Outrageous Questions If You Want Your Dream Job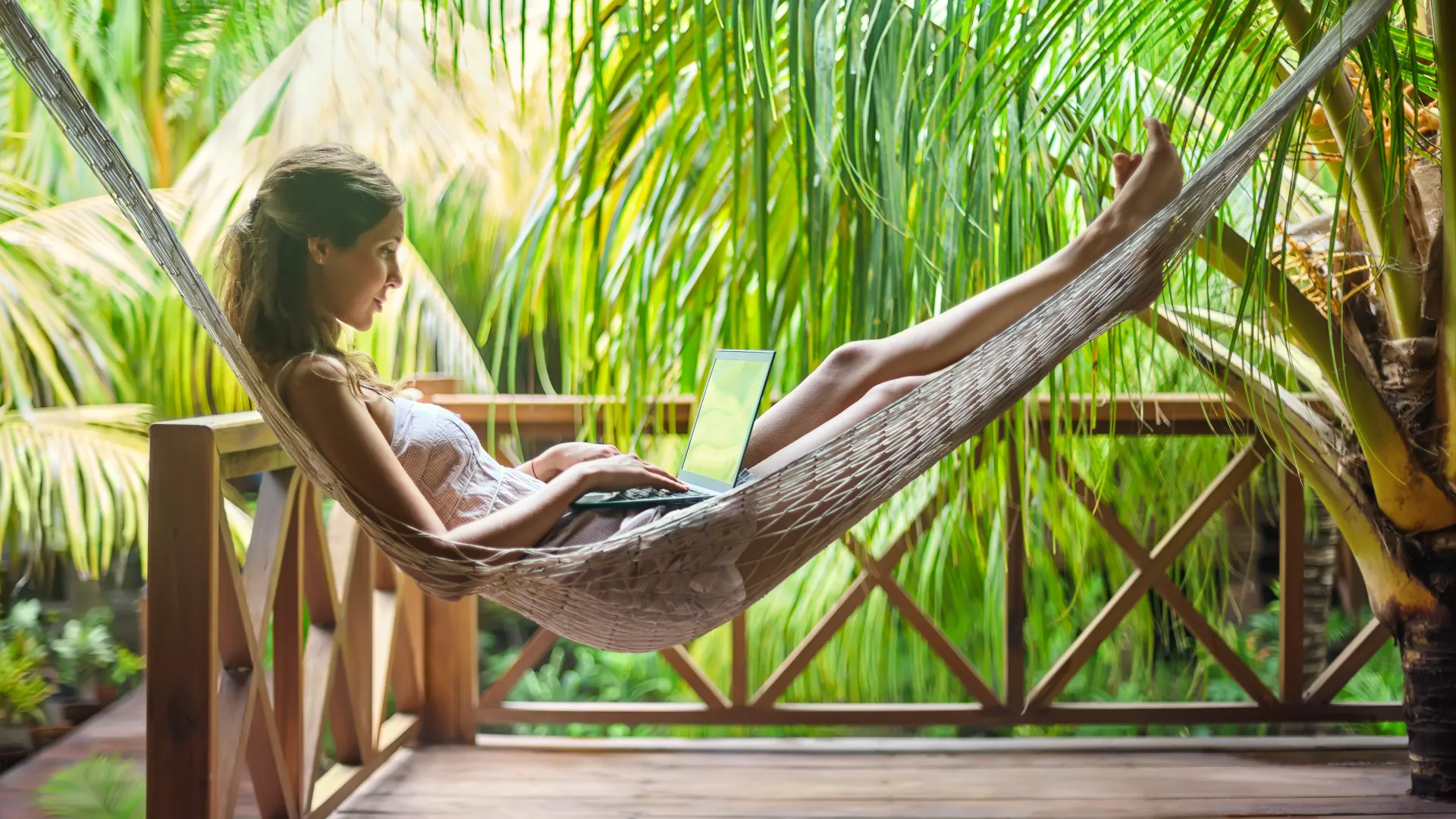 There are certain moments in your life when you feel confident in your career trajectory. There are other moments when you slam down your third Red Bull, stare at your own bloodshot eyes in the mirror and yell, "What job should I have?!" hoping for an answer. Don't worry; it's normal.
Finding a dream job — heck, even finding one you just don't hate — is no easy task. It often requires a lot of time and soul-searching, and sometimes that means asking yourself some pretty ridiculous, even embarrassing, questions. If you think you're ready, take this unorthodox career personality test to find and land your dream job.
The Passion Factor
Question: What would I do for free?
First of all, you should never work for free. Just don't. But if you are wondering how to find your dream job, you can start by asking yourself what you would be willing to do for free and work from there. Maybe you are really into calligraphy and would love making squiggly name designs all day. This could be a sign that you should open an Etsy store or perhaps pursue graphic design.
The Repeatability Factor
Question: What job won't kill my soul when I have to talk about it with my relatives?
Grandma just doesn't get it, does she? When you say you're a Lean Six Sigma master black belt, she pictures you flipping into work each day in a ninja outfit — but everyone knows that you save that outfit strictly for the weekends.
Chances are, whenever you make a trip home, you're going to have to explain what you do to a bunch of relatives about a million times. This can be difficult if you really don't like your job and find it exasperating to get into. Find something that you can take pride in and feel eager to explain to those who are interested.
Make Your Money Work Better for You
The Marketability Factor
Question: Do I have an idea — and will people even care?
If you think your dream job could lie in starting a business or inventing something, this question is a must. This is especially true if you have an offbeat idea. It's great that you want to be an ice cream taster or professional hamster cuddler, but first, make sure people will buy what you're selling.
The Pay Cut Factor
Question: Am I willing to tank my salary?
Though it's great when you can make a lateral move into a new career or industry, sometimes, pursuing a dream requires taking a couple steps back. Make a list of any jobs you're interested in and do research via sites like Glassdoor to figure out the industry average for them. If you find that you'll, say, cut your salary in half for one of them, you need to consider if you're willing to do that or if you should just cross it off your list.
The Perk Factor
Question: Do I want a catered breakfast or to keep my teeth from falling out?
The answer might be obvious here, but the truth is employee benefits vary greatly from job to job, company to company. This means you might have a job that offers a waffle bar to employees complete with seven types of syrup but no dental plan, or vice versa. It's important to figure out what you value most.
If you don't really care about benefits, you obviously have more opportunities. If you have something specific in mind, like zipping around on a company-provided scooter, it might narrow down your search.
The Appearances Factor
Question: Do I care what other people think?
When asking yourself the "What job is right for me?" question, realize that the answer doesn't have to be something over-the-top that will impress people. Sure, it would be cool to say that you're a tightrope walker, but if you're happy being a plumber or exterminator, you shouldn't care what people think. Besides, a lot of "working-class" jobs pay surprising well.
Make Your Money Work Better for You
The Comfort Factor
Question: Do I want to wear pants?
Whether it is pants, high heels, a tie or a uniform, figure out what you are and are not OK wearing to work. If you want to take a cue from Winnie the Pooh and rock just a T-shirt, you might consider remote work. Not only will you be super comfortable, but you'll avoid a sexual harassment suit.
The Childhood Factor
Question: What job would make young me proud of old me?
Kids' dream jobs tend to be fun, ambitious things like baseball players, ballerinas and astronauts. And, though few children actually grow up to become those things, those initial aspirations can be used to inform job searches in adulthood. For instance, maybe you wanted to be a pilot when you were little because you liked the idea of flying around on a plane to different places. As an adult, you might consider jobs that will pay you to travel.
The Family Factor
Question: Would I screw over my family to get my dream job?
The most successful entrepreneurs take big risks to get big rewards. Walt Disney sold his house in Palm Springs and spent all his money — much to the chagrin of his wife — to get Disneyland off the ground. Though his endeavor has obviously paid off tenfold, it was a pretty unilateral, jerk move.
If you are considering a new job, look at the big picture. Will it hurt your family in any way? Will your kids not be able to do activities because you're trying something new? Is that worth it? Will it be a short- or long-term hardship? Having a family discussion might also help.
Make Your Money Work Better for You
The Rage Factor
Question: What job won't make me want to punch someone in the mouth?
Some jobs sound fun and exciting until you consider the big picture. Sure, the guys on "Deadliest Catch" make bank from their crab hauls, but they also chain smoke and drink themselves into oblivion because they have to work 36-hour shifts and be shoved into a prison-like room with a bunch of other dudes.
Consider if you can handle all the requirements of a job, including any stress. You don't want to end up rage-quitting on your first day.
The Legality Factor
Question: What job won't land me in jail?
As much as you might love making convincing antiquity forgeries for your old pal Jimmy "Shark Teeth" Simms, you shouldn't make a career out of it. That's really more of a side hustle.
Seriously though, any job ideas you have that aren't on the up-and-up really shouldn't be considered.
The Peak Experience Factor
Question: Do I want a job that is better than sex?
You might think that the answer here should be a resounding yes — as in, "Yes, of course, I'd rather be data processing than be intimate with my significant other," said no one ever — but the answer should definitely be a no. Whether you compare it to sex, a killer chocolate sundae or a Swedish massage, your dream job probably shouldn't be your peak human experience or the sole place you find fulfillment.
Derek Thompson of The Atlantic said it best when he wrote, " … a culture that funnels its dreams of self-actualization into salaried jobs is setting itself up for collective anxiety, mass disappointment and inevitable burnout."
In short, loving your job is great — that's the goal — but you should also want to leave it at the end of the day to invest in your personal life, whatever that looks like.
Make Your Money Work Better for You
The IQ Factor
Question: Am I even smart enough to get my dream job?
This might seem like a brutal question, but it's also necessary. The truth is, not everyone is cut out to be a rocket scientist. Everyone has limitations. That's not to say that you should immediately write off every hard-to-pursue career, but you should understand all of the job requirements.
If you have your sights set on a job that might not be attainable because you're not an Ivy Leaguer, consider adjacent careers. For instance, if you always wanted to be a veterinarian but math and science gave you too much trouble, think about working at a shelter, a boarding facility, a farm, etc. You can still spend your days helping animals, but without all that pesky calculus.
The Death Factor
Question: If I had to die on the job, where would I like my body to be found?
When you die, there are a few places you probably wouldn't want your body to be found: a gentleman's club, a "My Little Pony" convention, etc. So, ask yourself, if you knew you were going to kick the bucket while at work, where would you like that to be? Of course, there's nothing wrong with an office building, but, "Man collapsed in lion's cage at zoo; eaten by creatures he cared for," is a headline that's going to grab attention.
The Education Factor
Question: Am I willing to go back to school?
It is never too late for a career change, but if the job you have in mind requires training, certifications or additional schooling, that's something you really want to mull over. Your experience as the only gray hair in a room full of hungover youngins could be trying. It might be worth exploring online classes if possible.
Make Your Money Work Better for You
The Uncertainty Factor
Question: Am I OK with a lack of job security or will I have a nervous breakdown?
If you're mulling over job ideas, job security is definitely something to consider. Some people need to know where their next paycheck is coming from, while others are fine with a little uncertainty. Things like freelance work, running your own business or working in a dying industry — think switchboard operators, watch repairers, old-timey carnival barkers — all carry a risk.
More on Jobs

BEFORE YOU GO
See Today's Best
Banking Offers