Firefighters Only Get Paid This Much to Battle Billion-Dollar Blazes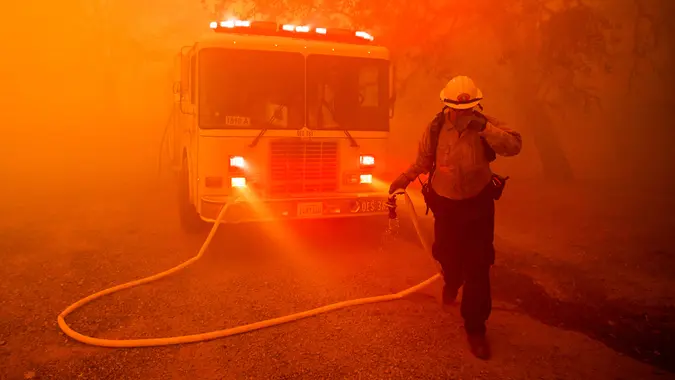 ©Noah Berger/AP/REX/Shutterstock
California's Mendocino Complex Fire, which began in late July and is comprised of the River Fire and Ranch Fire, is now considered the largest in the state's history, with no end in sight until at least September. The Mendocino fire has blazed through roughly 300,000 acres, or around 470 square miles. By contrast, the Thomas Fire of 2017, previously California's largest blaze, covered just over 280,000 acres.
California firefighters are currently battling more than several wildfires across the state, and officials worry that 2018 could be the most devastating year for California wildfires. Fights to contain disasters in Oregon, Washington and Idaho have been ongoing as well.
Click to learn how much these brave men and women make saving lives and preventing further destruction.
Firefighter Salaries
Firefighters took home a median salary of $49,080 in 2017, according to the Bureau of Labor Statistics, at an hourly rate of under $30. This figure changes depending on the firefighter's location and the institution they work for. For example, a firefighter in California makes an average of about $49,000 a year, according to employment site Indeed, but a Los Angeles firefighter makes on average around $75,000 a year versus a CalFire firefighter, who only makes on average around $37,000. A yearly firefighter salary in Oregon averages around $62,000, with a starting figure of around $32,000, according to Sokanu.
Firefighters face grueling hours, dangerous conditions and kinetic training schedules. And it's not just occupational hazards they have to look out for. Besides the generally low pay, they must also deal with an alarming suicide rate — more firefighters died from suicide than in the line of duty in 2017 — and a divorce rate of approximately 6 percent.
Make Your Money Work Better for You
Approximately 14,000 firefighters are currently battling California's blazes, to say nothing of the total number battling wildfires across the country.
Find Out: The Highest Paid Job in Your State
Current Major Fires
For a list of current fires in California, visit Cal Fire. Here are the highlights (accurate as of 2:57 p.m. PT on Aug. 8) of some of the major fires:
Mendocino Complex Fire (Ranch Fire and River Fire)
Location: Mendocino and Lake counties
Acres: Approximately 300,000
Containment: 46 percent for Ranch Fire, 81 percent for River Fire
Destruction: At least 221 structures
Carr Fire
Location: Shasta County
Acres: 173,522
Containment: 47 percent
Destruction: Seven deaths as of Aug. 5, nearly 1,600 properties destroyed
Learn: 13 Ways California Real Estate Differs From Every Other State
Ferguson Fire
Location: Along the Merced River, west of Yosemite National Park
Acres: 94,992
Containment: 43 percent
Destruction: Two deaths as of July 29, and 10 structures destroyed
Donnell Fire
Location: Stanislaus National Forest
Acres: 13,814
Containment: 5 percent
Destruction: 26 structures destroyed
Holy Fire
Location: Cleveland National Forest
Acres: 4,129
Containment: 5 percent
Destruction: 12 structures destroyed
Also See: Here's How Much Kilauea Volcano Damage Will Cost Hawaii Residents
The Most Expensive Fires in U.S. History
The costliest wildfires in United States history were 2017's California wine country fires, which generated roughly $9 billion in insurance claims, the Associated Press reported in December 2017. The 2018 fires are predicted to cost billions.
It's not just California feeling the burn; Oregon, another state prone to wildfires, has already outpaced itself in terms of firefighting spending at more than $180 million this summer, up $30 million from last year. In 2017, Oregonian wildfire costs soared to $454 million.
Make Your Money Work Better for You
Other costly fires in United States history include:
Oakland Hills Fire, 1991, $2.7 billion
Witch Fire, 2007, $1.5 billion
Cedar Fire, 2003, $1.4 billion
Old Fire, 2003, $1.3 billion
Great Smoky Mountains Fire, 2016, $938 million
It should be noted that with the exception of the Great Smoky Mountains Fire in Tennessee, these fires listed occurred in California.
In 2017 the Department of Agriculture released a statement acknowledging that wildland fire suppression costs had exceeded $2 billion, making it the costliest year on record. As fire conditions such as dryness worsen and wildfire seasons last longer, the department's fire suppression budget keeps rising, leaving less room for forest management, according to the press release.
Click to see the states that receive the most disaster aid every year.
More on Jobs and Making Money