Trouble Retaining Workers? Try Implementing These Fun, Quirky Job Perks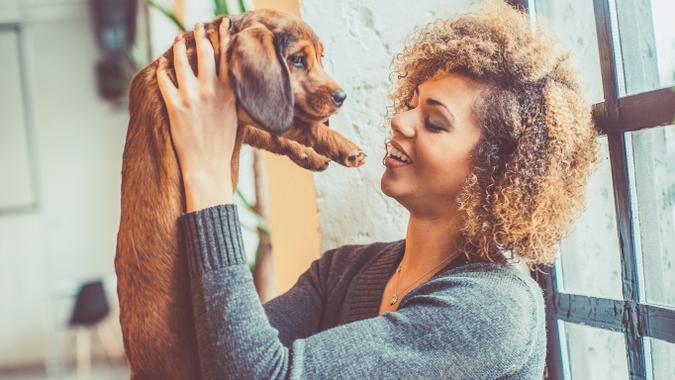 StudioThreeDots / Getty Images
Businesses are working extra hard to retain talent amid the ongoing Great Resignation. Some companies are piling on lavish perks in a bid to keep employees in addition to offering traditional benefits. 
Find Out: Amazing Perks These 10 Companies Offer Employees
And More: Top Perks To Look for When Searching for a New Job
However, many employees are being won over by down-to-earth work perks. Whether your company offers office or remote work or both, consider these quirky perks in a benefits package to retain workers across all generations. 
Pet Perks
Eran Gaperin, founder and CEO of Gymdesk, said one of their company's most popular perks are its pet perks. Pet perks may differ depending on the workplace. Some workplaces offer "pawternity leave," which gives workers a few days of paid off time to care for new pets.
Galperin said their company allocates an allowance for pet care. This allowance includes daycare or boarding facilities when the pet owner takes a break or travels for work. The allowance may also be used for pet grooming services, pet accessories or pet food.
Make Your Money Work Better for You
"We are a remote company so pets are often part of our online meetings, whether it's a dog barking or a cat walking across the keyboard," said Galperin. "We believe pets are an important part of good mental health."
Discover: 20 Hot Jobs That Pay More Than $150,000
Birthday PTO
Happy birthday — celebrate with a day off! Many businesses are revising paid time off policies to include an extra day of PTO dedicated to an employee's birthday. Employees that get this day off can use it to celebrate their special day however they choose. 
Jae Pak, M.D., of Jae Pak Medical, gives everyone at his practice their birthday off from work. 
"I really like the idea of treating the day of one's birth like a national holiday," said Pak. "It gives them something extra to look forward to, and it lets them know how valuable they are to me and my business."
Money Tree (And Other Fun Prizes)
Joe Camberato, President of National Business Capital, said having a money tree is one of the company's most unique methods for keeping employees happy and retaining talent. 
Make Your Money Work Better for You
Whenever an employee reaches their goal, Camberato said they may pick an envelope off the "money tree" in the office. Each envelope has a different amount of money inside. It's an instant reward for the employee's hard work.
Beyond the office money tree, Camberato likes to switch up prize perks for the team. Employees can win different prizes, like an opportunity to leave early on the day of their choice or gift cards when they hit weekly, monthly and quarterly goals.
"We have found that it is important to keep things fresh and do different things more constantly," said Camberato. "Besides being able to possibly win something, employees truly appreciate the recognition, and that makes it fun."
Learn: How To Find a New Job That Fits Your Life
Gas Reimbursement
As gas prices breached the $4 mark and continue rising ahead of spring and travel seasons, the ultimate work perk might be a full tank of gas paid for by your employer.
Make Your Money Work Better for You
Samuel Devyver, CEO of EasyLlama, said that their company offers gas reimbursement to help relieve financial stress for teammates that regularly commute to the office and to client meetings. 
"We don't think it's fair that increasing gas prices directly eat into our team's finances, so we take the hit ourselves," said Devyver.
Paid Self-Care Days
Primary healthcare benefits aside, there has been an increase in awareness for employee mental health due to the COVID-19 pandemic. Businesses are reexamining employee support programs and are investing in employee assistance programs for the emotional well-being of team members.
Agnieszka Goulin, head of people at Spacelift, said providing paid self-care days further raises awareness of the importance of employee mental health. Employees may use these days to relax, reset and address any of their concerns. 
"Caring about your employees' well-being, whether physical or mental, provides a sense of security, loyalty, and appreciation," said Goulin. "It might not be the quirkiest perk, but it's well-received."
Check Out: 3 Side Jobs To Consider If You Need Extra Income
Build Your Own Perk
Thomas Forstner, director of people and talent at Juro, said it's vital that employees know the company has their back. Rather than offer a standalone perk, Forstner and the team at Juro have built a work perk called Moments That Matter. 
Some of the benefits packaged into this perk are private health insurance, support to improve a person's credit score so they may apply for a mortgage, and time off for their honeymoon.
"We want to help employees worry less about their health and issues in their daily life," said Forstner. "Even if you're not physically together in the office, we want to make sure the team knows we support them and they know the company is there for them."
Don't see a benefit being offered by your workplace that you think employees would love? Suggest it to your HR team and see if it's possible to build your own perk to keep employees engaged and happy.
More From GOBankingRates
Make Your Money Work Better for You