Gen Z Is the Most Challenging Generation To Work With, New Survey Says — Here's Why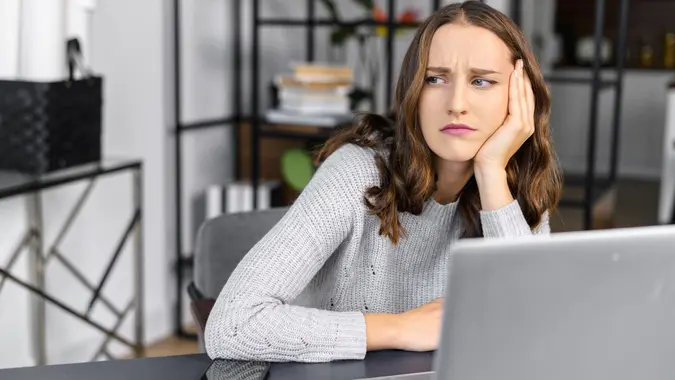 Vadym Pastukh / iStock.com
Is the youngest generation in the workforce unfairly labeled as carefree or entitled? According to a recent study conducted by Resume Builder, three out of four managers believe that Gen Z is the most challenging generation to work with. While some view Gen Z as lazy, in need of immediate answers and too carefree, are these complaints justified?
To gain a deeper understanding of employers' perceptions, GOBankingRates interviewed career experts to gauge their opinions on the survey data and explore why managers may find working with Gen Z to be challenging. 
Gen Z: A Dominant Economic Force Comprising 34% of the Global Labor Force
Youth ages 15 to 24 constitute a significant 34% of the global labor force. With Gen Z accounting for 1.8 billion individuals ages 10 to 24, they represent the largest generation of young people in history and the latest generation to enter the workforce.
While the survey indicates that three out of four managers find Gen Z to be the most challenging to work with, Stacie Haller, chief career advisor at ResumeBuilder, suggests that the challenges managers face with this generation may be attributed more to their companies' lack of preparedness. 
"It sounds so extreme doesn't it?" Haller said. "This generation got caught in a big change in the workplace. And on the flip side, companies were not prepared to know how to handle this."
Make Your Money Work Better for You
Gen Z's Lack of Loyalty and Challenging Views
One of the primary concerns employers harbor regarding Gen Z in the workforce is this generation's perceived absence of steadfastness in the workplace.
"They tend to be entitled, they tend to not be loyal," said Vivek Iyyani, a professional motivational speaker on engaging the millennial generation, who participated in the study. 
Kenny Tan, another employer interviewed, shared his frustration with the way Gen Z challenges traditional viewpoints. 
"It can feel like they're challenging you, or they're challenging your views," Tan said. "It is up to us to really try to define it better for them. Sometimes it does get a little bit frustrating because it does slow down a bit of efficiency."
Gen Z's Lack of Professional Experience and Skills
It should come as no surprise that one of the most prominent challenges employers face with Gen Z employees is their relative lack of professional experience, given that this generation is just entering the workforce. 
"Zoomers have less professional experience compared to older cohorts," said Nathan Brunner, CEO at Salarship, a company committed to empowering job seekers and bridging the gap between accessible employment opportunities and eager individuals. "This makes it more difficult for managers to integrate them into teams. But there is also a generational issue at play. Gen Z can be challenging to work with because they are easily distracted and have poor communication skills." 
Make Your Money Work Better for You
Amanda Webster, vice president at Fund and Grow, a business that has facilitated access to over $1.6 billion in business funding for more than 30,000 business owners, also observes a deficiency in basic professional communication skills among this generation. However, she approaches this challenge as an opportunity to assist her younger hires in adapting to workplace norms. 
"I have found it helpful to provide them with online training to improve their ability to communicate with other employees," Webster said. "I encourage them to provide lots of feedback as they learn their new role. This helps allow them to control some of their destinies."
Gen Z's Too Brief Attention Span
For many employers, Gen Z's limited attention span poses a significant challenge. Luke Lintz, a Gen Z CEO and entrepreneur at HighKey Agency, which specializes in enhancing digital brand recognition, emphasizes the influence of social media and quick, easily accessible dopamine hits on this generation's attention span.
"There have been multiple studies that indicate Gen Z having the shortest attention span compared to any other generation, and that is large because of social media and the mass consumption of quick dopamine hits at our fingertips," Lintz said. "The smaller attention span explains why our generation is always wanting immediate answers."
Gen Z Is Striving for Work-Life Balance and Pursuing Different Motivations 
As Gen Z enters the workforce, they seek work environments that align with their personal values, which may diverge from those of older millennial employers. 
"I don't think any of us want to work 100 hours a week, to have no piece of the pie, to work for someone you don't respect, to do something that you don't believe in," said Ziad Ahmed, Gen Zer and founder of JuvConsulting, a digital marketing agency run fully by Gen Zers. "For a long time, that's how we were told the world had to work. And I think a lot of folks are saying no, maybe the world can work radically differently. And I think that's a good thing." 
Make Your Money Work Better for You
According to Gen Z individuals interviewed in the study, this generation seeks a healthier work-life balance, even leaving work on time when tasks remain unfinished. They are increasingly opting for jobs that offer remote work opportunities instead of requiring daily office attendance.
Employers we interviewed highlighted that what some may perceive as Gen Z's weaknesses — such as a lack of loyalty — can transform into strengths when these employees find companies that align with their values. 
"One of the best things I can say about Gen Z employees is that they will be extremely loyal if they believe in your company's mission," Webster said. "Gen Z employees are misunderstood by the older workforce."
More From GOBankingRates