Gen Z is Choosing Stability Over Higher Pay — What Jobs Do They Want?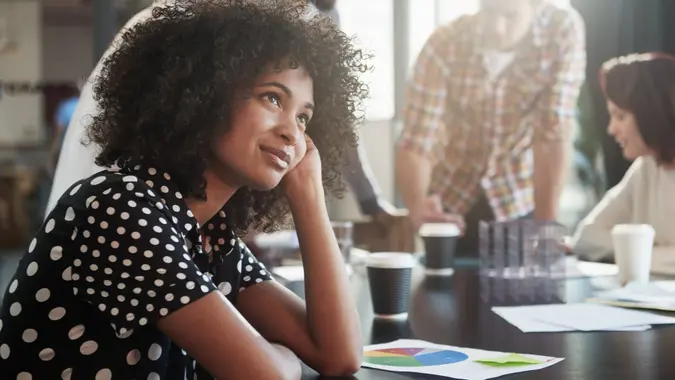 pixdeluxe / Getty Images
America's youngest workers are adjusting their priorities in response to today's uncertain economic climate. While climbing the ladder at a major company was once the goal of many entering the workforce, Gen Z workers today want more than just a big paycheck.
According to the online recruiting platform Handshake, salary and pay transparency are still important factors to consider when applying for a job, but after witnessing a heavy period of layoffs and getting besieged with warnings of an impending recession, Gen Z is prioritizing stability first and foremost.
The sixth annual Network Trends report gathered responses from 1,853 job seekers who were recent college students and upcoming graduates in an online survey conducted from Aug. 30 to Sep. 28, 2022. In a separate report issued this month, Handshake released job application trends and student sentiment data tracked from users from the senior classes of 2022 and 2023.
When asked which factors make students more likely to apply for a job, 85% chose job stability, followed by benefits at 81% and a high starting salary at 80%. Rounding out the factors were "has alumni, friend, or people, working there" (44%), "a company brand they've heard of" (35%) and "a fast growing company" (29%).
But money still carries weight for new job searchers. In trying to succeed during this period of increased cost of living, more Gen Z subjects said a high starting salary (defined as $82,000/year) would make them more likely to apply for a job in fall/winter 2002 (82%) than those who agreed a few months earlier, in summer 2022 (74%).
Additionally, the survey found that women expect to make an average salary of $6,200 less than men, perpetuating lower pay expectations due to the historical wage gap between women and men. The highest salary expectations were found among those in engineering-related majors, where female respondents were in the minority.
Make Your Money Work Better for You
In the May report, search results showed 2023 graduates are more likely than their forerunners to be interested in jobs that require tech skills, even if they didn't major in a tech field.
The most popular trending job and skill keywords searched were primarily in the tech sector: Cybersecurity (up 136% from 2022 to 2023), UX designer (up 133%), software developer (up 100%), product marketing (up 88%), structured query language (up 77%), data science (up 73%), product management (up 65%), Java (up 64%), machine learning (up 56%) and information security (up 54%).
Take Our Poll: Do You Think AI Will Replace Your Job?

But the uptick in tech searches hasn't responded in big tech company search traffic. Per Handshake, searches for major tech brands by the class of 2023 were down almost 15% compared to the class of 2022. The following companies were the most trending, according to search data:
Raytheon (up 209%)
Nike (up 103%)
Toyota (up 101%)
Lockheed Martin (up 92%)
Chevron (up 72%)
Capital One (64%)
Morgan Stanley (up 60%)
Boeing (up 56%)
Bank of America (up 42%)
NASA (up 29%)
More From GOBankingRates