Want To Get a Raise? People With These 10 Jobs Are Most Likely To Get Promoted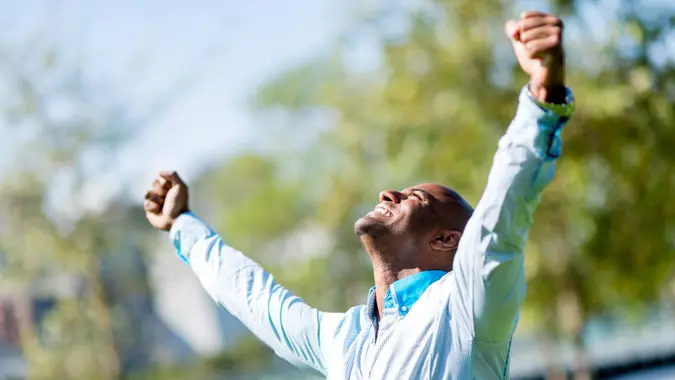 andresr / iStock.com
With the "Great Resignation" now in its second year, you might be among the millions of people who are looking for a new career path or who might be one day soon. If so, consider not just your desired starting salary at a new job, but your long-term prospects for career advancement through internal promotions — it's much more common in some industries than in others.
See: When To Consider Job-Hopping To Maximize Your Pay
Find: 24 Tips To Change Your Career and Land Your Dream Job
Using data from LinkedIn News, GOBankingRates identified the 10 career fields with the highest internal promotion rates, then used a variety of sources to see how promotions can affect salary within those fields. Let's take a look.
Purchasing
Promotion rate: 12% above average
Buyers, purchasing agents and their managers earn well above the national median salary of 41,950, according to the Bureau of Labor Statistics (BLS). The median salary for buyers and purchasing agents is $66,690, but the industry's high promotion rate pays off for those who climb the ladder. At the other end of the spectrum are purchasing managers, whose median salary is $125,940.
Make Your Money Work Better for You
Learn: 10 Risky Career Moves That Can Pay Off
Consulting
Promotion rate: 13% above average
Consultants provide advice and expertise to all kinds of organizations for all kinds of projects — and they're paid handsomely for their experience and insight. They average $78,000 a year, according to Payscale, but Glassdoor pegs the average consulting salary even higher at $90,490.
Sales
Promotion rate: 13% above average
People are drawn to sales because the occupation's commission-based structure gives good salespeople an unlimited potential to earn — and the really good ones can count on frequent promotions. The median advertising sales agent makes $54,940 a year, according to BLS. Meanwhile, wholesale and manufacturing sales reps earn $65,420, and sales engineers earn a median salary of $108,830.
Explore: The 26 Highest-Paying Jobs That Let You Work From Home
Finance
Promotion rate: 18% above average
There's a huge variety of careers under the broad category of finance, which includes industries like banking, securities and insurance. What you earn and how quickly you can expect to be promoted depends heavily on your field and your specialty within that field. Financial analysts, for example, can expect to earn somewhere between $74,000 and $100,000, according to BLS, depending on their area of concentration.
Business Development
Promotion rate: 26% above average
Make Your Money Work Better for You
This is the first occupation on this list that promotes from within at a rate more than one-quarter higher than the national average. Business development entails ginning up new revenue opportunities for companies and other organizations, and the field proves the power of promotion. According to Glassdoor, business development representatives make $49,315, but if you become a business development specialist, you can expect to earn nearly $69,000. If you get promoted to business development manager, you should be clearing the low $80,000s.
Related: Nearly 1 in 4 Americans Say Changing Jobs Is the Best Way To Get a Raise
Human Resources
Promotion rate: 44% above average
HR is another field where promotions pay. According to BLS, human resources specialists earn a median salary of $63,490 — not bad considering that the median among all occupations is less than $42,000. If you can get promoted to human resources manager, however, you can expect to double that salary to $121,220.
Make Your Money Work Better for You
Accounting
Promotion rate: 47% above average
Accountants might be self-employed sole proprietors, or they might manage accounting teams for giant corporations. The median salary is $73,560, according to BLS, but frequent promotions can go a long way. Those in the lowest 10% earn around $45,000 but those in the top 10% take home nearly $129,000.
More: How To Ask for a Raise and Get It
Program and Project Management
Promotion rate: 51% above average
Beating the national internal promotion rate by more than 50% is the program and project management field. The average base pay for this line of work is a little more than $86,000, according to Glassdoor, but the field's common career path shows how promotions can change all that. Project management leaders earn more than $108,000 and senior project managers make nearly $120,000 a year.
Marketing
Promotion rate: 94% above average
The average base pay in the field of marketing is $74,464, according to Glassdoor, but it's a great field to get a promotion. A lead marketing coordinator can expect to make nearly $122,000, and BLS cites the median marketing manager's salary as $141,490.
Tips: Breaking the Glass Ceiling: How To Land a Leadership Position
Product Management
Promotion rate: 149% above average
No industry comes close to the promotion rate that defines the field of product management, which promotes from within at a rate that's nearly 150% above the national average. The average base pay is $113,446, according to Glassdoor, but with a range of $73,000-$175,000. Therefore, promotions are incredibly important. You can make $146,585 if you make the jump from product manager to senior product manager.
More From GOBankingRates
Make Your Money Work Better for You