Get Rich Off Your Side Gig with 5 Negotiation Tips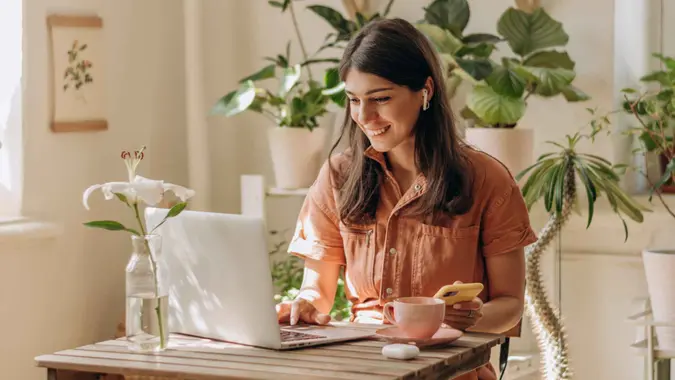 Tatiana Buzmakova / Getty Images/iStockphoto
The U.S. continues to experience a boom in freelancing, gig work and side hustles, giving workers flexibility and extra income. Zippia recently reported that there are 70.4 million freelancers in the U.S., with 36% of the workforce engaged with some type of freelance gig.
Between 2021 and 2022, the number of freelancers increased by 20%. "Gig work can range from contracted work for special projects, to online selling (Etsy), to driving for Uber and Lyft," said Wayne Goshkarian, director of communications for the Association for Entrepreneurship USA.
"After the pandemic and quarantine, people are reluctant to return to in-person work because remote work options have been more normalized. So, they are opting to do remote gig work because of the flexibility it provides," he continued.
Freelance workers and solo-preneurs range from graphic designers with a post-graduate degree in their field to food delivery drivers or individuals who find work on websites like TaskRabbit.
Regardless of your education level, area of expertise, or skillset, it's highly likely you can find a freelance gig or side hustle to earn extra cash — or perhaps even replace your primary income. However, launching a new career as an entrepreneur presents some challenges you'll want to address, from securing benefits to negotiating rates.
How To Find Benefits as a Freelancer
"Gig workers are independent contractors and are not entitled to benefits," Goshkarian pointed out.
However, depending on the type of work you do, you may be able to get some help from your client, with guidance on ways to secure benefits at a fair price.
Make Your Money Work Better for You
For instance, rider service Uber has partnered with Stride Health to act as a health insurance broker for clients. However, be wary of any clients who offer health insurance directly as a benefit, since this goes against IRS tax laws and could qualify you as an employee rather than as an independent contractor.
Also, turn to professional organizations like the Small Business Administration and the Association for Entrepreneurship USA for guidance on how to find affordable benefits, retirement accounts, and health insurance.
"At the Association for Entrepreneurship USA, we provide an online marketplace of supplemental benefit packages to bridge gaps in plans [freelancers] secure on their own. AFEUSA also provides education and networking resources so gig workers can connect with one another for advice on securing benefits on their own," Goshkarian told GOBankingRates in an exclusive email interview.
How To Set Rates for Your Side Hustle
Setting rates is another challenge for those who may be new to freelancing. Sometimes, the client or company will set a rate — either hourly or per-project. When large agencies hire contractors, these rates may not have much wiggle room.
But in many cases, as the business owner, the entrepreneur sets their own rates. When you do, it's important not to think like a W-2 employee who will have money for benefits and payroll taxes taken out prior to cashing their paycheck.
"Take into account all your expenses when discussing compensation," Goshkarian said. "Be sure to think about rent, gas and mileage, groceries and other necessary bills, along with extra money for savings and personal use."
Make Your Money Work Better for You
Plus, of course, you'll want to factor in your costs to do the actual project, which could be tax deductible but still come off your bottom line.
"Additionally, many gig workers will be paying for their own health insurance and have to contribute to a 401(k) plan on their own, which should be considered when negotiating for a higher rate," Goshkarian said. "Everyone is going to have a bare minimum wage they need to be paid to feel valued and make the task worth their time."
To really grow in your field, however, you'll want to ultimately move beyond that minimum with higher paying work.
How To Negotiate Higher Pay as a Freelancer
If you have an opportunity to negotiate, the conversation won't look much different from any other salary or job negotiation. Your leverage for any contract position or project will depend on your experience, expertise, references, and market demand.
"If there is a worker shortage and job surplus like we are currently experiencing, gig workers have an advantage to ask for higher wages because clients are in need of good, reliable workers," Goshkarian said.
Doing market research is key, according to Goshkarian.
"Compensation is largely determined by the market, so conduct market research on the hourly rate ranges for your realm of expertise. Depending on where you are located, and your experience, you can negotiate your terms based on these rates," he said.
When freelancers are transparent about their rates when speaking with other professionals in their industry, it can boost compensation across the board. Beginners will see the profit potential in their field and feel confident to increase their rates over time. Those who may not always speak up for themselves might be more willing to negotiate a higher rate if they see what others are commanding for the same work.
Make Your Money Work Better for You
Know Your Worth as a Freelancer or Independent Contractor
If you believe you're in a position to negotiate, come to the table prepared, just as you would for any job interview.
"Overall, go into your negotiation with confidence. If you are more experienced and have a good reputation in your field, bring your references to the interview and ask for compensation on the higher end of the range," Goshkarian said, pointing out that it's important to know your worth.
"Charging a high rate showcases your worth as a contracted worker and may even boost the employer's confidence in your ability to go above and beyond for a task," he said.
Ultimately, in today's market, the gig worker often has an opportunity to set the final price. Don't be disheartened if the first few clients you approach don't accept your rate, especially if it is in line with what other professionals in your field are charging.
"There are other clients out there who will be able to," Goshkarian concluded.
More From GOBankingRates