8 Great Jobs in Banking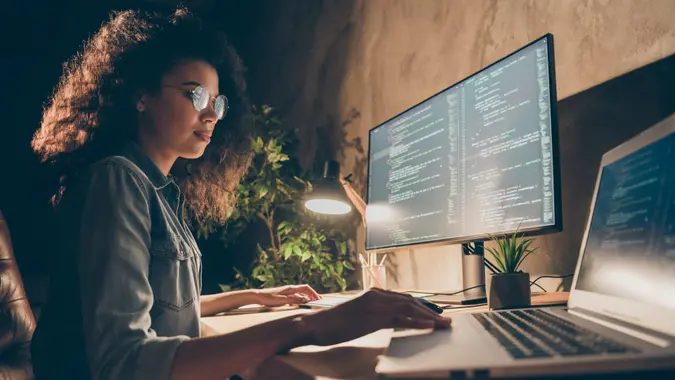 Deagreez / Getty Images/iStockphoto
Job seekers should know that the financial industry, especially when it comes to banking, is awash with opportunity — especially for those who possess certain skill sets. According to the Deloitte Center for Financial Services 2022 Banking and Capital Markets Outlook, candidates who are skilled in the following niche technical areas are currently difficult for banks to find employees for:
Artificial intelligence and machine learning
Cybersecurity
Data science/data analytics
Software development
Cloud engineering
Risk management and modeling
See: 22 Side Gigs That Can Make You Richer Than a Full-Time Job
Find Out: Here's How Much You Need To Earn To Be 'Rich' in Every State
To give you an idea of the types of positions that are available, here are some different jobs within the banking industry that fall into those in-demand tech niches — plus a couple of others that you might not have considered. 
Cybercrime Specialist
Cyberattacks on banks are nothing new. In 2021, Flagstar Bank suffered a data breach, which resulted in criminals placing bank employee data on the dark web. As a cybercrime specialist, tasks include researching tools and techniques used by cybercriminals, diffusing dark web and open-source threats and creating written cybercriminal threat intelligence with the overarching goals of detecting, preventing and mitigating cybercrime efforts. According to 2020 Bureau of Labor Statistics data, the median pay for this type of job is $103,590.
Make Your Money Work Better for You
See: GOBankingRates' Best Online Banks
Artificial Intelligence Engineer 
Recent headlines state that Bloomberg is on a hiring spree for 50 AI engineers, so this job is definitely in demand for 2022. And AI engineers are often used by banks where they use programming algorithms to build, test and deploy AI models, such as those that enhance the user interface on mobile banking apps or improve the safety of customer data through predictive analytics. According to ZipRecruiter, the national average salary for AI engineers is $164,769 per year.
Check Out: The Best Checking Accounts
Software Developer
Software developers play an important role within financial institutions by upgrading or introducing new software that improves various processes, and their roles are not likely to become obsolete. These professionals design, build and maintain efficient code that can be reused in various applications on existing and future technology platforms, while always paying attention to performance and quality. According to 2020 BLS data, the median pay for software developers is $110,140 per year.
Learn: How To Get Richer Without Getting a Raise
Make Your Money Work Better for You
Cloud Engineer
Cloud engineers craft, manage and maintain various public and private cloud infrastructures. In the banking industry, one example would be creating a cloud platform to support the cross-functional teams who work within the various lines of business of the bank. Cloud engineers also work to keep cloud-based systems secure. According to Indeed 2022 salary information, cloud engineers make an average annual salary of $119,020 per year.
Read: Old-School Career Advice That You Should Ignore Now
Data Scientist
Data scientists for financial institutions compile and analyze relevant data, including data that helps detect fraud, assess risk and personalize banking services for customers. Data scientists build models and algorithms to determine trends or patterns in the data and then write reports making recommendations about how the data can be best used to solve problems or create new opportunities. According to BLS data, the median annual salary for data scientists is $98,230.
Risk Manager
A risk manager in the banking industry identifies and analyzes financial, safety and security risks, including account management, financial returns, adjudication, risk segmentation and exposure management. Once the risk manager determines the impact of the risk, they find ways to reduce those risks. According to 2021 Salary.com data, the average salary for a risk manager is $116,607.
Make Your Money Work Better for You
Strategic: How To Use Social Media To Help Boost Your Chances of Getting a Job
Financial Planner
A combination of DIY financial advice running wild online and the stock market's solid performance in 2021 encouraged many people to jump in and manage their own investing. However, it won't be smooth sailing forever. After all, the market can't continue its upward swing indefinitely. And when things change, people will be looking to industry professionals, like financial planners, to help them navigate, according to experts. According to 2020 BLS data, the median annual pay for this position is $89,330 per year.
Don't Miss: Expert Tips on How To Make a Midlife Career Change
Junior Banker
According to the Deloitte report, junior bankers are in short supply. Many junior-level banking executives quickly became disillusioned with their jobs due to working from home during the pandemic. Instead of junior bankers being groomed for success by senior staffers and being able to network easily, senior-level executives often opted to forge ahead at full speed, tackling tasks on their own.
Now, employers are looking to hire and are even offering significant salary increases from standard first-year base salaries of junior bankers, which typically range from $85,000 to $95,000. In August 2021, The New York Times reported that big banks like JPMorgan Chase, Citigroup and Morgan Stanely were bumping salaries of first-year junior bankers to $100,000, while Goldman Sachs, Jefferies and Evercore were offering salaries as high as $110,000.
More From GOBankingRates
Make Your Money Work Better for You