13 Highest Paying Bank Jobs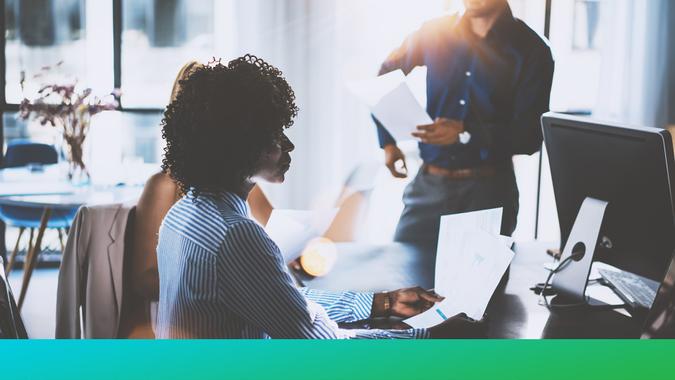 namzoranme / Getty Images
If you want a high-paying career, consider choosing from a range of finance jobs in the banking industry. Although the field can be a bit stressful, you'll typically be well compensated.
GOBankingRates has identified a number of bank industry jobs — including a range of financial analysts' positions — and their average salaries based on information from sources including Monster, the Princeton Review and the Bureau of Labor Statistics. Keep in mind, however, that the highest paying banks will likely exceed the salaries listed.
Learn about the 13 highest paying bank jobs, the qualifications you'll need to get one and what each position entails. Next, decide if a job in banking is for you and if so, how to invest in your career.
Best Paying Jobs in Major Banks
1. Credit Analyst: $48,840
Credit analysts help banks determine whether to make loans by reviewing potential borrowers' credit profiles. By studying each borrower's financial information, credit analysts figure out the level of risk associated with the loan.
Credit analysts use computer programs to help them assess borrowers' risk levels. They don't do all their work behind a screen, however; they also meet with clients and assist them with any issues. To become a credit analyst, you need at least a bachelor's degree in the financial, business or accounting field.
Find Out: Why You Need a 740 Credit Score for Your Auto and Mortgage Loan Applications
2. Budget Analyst: $54,020
If you enjoy preparing and monitoring budgets, this job might suit you perfectly. Budget analysts work for organizations to create plans for how to spend money. Throughout the year the budget analyst reports on how money is actually being spent and recommends ways to make spending more efficient.
Although you might be able to get an entry-level job as a budget analyst with related work experience, you typically need at least a bachelor's degree in finance, economics or similar field. Some employers, however, require at least a master's degree.
3. Internal Auditor: $60,000
An internal auditor reviews a bank's finances to assess how effectively it is running. By looking at the company's internal control structure, the internal auditor makes recommendations on how to streamline operations and generate more profits.
An internal auditor typically has a bachelor's degree in accounting, business administration, computer information systems or finance, but a specific degree isn't a requirement. Note that internal auditors who obtain the Certified Fraud Examiner designation earn about 23 percent more than those who don't.
4. Bank Manager: $61,209
Bank managers are in charge of overseeing a branch's daily operations. This includes everything from upselling the bank's products to customers to providing customer service to managing employees.
You can become a bank manager by getting an accounting, business or economics degree — or by working your way up at a bank. As a bank manager, you'll also attend continuing training conferences.
5. Relationship Manager: $66,040
Bank relationship managers work with clients to determine what products and services best fit their needs. For example, a relationship manager might work with a bank client to help him find the best mortgage or investment account.
Relationship managers often focus on working with individual or corporate clients. The position doesn't have a specific degree requirement, but you'll need to be familiar with the banking industry and have excellent communication and selling skills.
6. Asset Manager: $67,000
Asset managers choose the best portfolios to meet clients' financial needs and use their expertise to create client portfolios that meet the client's goals and mitigate risk. You'll need a finance degree to get your foot in the door, and you can continue to learn while you're pursuing additional certifications, which will boost your salary.
7. Equities Trader: $71,913
An equities trader buys and sells stocks — plus options, futures, commodities and derivatives — on behalf of a financial institution and its clients. He also might develop strategies clients can use to track historical data and predict how the markets will move in the future.
Many equities trader jobs are located in larger metro areas, like New York, Chicago and Los Angeles. Equities traders typically have degree fields like finance or business, and they must register with the Financial Industry Regulatory Authority.
8. Fixed Income Analyst: $76,061
"Fixed income" refers to investments that make payments on a fixed schedule, like bonds or bond funds. A fixed income analyst decides which investments make up the fixed-income portion of a portfolio. He determines the underlying securities' value, provides advice on different investment options and tracks ongoing performance. You'll need a bachelor's degree in accounting, finance or a related field to get a job as a fixed income analyst.
9. Foreign Exchange Trader: $89,131
Currencies from around the world gain and lose value — and foreign exchange traders are at the forefront. Successful foreign exchange traders study the currency market and decide what will increase in value. Because currency is subject to extreme fluctuations, this isn't a career for the faint of heart. If you decide this is for you, you'll need a bachelor's degree in math, economics or statistics to get started.
Related: The Ultimate Guide to Spending Your Money Around the World
10. Wealth Manager: $94,231
If you enjoy managing other people's money, a bank wealth manager position might be your dream job. Your clients will be individuals and families, and you'll assume responsibility for their financial planning.
You won't be just helping people budget, you'll be managing their investments and making sure clients are adequately insured to manage their risk. You might also help them maximize the tax benefits of their charitable giving or estate and business succession planning.
You'll need at least a bachelor's degree — and possibly a master's degree — to get started. Once you're in the job, you can acquire designations like Chartered Financial Analyst or Certified Financial Planner.
11. Equity Analyst $99, 240
An equity analyst is someone who studies and analyzes financial information and trends for an organization or an industry. He has to dig deep into bank balance sheets and annual reports — as well as market trends in a sector or in general — to predict how a company will do in the future.
Getting hired as an equity analyst is no easy task. You'll often need to have an MBA and be connected in the industry. You can make yourself more attractive to employers by specializing in a specific market sector.
12. Investment Banker: $100,675
Investment bankers help banks, companies and governments raise money for new projects or expansions. If you work in investment banking, you'll find investors to buy the securities to pay for the project, such as bonds for government projects or stocks for public companies.
Investment bankers also help their clients navigate the complex legal requirements associated with the fundraising. Though it's possible to get into the field with only a bachelor's degree, most candidates obtain MBAs to make themselves more competitive in the market — most also acquire an additional designation like Chartered Financial Analyst.
Read: 5 VIP Private Banking Services You Never Knew Existed
13. Portfolio Manager: $118,752
As a portfolio manager, you determine how your clients' money should be invested. You'll need to continually research the markets, company earnings and stock prices to make informed decisions.
To be a portfolio manager, you'll need at least a bachelor's degree in finance or economics, but most portfolio managers have a master's degree. You'll also need to take classes in valuing stocks and bonds, how capital markets work and analyzing financial statements. Once you're hired you'll be expected to obtain the Chartered Financial Analyst designation.
Editorial Note: This content is not provided by American Express. Any opinions, analyses, reviews or recommendations expressed in this article are those of the author's alone and have not been endorsed by American Express.