The 10 Highest Paying Jobs of 2023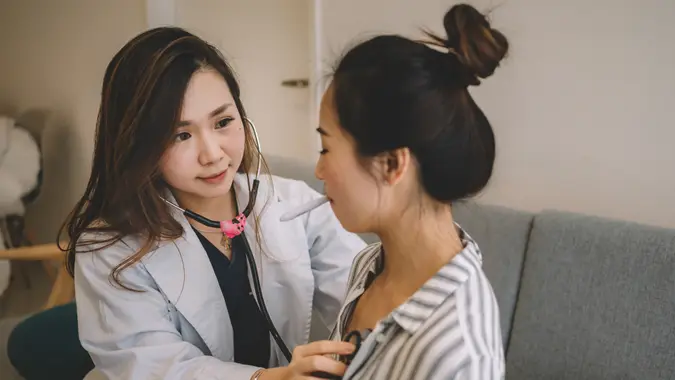 chee gin tan / Getty Images
When exploring the job market, it is good to think big and aim for the most amount of money you can earn in your desired career path. The science fields, whether medical or computer, seem to be the top earners. This may mean getting a new degree or even just switching specialties, but sometimes the bottom line is the bottom line.
10 Best High-Paying Jobs
To get some of the best-paying jobs in the United States, you'll typically need advanced education and specialized degrees and training. Many of the top salaries for job openings come in the medical or data science fields. Here are 10 of the highest-paying jobs in 2023:
Oral and Maxillofacial Surgeon
Anesthesiologist
Obstetrician and Gynecologist
Psychiatrist
Orthodontist
Surgeon or Physician
Pediatrician
Dentist
IT Manager
Pilot
1. Oral and Maxillofacial Surgeon 
This specialty requires you to perform surgery and treatment on both the hard and soft tissue related to the mouth, jaw, teeth and gums. Common surgeries include fixing cleft pallets or removing impacted teeth. These treatments and surgeries can be cosmetic or life-saving in nature.
2. Anesthesiologist
This type of doctor is responsible for anesthetizing patients — meaning rendering them unconscious with anesthetic drugs — before, during or after surgery. It is a necessary form of pain management and functionality for many medical procedures. Anesthesiologists play a crucial role, as in most major surgeries or life-saving protocols, the patient has to be unconscious for it to proceed.
3. Obstetrician and Gynecologist
Make Your Money Work Better for You
These doctors specialize in the female reproductive system and provide care during pregnancy and childbirth or general women's care. The duties can range from a typical check-up to gynecological surgery. This position entails not only delivering children but also addressing all of the in-between medical needs of female patients.
4. Psychiatrist
These analysts focus on the mental health of their patients. They can diagnose and treat an array of mental disorders and illnesses. They can perform general evaluations, offer counseling or prescribe medication.
5. Orthodontist
There seems to be a lot of money in teeth alignment, from attaching braces to tightening retainers. This area of expertise makes sure the teeth and jaw are functionally aligned and aesthetically on point. 
6. Surgeon or Physician
General practice surgeons and physicians cover an array of medical specialties and duties. You'll find them in local hospitals, urgent care facilities or out of their own practice. They can address anything from annual physicals to stitches and sutures.
7. Pediatrician
Being a pediatrician includes all the education and training that goes into being a medical professional, but now just make it kid friendly. Specifically, they diagnose, treat and help prevent diseases in children.
8. Dentist 
Be true to your teeth or they will be false to you. Dentists specialize in the mouth, gums and teeth. This means duties can range from teeth cleaning to root canals and specializations in extracting problematic teeth, fitting dentures and filling cavities. 
Make Your Money Work Better for You
9. IT Manager
IT Managers coordinate computer-related projects and activities for a company or organization. This is a massively and rapidly expanding field with nothing but potential for growth. With constant advancements in technology and artificial intelligence, jumping into an IT job now might be a great financial move.
10. Pilot
Taking to the friendly skies can be more than just a fun way to soar through the clouds, but also a lucrative payday. Pilots have a specialty license and Bachelor of Aviation and can operate aircraft such as airplanes, military aircraft or helicopters. 
Highest Paying Jobs: Honorable Mentions
The 10 jobs listed above are some of the highest-paying jobs currently out there. However, there are many other jobs that pay a great salary in fields such as computer science, artificial intelligence or other occupations requiring information technology, such as programming languages, cloud computing or full stack development. These, along with a few other medical specialties and more, are quickly becoming high-demand positions.
Here are some honorable mentions for top-paying jobs:
Software Developer
Computer or Software Engineer
Product Manager
Data Scientist
Web Developer
Nurse Anesthetist
Pharmacist
Physicians Assistant
Lawyer
Final Take To GO 
Whether you are just entering college, starting out in the workforce or looking for a career change, it is good to know the potential of what you could make in certain fields. Many of the highest-paying jobs will be in areas with advanced degrees and specialty training.
Not that money should be your only motivation, but it is often the sustainable factor in deciding if what you want to do is worth what you will make.
FAQ
Here are the answers to frequently asked questions about the highest-paying jobs of 2023.
Which is the highest-paid job in the world?

Though some of the highest-paying jobs in the world are extreme examples of a specialty position, in general here are some of the best earners when based on mean salaries globally:

– Chief Executive Officer (CEO)
– Corporate Lawyer
– Data Scientist
– Investment Banker
– Medical Professionals
– Project Manager
– Senior Software Engineer
– Web Developers

What job pays the most in California?

Though pay will fluctuate, California does have uniquely theatrical high-paying jobs, as well as many others. Here are some examples of the best-paying jobs in California:

– Makeup Artists, Theatrical and Performance
– Commercial Divers
– Dentists
– First-Line Supervisors of Police and Detectives
– Lawyers
– Marketing Managers
– Physicists
– Podiatrists

What degrees have the highest salary?

Though pay will range depending on education and experience, many of the top paying fields require a Master's Degree, Medical Degree, Ph.D. or advanced engineering or computer science degree.

What is the highest-paying job in Ohio?

Though these jobs also are considered to be among the highest-paid jobs nationally, here are some top earners in Ohio:

– Ophthalmologist
– Dermatologist
– Orthodontist
– Physician
– Obstetrician and Gynecologist
– Chief Executive Officer (CEO)
– Nurse Anesthetist
Make Your Money Work Better for You
Average salaries were sourced from the U.S. Bureau of Labor Statistics and are based on the most recent available data.
Our in-house research team and on-site financial experts work together to create content that's accurate, impartial, and up to date. We fact-check every single statistic, quote and fact using trusted primary resources to make sure the information we provide is correct. You can learn more about GOBankingRates' processes and standards in our editorial policy.