The Highs and Lows of Working From Home for Nearly a Year

6 min Read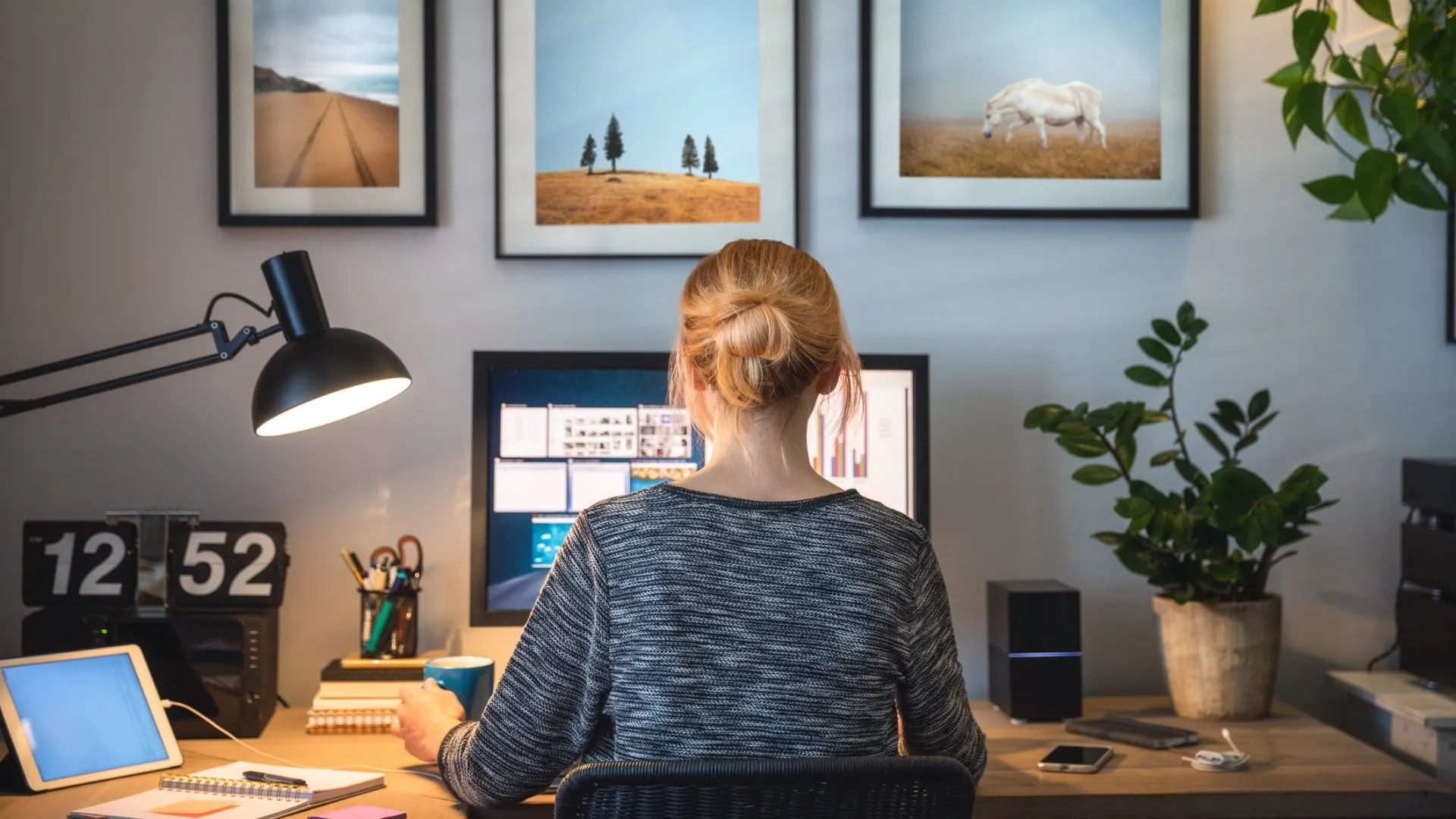 Make Your Money Work Better for You
High: You Have More Flexibility
The LiveCareer survey found that overall, 81% of employees enjoy working remotely, with 64% citing flexibility as one of the main reasons.
"Most workers that now work from the comfort of their home no longer have to go through the often-pesky commute, and, most importantly, they gained control over their work schedule," said Max Woolf, career advice expert at LiveCareer. "That means remote workers not just get their work done, but they are also much more capable of attending to the needs of their personal life, be it running errands, having medical appointments or balancing school schedules."
Looking For a New Job? 40 Legit Companies That Will Pay You To Work From Home
Low: It's Easy To Get Distracted
The most common challenge cited by those who are now working remotely is distractions around their home, with 59% surveyed stating that this is a challenge.
"While telecommuting comes with plentiful benefits, remote workers also have to cope with home distractions that might dent their productivity levels," Woolf said. "The most common ones include children and other family members, social media notifications/instant messages, and household duties."
Options: Companies That Let You Work From Anywhere
High: Work-Life Balance Is Better
Nearly half of remote workers — 44% — said their work-life balance had improved as a result of working from home.
If you're currently struggling to achieve this balance, Woolf offers the following tips: "While it's true that the lines between work and non-work have started to blur, there are ways remote employees can improve it," he said. "For one, if you find it everything but easy to separate your work and personal lives, considering deleting your Gmail and Slack apps from your phone so you don't feel tempted to peek into your professional life once the workday is over."
"You can also maintain a better work-life balance by introducing a 'fake commute' to your day," he continued. "Today, most people find themselves hemmed-in at home, having lost a sense of time with weekdays bleeding into the weekends. In this case, adding a 'fake commute' to your day before or after work can help you better unplug after the workday is over and generally avoid growing mentally stretched."
Make Your Money Work Better for You
Low: It's Hard To Stay Motivated
As a likely result of distractions around the home, 45% of remote workers say they struggle to stay motivated.
"A good way to stay focused on work-related tasks is to let others in your house know what distracts you," Woolf said. "Tell your family you need to focus. Explain to them how having a peaceful work environment will benefit you. If you can't block all the distractions, consider using a noise-canceling headset and indulging in your favorite, soothing sounds."
If You're Going Back: How To Protect Yourself When You Return to Your Office
High: It's Safer
Forty percent of remote workers said they feel safer working from home than in an office.
"Employees simply don't have to worry as much about the virus transmitted through the air or contact with a surface in their employer's buildings when working from home," Woolf said.
Low: Communication Can Be More Challenging
According to the LiveCareer survey, 37% of workers find communication to be a challenge while working from home.
"While video conferencing and messaging tools like Zoom and Slack help remote employees stay connected amid today's challenging times, they still come with shortcomings, making team communication often feel fragmented," Woolf said. "After all, workers don't have the option to share a physical space with their managers and co-workers, which could make them think they aren't part of a team, and generally, result in a disconnect."
High: You Can Be More Productive
Although some employees struggle with distractions and staying motivated while working from home, 29% said they are actually more productive.
"One of the core reasons remote workers are more productive is that it's easier to stay focused on the task at hand if you don't have to listen to your colleagues' ambient chatter or actually getting interrupted by them," Woolf said. "On top of that, impromptu meetings, driving to and from work, and office gossip can also hinder productivity if you're working onsite."
Helpful: 10 Time Management Tips That Can Help You Make More Money
Make Your Money Work Better for You
Low: Collaboration Can Be Difficult
Thirty-six percent of remote workers said that collaboration has been challenging over the past year of working from home.
"As a result of social distancing and self-isolation, it's become relatively hard to keep our heads above water and deliver on our combined team goals," Woolf said. "A good way to counterbalance is to spend every ounce of your energy to support your team members. Be sure to proactively reach out to your peers to see what kind of input they need from your end to complete a given project. Also, if you have a hard time keeping up with amalgamated tasks, consider using project management tools like Trello or Jira to elevate your team collaboration."
High: There's Extra Time To Acquire New Skills
With the time saved by not commuting and more flexible work schedules, 10% of remote workers said they have been able to acquire new career-related skills during this time. There are a number of sites that offer online courses to boost your skills, including Udemy, Coursera and LinkedIn Learning.
Check Out: 100 Ways To Make Money Without a 9-to-5
Low: It Can Be Lonely
Loneliness is a common side effect of working remotely, with 35% of those surveyed citing this as a challenge of working from home over the past few months. To combat this, set up virtual meetings or a phone call with your colleagues rather than relying solely on chat apps to collaborate, or even set up a virtual happy hour for a more light-hearted chat.
More From GOBankingRates
About the Author