Experts: How Gen Z Can Reach the C Suite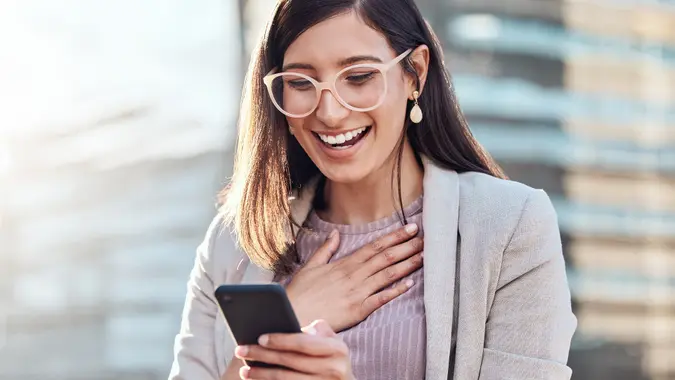 PeopleImages / iStock.com
Generation Z, or individuals born between 1997 and 2012, currently account for around 30% of the world's population. According to the World Economic Forum, this generation will make up approximately 27% of the workforce in the next three years. 
Unfortunately, Gen Zers have also been some of the hardest hit by unemployment, likely due to the pandemic and economic instability. So how does a generation that has been pummeled by outside factors climb its way up the corporate ladder all the way to a corner office? Here's some expert insight on the necessary steps for Gen Zers to reach the C suite.
Start Early
Linda Chavez, founder and CEO of Seniors Life Insurance Finder, says that while there is no one-size-fits-all solution, all Gen Zers hoping to reach the C suite should "start thinking about career goals early on." She encourages young adults entering the workforce to "be proactive and take initiative in their career. Don't wait for opportunities to come to you, go out and create them yourself." 
Become T-Shaped
CEO and founder of Awning.com, Shri Ganeshram, says that in order to reach the C suite, "Gen Zers need to become T-shaped. This means that they need to have one set of extremely deep expertise but be functional and able to communicate across all departments and roles." 
Make Your Money Work Better for You
He also notes that the fastest way for Generation Z to climb to the top is to "start their own business or company." While he cautions that it is a "grueling and difficult path," it is also the quickest way to get to an executive position. 
Build Your Brand
Across the board, experts agree that C-suite hopefuls need to work on building their own identities. Linda Shaffer, chief people operations officer at Checkr, states that Gen Zers need to "create a personal brand that differentiates them from their peers." 
Andrew Chen, chief product officer for Videeo, concurs, noting, "The path to executive level success for Gen Zers is carved early as they develop a personal and professional identity. The ambitions and core values that drive them are key differentiators that mold their resolve and make them stand out from the crowd."
It's All About Networking
Developing a strong network of contacts is another area that experts agree is key to helping Gen Z reach the executive level. According to Adina David, HR manager and career coach at JobzHut, "Internships and other work experiences may be more valuable than formal education in helping young people learn about their desired industry and make the right connections."
So, while advanced degrees can help, they are not the end-all for the next generation of workers. Networking is still "one of the most important things you can do to further your career," according to Linda Chavez. She encourages Gen Zers to leave their digital comfort zone and "attend industry events, join relevant professional organizations and don't afraid to introduce yourself to people you want to connect with."
Make Your Money Work Better for You
Dress for Success
While the pandemic forced many companies to allow people to work from home, Gen Zers should not see it as an opportunity to live in sweatpants. Experts encourage young people hoping to climb to the top to always dress for success. Ganeshram says that "virtual presence" is an important consideration. He notes that you should "keep up with your appearance when on camera."
Chavez adds, "First impressions are everything, so make sure you are always dressing your best. When you are meeting with potential employers or at networking events you want to look like someone who would be a valuable asset to their company. Invest in some nice business clothing and always look your best."
Get a Good Reputation
Richard Lubicky, founder and CEO of RealPeopleSearch, says that Gen Zers can make it to the top by "earning internal recognition for your initiative." He recommends that people hoping to get to the next level should "lead task forces and serve on corporate committees."
He also suggests being the first to volunteer for new opportunities. Getting a good reputation and doing these things well can help you develop credibility.
For Gen Zers ready to take the corporate world by storm or hoping to launch the next big startup, it's about being yourself, taking initiative and making real connections with real people. There is no reason that a generation set to make up nearly one-third of the workforce shouldn't also occupy one-third of the corner offices. 
Make Your Money Work Better for You
More From GOBankingRates