How to Give Yourself a $12,000 Raise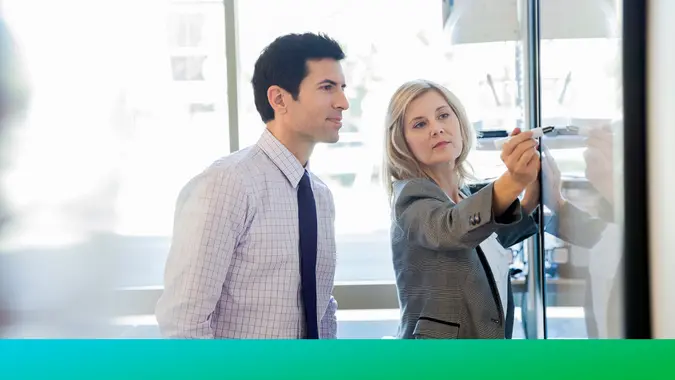 Hero Images / Getty Images
If your boss turned down your request for a salary bump, you might feel like the matter is out of your hands. However, there are ways to get a raise without switching jobs or taking on a side hustle. You just have to reduce your monthly expenses.
It might sound easier said than done, but the truth is that cutting costs isn't difficult once you determine which expenses are fixed (like rent and some utilities) and which ones are flexible (like groceries). By following these strategies to reduce the amount of money you're spending each month, you can effectively give yourself a raise.
1. Shop Smarter at the Supermarket
A family of four spends as much as $296.50 a week on groceries, according to May 2017 data from the U.S. Department of Agriculture. That's $15,418 a year. But I estimate that  you can slash your grocery bill by at least 35 percent by doing these four simple things:
Build your weekly menu around what's on sale at your grocery store. You will find weekly deals in the flyers that come in the mail, or you can look online. Sales usually start on Wednesdays.
Join the store's loyalty program. These programs are usually free, and you get added sales and perks at checkout.
Find matching coupons to save more. Search Coupons.com to find hundreds of coupons for items on your grocery list. Think everything from cereal to shampoo. And remember, coupons are like free money.
If a sale item you want is out of stock, ask for a rain check. That means when the item comes back in stock, you will get it at the sale price. I have saved thousands of dollars over the years by doing this.
By making these changes to your grocery shopping routine, you can save about $5,396 annually.
Related: 34 Life Hacks That Will Save You Thousands
2. Brown Bag It
Now that you have some grocery shopping strategies in place, you can take things a step further. When I was growing up, we brought bag lunches to school every day. My dad had his brown bag lunch for work. We even had to bring home our brown bags to reuse them. But it was smart.
By packing your own lunch, you can shave thousands of dollars off your yearly food expenses. And quite honestly, you can make a sandwich just as good as the ones at the deli.
Let's say the average deli sandwich with turkey and cheese, a bag of chips, a cookie and iced tea costs you about $11.50 a day. That is close to $3,000 annually just for workday lunches, and that's per person. I estimate you can create that same lunch at home for about $2.53 a day, or about $660 a year. That is a yearly savings of about $2,340 per person.
Make Your Money Work Better for You
Use the same strategies when buying your lunch groceries that you do for other grocery shopping. Plan your lunches around what is on sale, and use coupons. When you look at the numbers, this is a smart move for saving money.
3. Skip the Starbucks Coffee
The same strategies apply to your morning coffee and breakfast snack.
Although it might not seem like a big deal to buy a cup of coffee, spending $2.10 on a latte every workday adds up to nearly $550 annually. And spending $2.45 on a scone or muffin is another $640 annually. By making your own coffee and bringing a snack from home, I estimate you will save about $800 a year — and numerous calories.
Still Need Your Coffee Fix?: 10 Best and Worst Deals at Starbucks
4. Score Salon Savings
Before they can graduate, many cosmetology students need to log a certain number of hours on real clients. That means low-cost cuts and colors for you. Prices vary by salon, but I found one school that offered cuts for $9 and hair color jobs for $25.
In addition to the basic cut and color, they typically offer all the services you would get at a salon, like prom updos and manicures. Depending on the services you need, you can save between $500 and $800 a year.
5. Get Discount Dental Care
Dental students also need to practice on real patients, making schools the perfect place to get a simple cleaning or filling. Some specialized programs also offer more advanced procedures like implants.
Make Your Money Work Better for You
Sessions are closely supervised, so you can feel confident in your care. But if you're not comfortable with a student, you might be able to pay more for a post-graduate or faculty clinic. I found student cleanings for $50 and faculty cleanings for $88 at one school.
A normal adult teeth cleaning costs $127 on average, according to CostHelper. So, if you and your spouse both go twice a year, you could save big by opting for a faculty member instead of a traditional dentist.
Read More: 10 Ways to Survive Rising Healthcare Costs
6. Cut Vision Care Costs
Just like dental colleges, some optometry schools need patients for their more advanced students. So, you might be able to get a basic eye exam at a fraction of the price, saving around $60 a year, by my estimate.
7. DIY Your Dry Cleaning
Buy an at-home dry cleaning kit and never spend money on professional cleaning again. A $10 kit will cover four loads with several garments each, allowing you to save big on dry cleaning bills. Depending on how much you spend on dry cleaning every year, you might be able to save around $300.
8. Ditch the Gym Membership
The reality is that a lot of gym memberships go unused. And while the typical gym membership might cost between $40 and $55, some are in the hundreds.
Consider streaming your workouts online or see if any programs are included with your cable package. You can also switch to a no-frills gym. For example, some community colleges offer inexpensive membership access to their facilities. I estimate you can save between $600 and $850, depending on what you decide to do.
Make Your Money Work Better for You
9. Shop Online
Don't make a single purchase online without checking for a coupon code. It takes just a minute to do, and the savings could be significant.
You can find thousands of coupon codes on everything from travel and wine to clothing and sports gear. At the very least, you will find offers for free shipping. You can save hundreds of dollars a year by using coupon codes.
Honorable Mentions
Here are some additional ways you can save money. Follow these suggestions to give yourself a significant raise this year:
Take advantage of price adjustments. When making a purchase, especially one over $100, ask what the store's price adjustment policy is. Many stores will pay you the difference if an item goes down in price within a certain period of time after your purchase — usually 14 days. So, if you paid $100 for clothes, and 10 days later those same items were on sale for $60, you would get $40 back.
Compare gas prices. Use a gas price comparison app to find the cheapest gas in town. Often, it's at warehouse clubs, and members can take advantage of these savings.
Use loyalty cards. Some grocery stores will reward you with gas savings when you shop with your loyalty card.
Take public transportation. Find out how much you can save by taking public transportation to work. You might also be able to take advantage of commuter tax benefits. Plus, you're hands free, so you can use the ride to get a head start on work, take care of personal business or even read a book. If you are part of a two-car household and you downsize to one car, I estimate you can save about $10,174 a year.
Make Your Money Work Better for You
Visit the public library. Library cards are for more than just books. You can also rent movies, and in some cases, tools. Libraries also host a lot of free activities like lectures, craft workshops, book clubs and cultural fairs.
Get a rewards or cash-back credit card. Reassess your credit cards and consider a card that offers cash back on purchases. And be sure to maximize bonus offers. If you have a card that offers double cash back on groceries, make sure you always use that one when grocery shopping. Savings vary by credit card and spending, but plan on 1 percent savings on overall spending with 2 percent back on groceries and 3 percent on gas.
Visit resale shops for kids. You will find great deals at resale shops for kids' clothes, costumes and sports gear. Not only can you find deals on plenty of like-new items, but when your kids outgrow these purchases, you might be able to sell them back to the resale shop for either a store credit or cash.
Invest in annual memberships. It can cost thousands of dollars a year to keep kids entertained. What many people don't realize is, if you buy a yearly membership to one local museum, you might get free or low-cost access to other museums and attractions, too. Just ask what the reciprocal program includes.
Get your medicine for less. Prescription drugs add up and can really put a dent in your cash flow. Be sure to find out how much your medications would cost through a warehouse store like Costco or Sam's Club. Many times, their prescriptions are significantly less than those at other pharmacies. And what most people don't realize is that you don't need to be a member to take advantage of the savings in some states.
Make Your Money Work Better for You
If you follow these savings strategies, you are not only giving yourself a significant raise, but you are also taking control of your personal finances. Now, your biggest concern will be where to invest your newfound money.
Keep Reading: 9 Secret Ways to Save Money at Sam's Club
Note: All figures are based on the writer's estimates and personal experience.