How Much Emergency Cash Should You Have in Case You Lose Your Job?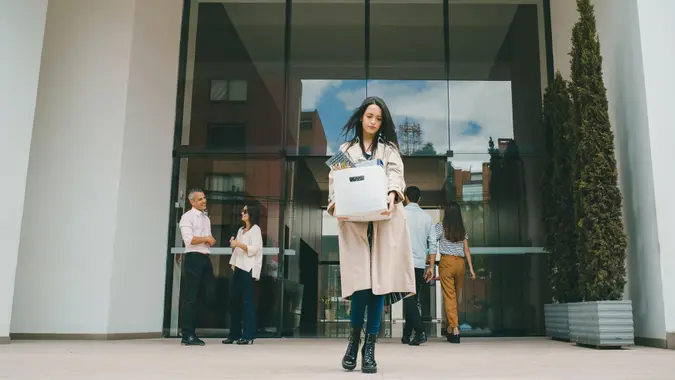 andresr / Getty Images
A toxic soup of high inflation, rising interest rates and a bear stock market have been stoking recession fears since before the summer. However, the unemployment rate is the economic indicator that sounds the recession alarm louder than all the rest, and it hasn't shown any real signs of trouble this whole time — until lately.
Elon Musk has dominated the headlines with swift and severe layoffs that marked his clumsy foray into social media, but Twitter is hardly alone in cutting jobs. Facebook fired 11,000 employees in early November and Amazon wasn't far behind with 10,000 layoffs of its own. Then Google joined the labor-reduction frenzy by announcing it would eliminate 10,000 of its poorest-performing employees. According to Mint, they're just some of the more than 135,000 white-collar tech and startup workers who have gotten the ax in 2022.
While it's unclear if the damage will spread beyond Silicon Valley, the ongoing tech massacre has the greater workforce counting its pennies. With the pandemic's firings and furloughs still fresh in mind, how much emergency cash should you have saved if tomorrow's shift brings a pink slip?
3-6 Months' Salary Standard Mostly Still Applies
Most experts still swear by the pre-COVID boilerplate advice of saving three to six months' worth of salary in case of a job loss or other emergency. But Jamie Hopkins, managing partner of wealth solutions at the Carson Group, thinks that's a solid target for younger savers, but that the standard should evolve with age.
"By your mid-to-late 30s, it's ideal to be saving anywhere from 10-15% of your income each year for the future," said Hopkins. "Your 40s are likely going to be your peak earning and working years. Focus on cutting back expenses, increasing your savings, investing heavily in long-term growth assets, and aiming to have between three and five times your annual income saved by your mid-40s."
Make Your Money Work Better for You
Adjust Your Target Based on Three Important Variables
The truth is that there can never be a one-size-fits-all standard because the trio of primary variables is different for everyone.
"How much money you need in an emergency fund depends on three factors," said Spark Rental founder Brian Davis, who helps his clients build financial security through real estate investing. "Your job security, the stability of your income, and the stability of your expenses. A government bureaucrat with virtually bulletproof job security doesn't need as much saved as a tech worker at a startup. Likewise, that bureaucrat has a stable W-2 paycheck that arrives every two weeks, whereas an entrepreneur or self-employed person might see their income fluctuate from nothing up to five digits from month to month."
David added, "There's no magic formula to calculate exactly how much you need. But even the most secure, stable earner should have at least two months' expenses set aside. If you work for yourself, aim for at least six to 12 months' expenses."
Beyond the Big Three: Read the Fine Print in Your Own Life Story
After you weigh your own job security, income stability and consistency of expenses, it's time to factor in the unique details of your age, family, lifestyle and housing status.
For example, Davis pointed out that homeowners must set aside money for monthly repairs and maintenance. But those who own their homes outright can probably get away with less because they don't have mortgage payments. Then there are the millions who don't own a home at all.
Make Your Money Work Better for You
"If you are renting, you might have more expenses compared to a homeowner, so you might need to have saved more," said chartered financial analyst Tom Koesternen, who consults for TheGuaranteedLoans. "Additionally, if you have a family, you need to have saved enough to handle all expenses compared to an individual with only their expenses to worry about. An older citizen needs to save more due to retirement and health concerns than a younger adult."
It also depends on when you lose your job because the high cost of heating makes winter more expensive. Other considerations include your debt obligations — do you own your car outright or would you face repossession if you fall behind on payments?
These factors and many others will determine where your emergency fund should land on the three-to-six-month spectrum.
"Instead of relying on debt to pay your bills and living expenses, plan now to build the right amount of emergency savings and put it in the best account," said Laura Adams, MBA, a personal finance expert with Finder.com. "The amount you need varies depending on your living expenses, family size, number of household earners, work industry and potential job prospects."
How Does Your Company Say Goodbye?
Your employer's policies and benefits should also influence your saving strategy. Some people might receive severance or buyout offers, but many others will be on their own after they cash their final check.
Make Your Money Work Better for You
If you rely on a company-issued vehicle or a bus or train pass as part of your benefits package, you'll have to pad your savings to compensate. Then, of course, there's the high-stakes variable of healthcare. If you lose your coverage when you leave the payroll, plan to save thousands extra for short-term survival.
"Health insurance premiums can be a big surprise for families if the company doesn't offer insurance continuation benefits," said Michelle Vitus of Slate Advisers. "Average COBRA coverage for a family is $1,852 per month."
Good Prospects for Fresh Income Are Better Than Extra Savings
Bloomberg reported on Nov. 22 that workers were responding to the alarming spate of tech layoffs by dusting off their professional networks, updating their profiles and hunting for jobs while they were still working. Emergency savings are good — but positioning yourself to make a fast transition to a new source of income is better.
"We always hear the standard advice of having three to six months of emergency savings, but thinking you have that without truly understanding where and how your money is spent monthly isn't much help," said Ashley Agnew, director of relationship development at Centerpoint Advisors. "Understanding where you'll be able to cut back if needed and building your human capital — keeping your resume fresh, having a pulse of what opportunities exist outside of your current job, maintaining a strong professional network — are the best defenses to complement your emergency fund."
More From GOBankingRates
Make Your Money Work Better for You