How Salary Transparency Can Help Women in the Workplace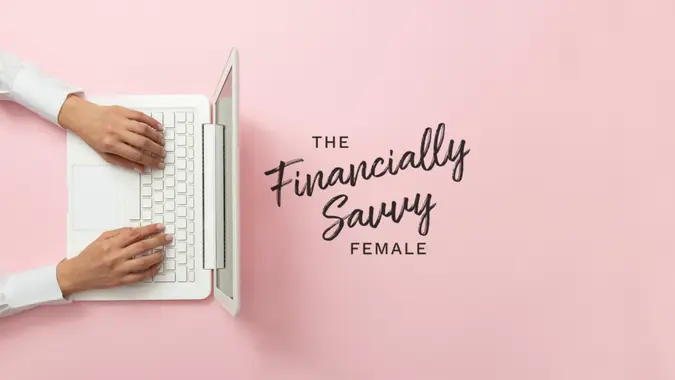 simarik / iStock.com
Pay transparency laws are increasing across the United States. Starting May 15, 2022, employers in New York City will be required to include salary ranges in job postings. More states, including Colorado, Nevada and Rhode Island, are also enacting similar transparency laws where employers are required to provide wage or salary range information in job listings. (Rhode Island's pay transparency law goes into effect Jan. 1, 2023).
Find Out: Why Salary Transparency Matters When Attracting New Hires
See: Why Isn't Salary Disclosed Earlier in the Recruiting Process? Here's What 500+ Hiring Managers Had to Say
As more pay transparency legislation passes throughout the nation, we get closer to promoting equal pay and closing the gender wage gap. GOBankingRates spoke to Camille Burns, CEO of the Women Presidents Organization (WPO), to learn why it's a good idea to share salary ranges. Adriana Herrera, founder and CEO of PayDestiny, and Linn Atiyeh, founder and CEO at Bemana, also spoke on what happens when wages are kept secret and which questions female employees need to ask one another in a transparent wage conversation.
Make Your Money Work Better for You
Why Does Salary Transparency Matter?
Salary, and overall pay, transparency is not meant to be a discussion that encourages gossip or ill will toward any organization. Rather, salary transparency is how we communicate about compensation. 
"Pay transparency sets clear expectations between employees and employers that the value of work performed is based on the results contributed to the business, not the perceived value of who is performing the work," Herrera said.
Do not feel as though salary transparency should be limited to conversations between female employees. Herrera said all colleagues should feel comfortable about discussing transparent pay. If the conversation remains between women and no one else, you may be setting yourself up to receive statistically underpaid data without realizing it.
Options: 5 Things To Negotiate At Your Job Other Than Salary
Salary transparency can also allow women to achieve financial independence. In a GOBankingRates survey of 1,003 women throughout the United States, 20% of women cite lack of fair pay due to gender as one of the biggest obstacles in their career path. 
Having an open, honest conversation among peers about pay can help remove this obstacle for women.
"Too many women are uncomfortable talking about money and compensation specifically, and they need to learn to ask for what they want and deserve. Men do," Burns said. "Asking for what they deserve not only helps the individual in the short run, but it also helps other women in the long run."
Make Your Money Work Better for You
What Happens When We Don't Talk About Pay?
Salaries become shrouded in secrecy when there isn't pay transparency in the workplace. Female employees who wish to have an open discussion about pay may be made to feel as though they are overstepping a mark if the environment doesn't encourage it. 
Atiyeh said that the longer we do not discuss salaries, it's more likely there will be no opportunity for biases surrounding compensation to be revealed in the workplace.
"Female employees may simply think that they are being paid the same as their peers, placing them in an unfair position as a result," Atiyeh said.
What Should I Know When Discussing Wages?
If you're ready to speak openly among your female colleagues about salaries, you might wonder which questions are best to ask in a transparent pay conversation. Herrera recommends asking and answering the following questions:
Is my total compensation competitive for the market based on my skills, experience and track record of success? Remember that your total compensation should cover base salary, stock options, benefits and workplace incentives.
How does my company make compensation decisions? Consider job offers, merit raises and promotions.
Have I left any income impacting variables on the table and how do I correct for this? Herrera uses the example of taking a higher signing bonus in lieu of pay. Over time, this decision may result in less income at your existing company due to pay raises being made based on base salary.
Make Your Money Work Better for You
See: The Minimum Salary You Need To Be Happy in Every State
Why Should You Be Transparent About Pay?
Every person approaches open discussions about money a bit differently. It's important to treat this topic with care and consider your own comfort level and the comfort level of everyone else in the conversation. 
"Sharing salary ranges can help shift the compensation mindset from competition to collaboration," Burns said. "This builds trust with your employees and lifts up women who have historically been left behind in negotiation."
Atiyeh uses the example of a male and female employee who have identical job titles. If the female employee finds out that the male employee earns significantly more money than she does, she has the chance to reveal biases. The female employee may be able to renegotiate her salary and walk away with a more fair rate of compensation.
Think of pay transparency as a tool. It is not meant to shame or pit us against one another. Rather, it is a tool that may be used to support other women. Salary transparency, when used with care, can help close the wage gap.
More From GOBankingRates
Make Your Money Work Better for You