How To Approach Your Job Hunt in the Current Market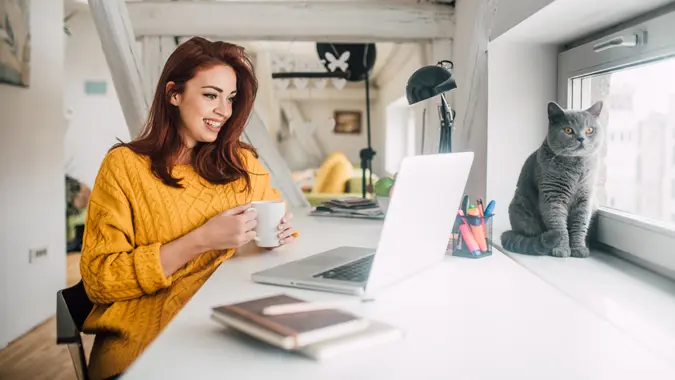 RgStudio / Getty Images/iStockphoto
If you're in the market for a new job for the first time in a long time, you'll quickly learn that many of the pre-pandemic rules no longer apply. Not only did the virus change almost everything about the nature of employment in the United States, but the job market you'll be entering is one of the tightest in memory. That can be an advantage to job seekers, but it also breeds a lot of misconceptions. Here's what you need to know. 
Helpful: 24 Tips To Change Your Career and Land Your Dream JobOnce You're Hired: 5 Things To Negotiate at Your Job Other Than Salary
Are You Quitting a Good Job for Something Better? Think Twice
If you already have a job, it's easy to be tantalized by stories of desperate business owners offering engineer wages and Google benefits to anyone with a pulse because of a labor crisis that gave job hunters all the leverage. 
If you're tempted to leave your job in pursuit of something better, don't assume that greener pastures are yours for the taking — a whole lot of other people are having the same idea as you. 
More Tips: How To Find a New Job That Fits Your Life
Insider Career Strategies called it a "gold rush mentality," where workers who are already doing well are lured back into the labor market by the rising salaries and sweet new benefits that always emerge in tight job markets.
Just like the gold miners of old, however, many of them will come up empty in a field crowded with people all chasing the same dream. 
The phenomenon is creating what Forbes called a "turnover tsunami." A Prudential study found that around 1 in 4 American workers are biding their time and waiting for the threat of the virus to fully pass. When it does, a full quarter of the workforce plans to leave their jobs and dive back into the labor pool in search of something better.
Make Your Money Work Better for You
Read: How To Approach Your Job Hunt After a Long Stretch of Unemployment
If you're ambitious and optimistic about your chances, by all means, gamble the job you have in the hopes of trading up, but just know that a whole lot of other fortune-hunters are chasing the same gold nugget as you. 
Tailor Your Pre-Job Hunt Self-Analysis to the Times
Smart job hunters always started their searches with introspective questions like what they were good at, what they wanted to do and which of their skills could earn the best salary. 
Consider: 3 Side Jobs To Consider If You Need Extra Income
All of that still applies, but as Forbes pointed out, the pandemic added new layers to the preliminary self-analysis. Now, you have to also consider the following: 
The pandemic proved that people with multiple income streams fare the best in times of crisis. Is it a steady job you're after, or do you want to cobble together a series of gigs instead?  

Do you want to be a W-2 wage earner working for an employer or are you ready to take the leap to self-employment? 

The pandemic erased any doubts about the viability of remote work, and there are more opportunities for telecommuters now than ever before. Do you want to show up to a workplace or work from wherever? 

Maybe you'd rather narrow your search to one of the many companies that started offering hybrid schedules, where workers spend a few days on-site and a few days working remotely.

A lot of companies are supersizing their benefits packages to avoid competing on salary in a tight labor market. Do you care more about higher pay or competitive benefits like paid family leave? 
Dream Job Alert: These 10 Companies Let You Work From Home AND Have Unlimited Vacation Time
Your Pre-Pandemic Resume Is a Relic — Write With Robots in Mind
As early as the end of June, ZipJobs was already warning that good jobs were proving more elusive than one might think in a country that was supposed to be reeling from a labor shortage. In the vast majority of cases, a lack of jobs wasn't the problem. The problem was that resumes weren't making it to the people doing the hiring.
The standard advice was always to write your resume assuming that a hiring manager would skim it for just a few seconds. Today, robots do the skimming — and they're ruthlessly efficient. 
Make Your Money Work Better for You
See: 30 Odd Jobs That Pay Insanely Well
According to ZipJobs, 75% of resumes are now eliminated by applicant tracking systems (ATS), leaving only 1 in 4 to live long enough to be seen by human eyes. According to Indeed.com, you can help your resume survive the ATS gauntlet by:
Using relevant keywords

Applying only for jobs you're qualified for

Not overapplying for many different jobs with one company

Submitting the right types of files

Using plain language

Tailoring each resume to each specific job

Including a skills section
Find Out: Best and Worst Cities To Score Your Dream Job
Prepare for Virtual Interviews, Even for On-Site Work
Even if you're not applying for remote work, you should prepare and practice for remote interviews. In fact, the entire process will likely take place through a computer screen from the time you submit your resume. Instead of practicing the old firm handshake, according to U.S. News and World Report, you'd be better served by preparing for interviewing in the post-pandemic reality:
Arrange your lighting, background and location

Don't assume Zoom — know the tech you'll be using and familiarize yourself with it

Practice with a real person and request feedback

Dress like you're interviewing in person

Perhaps most importantly, know how to mute and unmute before you log on
More From GOBankingRates
Last updated: July 20, 2021