How To Get a Teaching Job With Limited or No Experience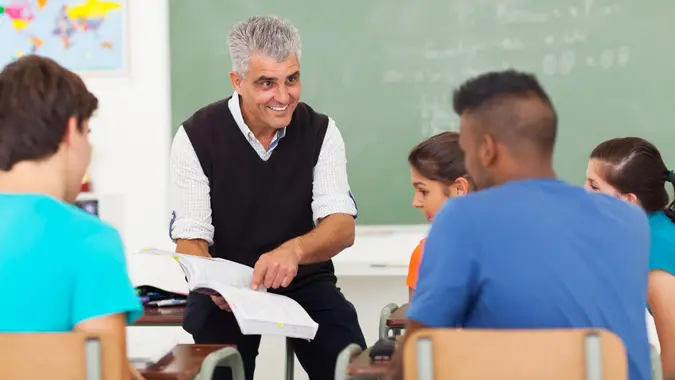 michaeljung / Getty Images/iStockphoto
Across the country, many schools are struggling to address a staffing crisis in which there is a teacher shortage. Some states are loosening job requirements as a possible solution to this challenge.
See Our List: 100 Most Influential Money Experts
Student Loan Forgiveness: Mark These 4 Dates on Your Calendar Now
The Washington Post reported some states are permitting people to teach even if they haven't finished college. A further deep dive into the National Council on Teacher Quality (NCTQ) State of the States 2021 report revealed only 15 states required candidates to pass a basic skills test for admission. Previously, 25 states held this requirement in 2015. 
With so many states lowering academic requirements for entry into teacher preparation, is it possible to get a teaching job if you haven't taught before? Not quite. Here are the steps someone needs to take if they want to be a teacher despite a lack of experience.
Will You Need To Obtain Emergency Certification?
Those without the mandatory college requirements may be required by their respective state of teaching employment to obtain an emergency certification. Although the recent national teacher shortage has brought emergency certification into the popular vernacular, Leigh Purnell, CEO of the Southwest Leadership Academy Charter, said schools have used this option for many years. 
Make Your Money Work Better for You
The Southwest Leadership Academy Charter is based out of the state of Pennsylvania. Purnell said in Pennsylvania, schools must demonstrate reasonable attempts to fill teaching positions with a properly certified teacher. Then, schools may be able to hire teachers who are not certified but who are eligible for emergency certification.
Under emergency certification, one only needs a bachelor's degree. This degree does not need to be in the field in which you want to work. Moving forward, Purnell said it's up to the candidates and employers to ensure teachers certified in an emergency get the education and training they need to master what they teach.
Purnell uses the Southwest Leadership Academy Charter School as an example. Eligibility for emergency certification typically comes with an obligation under which the teacher must make reasonable progress toward certification, and preferably toward an advanced degree in education.
Take Our Poll: How Long Do You Think It Will Take You To Pay Off Your Credit Card Debt?
"The bottom line is teacher shortage or no teacher shortage, you get one shot at educating children per grade each year, and the school must do everything possible to ensure the children receive high-quality instruction," said Purnell. "For that reason, teachers who enter a school under an emergency certificate must ensure the school provides them with the support and access to the training they need. And the teachers need to acquire the continuing education they need."
Make Your Money Work Better for You
Should You Start as a Substitute Teacher?
According to the Washington Post, many states are relying increasingly on substitutes to fill teaching jobs full-time. Erin Beers is a seventh grade language arts teacher and classroom resource creator from Cincinnati, Ohio. Beers recommends those with limited teaching experience consider enrolling as a substitute in their school district.
As a substitute, individuals receive exposure to different age groups and subjects. They can also better see if the classroom environment matches their expectations. From here, Beers said the next tier of substitute teaching opportunities are long-term assignments. These are postings which come up throughout the year for staff members who need to take an extended leave from the classroom. 
"Some of these situations, like maternity leave, are projected in advance so they offer a training period and an established curriculum to work from," said Beers. "If you develop a good relationship with your school district as a pool substitute, they will likely invite you to apply to these long term positions."
Keep in mind you might still be required to have a degree, though. In the state of Ohio, Beers said most substitute jobs require either a college degree or an Ohio substitute teaching license. You can typically find more information about necessary licenses and any other teaching requirements on your state's department of education website.
Make Your Money Work Better for You
What About Working in a Non-Teaching Position?
If you don't feel like you should work as a teacher, the good news is there are several non-teaching positions available for those with limited or no experience. A few examples of roles one could work in include the following, as recommended by Beers:
Technology coordinators. These people help set up and troubleshoot every aspect of computers and software. 
Teaching assistants. An assistant works directly with a classroom teacher to provide guided instruction and special education needs.
Resource coordinators. These positions help lead everything from study hall periods to after-school programs.
There's nothing wrong with working in a non-teaching position, especially if you know you would not be well suited to work with students in a classroom. Candidates applying for a teaching position, especially under emergency certification, need to make absolutely sure they know teaching is for them. Purnell said potential teachers need to like children, enjoy acquiring knowledge, and be ready to take on hard work — because teaching is tough.
"Teaching is as rewarding as it is challenging, but make sure you're entering a profession you can throw your heart into," said Purnell. "Not only do you need to know what you're teaching, but you also need to understand how to deliver content in a manner which is beneficial to your students — and that requires ongoing professional development both through the school and independently."
More From GOBankingRates
Make Your Money Work Better for You