How To Get Paid To Go Outside This Summer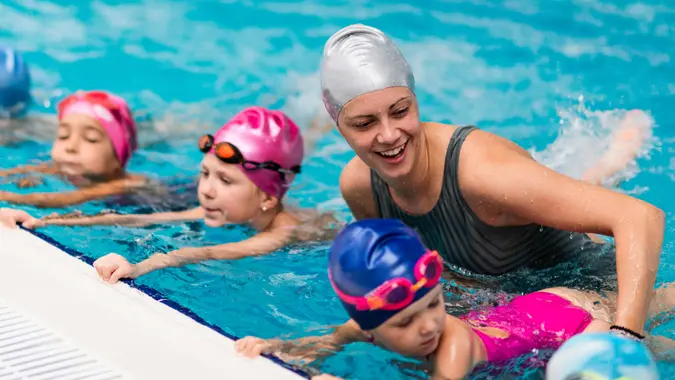 microgen / Getty Images/iStockphoto
Can you get paid to spend your days outside this summer? Absolutely! There are tons of side hustles specific to summer that allow workers to get paid for doing fun, seasonal activities and completing necessary household tasks. 
What kinds of side gigs are available for you to earn some money? From operating a roadside product stand to providing lawn care services, working these gigs pays you to go outside this summer.
Lawn Care Provider
One of the easiest ways to make money and get outside is by providing lawn care services. 
Bryan Clayton, CEO and co-founder of GreenPal, said working as a lawn care provider is a great side hustle because of its flexible nature.
"You can set your own schedule, prices and service area," Clayton said. "You can also choose the types of jobs you want to do, such as mowing, trimming, edging or mulching. You can earn money by doing what you love: taking care of lawns and making them look beautiful." 
Summer Swimming Instructor
"My friend was a summer swimming instructor, and she absolutely loved it," said Scott Lieberman, founder of Touchdown Money. "She worked with all ages, from babies to adults. It paid about $30 per hour for private lessons, less for group lessons."
Roadside Product Stand
This is exactly what it sounds like: a produce stand you can run by the side of the road.
Make Your Money Work Better for You
Nick Loper, founder of Side Hustle Nation, has been helping a community of 100,000 people earn more money and build businesses they love since 2013. Loper uses the example of Shannon Houchin, a professional peach broker from Roadside Republic, as someone who created a profitable business in the summer months. 
"Over the last 10 years, she's built quite an empire of roadside produce stands," Loper said, "and says you can flip $300 worth of peaches into $1,000 in a weekend."
Hiking Tours
Tours are a popular way to get paid to go outside while getting in some exercise as a tour guide. Alexandra Kenin, founder of Urban Hiker SF, leads tourists and locals through the hills of San Francisco at $50 apiece. 
Determine which type of tour you want to lead, whether it's a hiking tour, a walking tour or a visit to a local landmark in your city. You also can figure out whether you want to lead group, private or corporate tours as a guide.
Pressure Washing
Cleaning a person's home, deck, driveway and walkway might be considered a "chore" activity, but you can get paid and enjoy being outside if you have a pressure washing side gig.
Loper, who interviewed Scott Anderson of Spoon River Pressure Washing, said Anderson reported earning at least $3,000 per month while pressure washing houses part time. While on the first job, Anderson also was able to recoup a good chunk of his equipment costs. 
Make Your Money Work Better for You
Wedding Officiant 
You can be a part of someone's special day by acting as a wedding officiant this summer.
Maria Romano, founder of True Love Knots, said wedding officiants can earn $400 to $5,000 a month. Keep in mind: Unlike some of the other gigs on this list that don't require certifications, a wedding officiant has some requirements. You will need the appropriate licensing, mentorship and reliable transportation to attend ceremonies and meetings.
More From GOBankingRates