How To Maximize Earnings as a Delivery Driver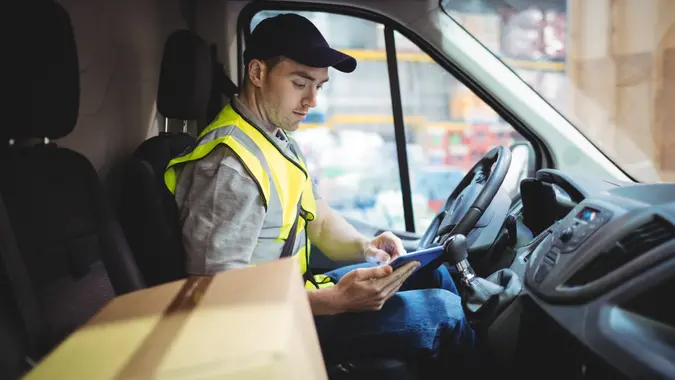 ©Shutterstock.com
Becoming a delivery driver can be a great opportunity to earn some extra income. However, these types of gigs can be a major investment of your time, so it's important to find ways to optimize it.
Doing this can boost your efficiency, maximize your earnings, and make this a potentially lucrative side hustle. It could even potentially lower your expenses, which can put more money into your pocket. If you're not sure where to start, here are the best tips and strategies to implement as soon as possible. Also, feel free to check out out some side gigs.
Work for Multiple Apps
One of the best ways to maximize your earning potential is to work for multiple apps. This includes non-delivery driving apps like rideshare services, since you can often combine work.
Tom Blake, the founder of This Online World, says, "Delivering for multiple apps, known as multi-apping by seasoned gig workers, is one of the best strategies to maximize earnings. This is because using multiple apps helps you cherry-pick the highest paying orders, thereby making more per hour."
For example, you can become a rideshare driver for Uber and Lyft while also delivering for DoorDash, Uber Eats, Grubhub or other apps. Each company pays out differently, but you could significantly increase your side income.
Make Your Money Work Better for You
"Many drivers I know do this by combining apps like Uber Eats and DoorDash," adds Blake. "You can pause your status on both delivery apps, so if you get a high-paying order on one app, you can accept it while pausing the other app so you don't get too many orders at once. Some delivery drivers I know also use apps like Amazon Flex, where you schedule blocks of time you deliver for, and then supplement their income with gigs like Uber Eats that are more flexible."
If you're not used to juggling multiple apps like this, start slowly so you don't get overwhelmed. The last thing you want is to accept multiple simultaneous requests only to find you have to drop one.
Schedule Work Around the Busiest Hours
If you're working as a delivery driver as a side gig, you might be limited in terms of when you can work. After all, chances are you have another job, social life, and other activities or events scheduled in your life.
But if you have some flexibility in your schedule, you can use it to your advantage and increase your income as a delivery driver. Specifically, if you're able to work around the busiest hours — or peak times — you can get more delivery and rideshare requests. Many apps, like Uber, pay more for accepting a request during specific times of the day or on weekends or holidays.
Make Your Money Work Better for You
"For example, food delivery apps like DoorDash and Uber Eats are often slow during the morning, so drivers can easily wait around for 15-20 minutes before getting a decent order request," says Blake. "In contrast, delivering around lunch and dinner time, or late at night on Friday and Saturday, can be much busier and more lucrative. Prioritizing special events, like holidays or major sporting days like the Super Bowl or World Cup, can also be excellent delivery days."
Take Advantage of Bonuses
Many delivery and rideshare apps offer additional bonuses to incentivize their drivers. These bonuses come in many forms and have specific requirements, based on the app you're using. For example, you might have to work during certain times or take on a specific number of requests within a time frame. Or you may need to refer people to the app.
Uber Eats, for example, offers referral bonuses that can help boost your income. All you need to do is invite someone to sign up for Uber using your invite code. As long as they become a driver — and take on a certain number of orders — you'll get a small bonus.
DoorDash offers another type of bonus for new DoorDash drivers, known as the Guaranteed Earnings Incentive. With this program, you're guaranteed to earn up to a specific amount as long as you complete a set number of deliveries within a predetermined timeframe. If you do this but don't earn a certain minimum amount, the company will simply top off your earnings so that you do.
Make Your Money Work Better for You
Prepare for Taxes (and Look for Tax Breaks)
If you're working a side hustle as a delivery driver, you're going to need to think about taxes. This is because you'll be responsible for paying taxes on your earnings when it's time to file with the IRS. It might not be the most exciting thing to do, but it can help prevent you from potential tax-related penalties down the line. And it can make it easier for you to calculate your true earnings each month.
Check with each app you're using to see what types of tax documents you need to complete. Uber, for example, has a full page on the types of tax documents you might receive. One common document for people earning money through a payment app or online marketplace is the 1099-K form. Another is the 1099-NEC, which simply shows your total earnings for the year.
The good news is that it's not all about paying taxes — you might also be eligible for certain tax breaks. Depending on how much you've saved up throughout the year, you could even end up with a small tax refund after filing.
Common tax write-offs include mileage, tolls, supplies for your customers, and your mobile phone. You may also be able to write off a certain amount of vehicular wear and tear or maintenance. Keep track of your earnings and expenses so that you can easily figure out what to put on your taxes. Also, speak with a tax professional about potential tax deductions.
Be Smart About Tips
Some delivery companies offer tips, which can increase your income. However, you may still benefit from taking a request that doesn't come with a tip.
Make Your Money Work Better for You
"No-tip offers can be worth accepting if the guaranteed base pay is high enough," says Blake. "Many drivers often aim for $1 to $1.50 paid per mile they have to drive for a delivery." The tip can help offset any costs and add to your earnings.
But tips aren't the most reliable way to earn money. Some customers engage in something called "tip-baiting." This is essentially when a customer leaves a tip, but then takes it away once you've completed their order.
Although many companies are aware of this practice and try to prevent it, it's still better to view tips as a bonus rather than as a requirement. That way, if your order does come with a tip, you'll be pleasantly surprised when it's added to your base pay.
More From GOBankingRates