How To Resign Without Burning Any Bridges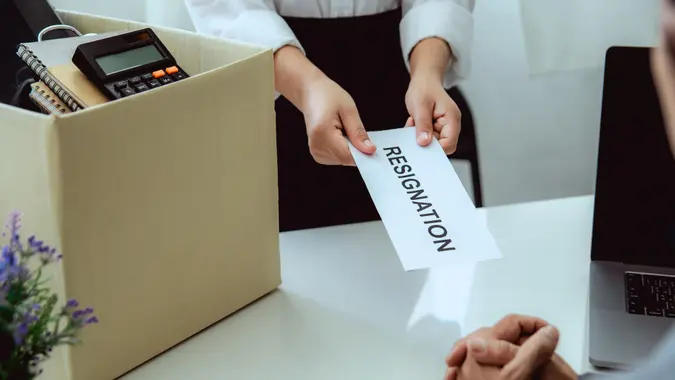 Jikaboom / Getty Images/iStockphoto
Although we're past the peak of the Great Resignation, many employees are still leaving their jobs for various reasons, whether to achieve better work-life balance or to take advantage of a better job opportunity. A recent FlexJobs survey found that 30% of respondents were currently considering quitting their jobs.
See: Top 10 Richest People in the World
The Future of Finances: Gen Z & How They Relate to Money
If you're in this boat and you've had a positive work relationship with your current employer — or even if you haven't — it's always best to leave on good terms. GOBankingRates spoke with career experts to get their best tips for resigning without burning any bridges. Here's how to walk that fine line successfully.
Give as Much Notice as Possible
"As soon as you've reached a well-considered decision to leave, pick an effective date that will be your last day on the job," said Bill Catlette, executive coach and partner at Contented Cow Partners. "Be especially mindful of compensation and benefit accruals, payouts and the like in determining your resignation effective date. Generally, it's a good idea to give your employer as much notice as possible."
Make Your Money Work Better for You
The FlexJobs survey found that most employees (61%) think two weeks' notice is the right amount of time to give their boss, but 22% think it should be one month.
However, the appropriate notice time might be shorter in some circumstances: "If the company has a history of immediately walking people off the premises upon resignation, provide the minimum notice expected based on company policy (if any)," Catlette said.
Take Our Poll: Do You Think Student Loan Debt Should Be Forgiven?
Inform Your Manager Before Telling Other Co-Workers
You might be tempted to tell your work colleagues about your new gig right away, but then you run the risk of your manager hearing about it from them and not from you. It's best to have this conversation with your manager ASAP in person or over the phone, but you should also put your intentions in writing, too.
"Furnish the resignation in writing (email is fine), addressed to your immediate boss, keeping a copy for your records," Catlette said. "Resist the urge to tell others ahead of the letter to your manager."
Continue Putting in Effort Through Your Last Day
It's hard to not mentally check out after you've given your notice, but you should continue doing your job — and doing it well — until your official last day.
"People will notice how you behave when you no longer have any skin in the game, and this often ends up becoming your lasting legacy," said Joseph Liu, career change consultant and host of the "Career Relaunch" podcast. "Treat your job seriously and remain focused on delivering results all the way until the very last day."
Make Your Money Work Better for You
Work With Your Manager To Ensure a Smooth Transition
You don't want to leave your manager scrambling to fill gaps or tie up loose ends when you leave. Work with them directly to figure out a plan for a smooth transition out of the role.
"Just the act of proactively soliciting your manager's input on how you can make the best use of your final days at an organization can leave a lasting, positive impression," Liu said. "Get your manager's thoughts on where you should ideally leave things with your projects, teams or major initiatives you've been managing. When your manager sees how you're acting when he or she no longer has any role power over you, they'll get a sense of how professional and responsible you are, even on your way out the door."
Liu recommends preparing a "transition file."
"This includes project statuses, key issues, politics, relationships and stakeholders, which you can share when informing your manager of your departure," he said. "Doing this demonstrates how much you're committed to ensuring a smooth transition."
Be Positive During the Exit Interview
If your company offers an exit interview, be sure to take this opportunity to provide them with further insights into your decision to leave. While you don't have to sugarcoat your experience, it's best to remain positive if you don't want to burn any bridges.
Make Your Money Work Better for You
"A common temptation is to use the exit interview as a time to air grievances or get a few things off your chest about what you don't like about your company. As cathartic as it may feel to let off some steam during an exit interview, keep your messaging positive," Liu said.
"While it may sound cynical, don't count on your complaints as an exiting employee carrying significant weight or driving any meaningful change," he continued. "Complaining on your way out the door only leaves a bad taste in people's mouths. Also, on a very practical level, because much of what you say will be documented and potentially kept on file, anything negative you say could play a factor in a future hiring decision if you ever choose to return to the company."
Express Gratitude to Those Who Have Helped You Along the Way
You may not want to send out a company-wide email announcing your departure, but it is a nice gesture to send a few thank you notes to any colleagues or managers whom you worked with closely.
"Express gratitude and acknowledge the learning that contributed to finding a new role," said Amy Marcum, manager of HR services at Insperity.
More From GOBankingRates
Make Your Money Work Better for You