How To Stand Out in Today's Work Climate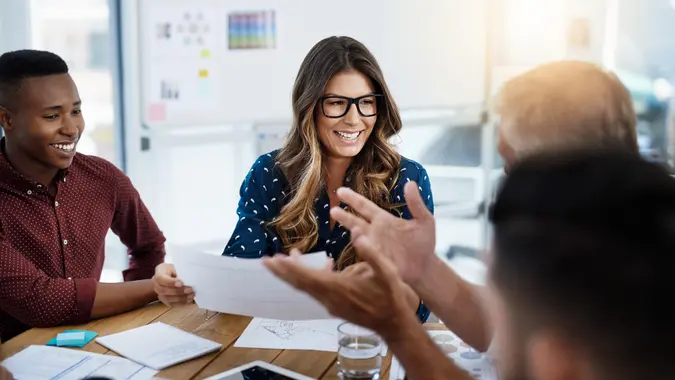 PeopleImages / Getty Images
It's no secret that the American workplace has shifted dramatically over the last few decades and, more specifically, since the pandemic. Thanks to a volatile economy, labor shortages and an increasing demand for remote or hybrid work, employee expectations are shifting, too.
So how exactly has today's work climate changed, and how can you stand out in it as an employee or job seeker? Let's look at what career experts have to say.
The Work Climate Is Shifting
As Gen Z becomes more vocal about their workplace needs, career experts are noticing that employees are thinking more about overall life satisfaction instead of solely job satisfaction.
"Gen Z is helping to highlight what it means to balance life and work on a massive scale," said Rutger von Post, partner at Oliver Wyman and head of their New York office. "These days, pay, growth opportunities, better work-life balance and transparency are all table stakes."
Corporations over the last decade have focused on helping employees grow their careers, but now, many companies are finding they also need to focus more holistically on employee wellness, said Kate Feather, senior vice president and head of employee experience and talent development at Lincoln Financial Group.
"There's also a shift toward thinking about employee personas, not just in terms of job role, tenure and seniority, but also in terms of values, motivations, life stage and adjusting approaches to serve those different needs," she added.
Make Your Money Work Better for You
Ways To Stand Out as an Employee or Job Seeker
In light of these recent shifts, career experts say job seekers and employees should stay flexible and consistently work on building new skills to land better roles and promotions. Here are a few strategies that may help advance your career in today's work climate.
Don't Limit Yourself to Jobs That Are a Perfect Match
If you see an interesting job opening, don't assume you have to meet the requirements completely to apply for or land the role.
Just be sure to highlight your transferable skills, your previous accomplishments that have directly impacted business results, and your contributions to company culture and social efforts, recommended Michael Kellar, senior vice president and head of talent at Lincoln Financial Group.
Be Flexible
In today's ever-changing employment landscape, von Post believes it's important to be agile and willing to learn or even strike "a new deal" with your employer.
"Employees need to be mindful of not getting too comfortable with the way things are," he added. "Instead, be sure to brace yourself for what 'could be' and find ways to work with employers to navigate the New World."
Keep in mind that for many companies today, especially startups, needs can shift quickly, and employees who are willing to step in and learn how to meet those new needs will stand out from their peers.
Don't Be Too Quick To Move On
While being willing to embrace new challenges and job opportunities is admirable and can help further your career, be wary of moving on too quickly. "Consider each task an opportunity to learn even when it's familiar," said von Post.
Make Your Money Work Better for You
Focus on Corporate Values
Jevonna Johnson, chief people officer at Avant, advises employees and job seekers to make sure their personal values align with their employer's values. Nowadays, that shared foundation is more important than ever.
"All the programming, benefits and perks won't overcome a difference in values," she said. "And the cognitive dissonance of spending so much of your time with an organization when there's a misalignment can create further challenges."
Take Advantage of Mentorship and Networking
Johnson also encourages employees to focus on being present, whether they work remotely or in the office. One way to do this is by taking advantage of mentorship and networking opportunities at your workplace, especially if they allow you to collaborate with colleagues from different departments.
Feather agrees, reminding employees and job seekers that the best career journeys are built one experience at a time. So don't be passive about building workplace relationships.
"Formal learning has its place, but relationships and experiences will cement learning much faster than a classroom can," she said. "Employees should articulate their aspirations to their internal recruiters or a mentor or talk to their manager."
Embrace Challenges
Instead of shying away from workplace problems, run toward them, said Johnson. By applying this principle in her own career, she's found it to be one of the quickest ways to grow.
"Not everyone leans into the unknown spaces, the difficult things," she said. "But that's where the most growth comes. And you'll often find a ton of support there as well."
Make Your Money Work Better for You
More From GOBankingRates