How To Start a Career Not Related to Your Major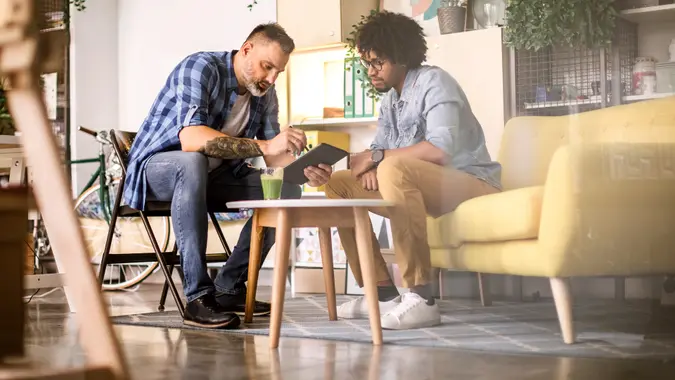 Pekic / Getty Images
Eager to find a job that has nothing to do with your degree? You're not the only one. In fact, according to data from Finder, around 40% of Americans say they're not using their degree, over 28% can't find a job in their field and more than 13% have changed careers.
If you're looking to pursue a job in a new field, here's what career experts recommend you do first.
Live Richer Podcast: Why Inflation Is Making Your Paycheck Worth Less
Look: 10 Richest People in the World
Shift Your Mindset
Just because you spent money on a degree doesn't mean you have to pursue a career in that field. And shifting careers doesn't mean your education went to waste.
Dan Shortridge–a resume writer, career coach and founder of Results Resumes — says it's important to get rid of those limiting mindsets.
Make Your Money Work Better for You
"Shifting fields can require a mental adjustment," he says. "If you studied German for four years and really wanted to go to grad school and be a professor, it can be jarring to recognize that you can't stand the thought of more education right now. That's not a failure! It's perfectly natural and normal. Many people change careers during their lifetimes; this may not be the last time you do it. Remember that paths are almost never closed off — you can always return to your roots if you want to."
Focus On Transferable Skills and Relevant Experience
Once you have the right mindset, look at how your current skills can transfer to your desired career.
"Identify things that will stand you in good stead in multiple fields — like a history major's research and writing skills applied to marketing, journalism or nonprofit fundraising," says Shortridge.
Amy Feind Reeves, founder and CEO of Boston-based career consultancy JobCoachAmy, says people can cultivate many transferable skills through their liberal arts majors, such as how to prioritize, manage your time and distill large amounts of research into several important points. Extracurricular activities produce important skills, too, such as organization, accountability and teamwork.
Make Your Money Work Better for You
"All of these things matter," Reeves says. "Look at your skills the way an employer would and highlight them in your tools — your elevator pitch, cover letter or resume. Basic skills are universal, and odds are, you already have them. Entry-level jobs are all about being reliable, getting along well with people and staying well organized."
Find a Mentor in Your Desired Field or a Career Counselor
One of the best ways to pursue a new career is to connect with people who already work in that field. Shortridge encourages people to ask practical questions, such as what an average workday is like, what employers to avoid and what skills new hires should list on their resumes.
"Online research and books can provide some of this information, but not all," he explains. "If you're still in school, seek out the career services staff early. They can give you insights on resumes, career research and other tools that will be helpful."
When it comes to networking, Reeves recommends casting a wide enough net that you'll find people willing to help — but not too wide that they don't know how to help.
Make Your Money Work Better for You
"You need to make it easy for them by explaining what it is you are looking for in a way that's not so broad that it's meaningless and not so narrow that it makes the chances of them knowing a way to help you very low," she says. "Try something like, 'I'm very interested in doing social media marketing for consumer products,' and see what comes up."
Volunteer, Apply For Internships and Take Relevant Courses
Steven McConnell, director of sales and marketing at career consulting company Arielle, says the key to shifting your career is to be intentional with the skills and experience you build.
"Research the job and industry to identify what technical skills or knowledge you're lacking so you may take steps to learn and gain them," he says. "Know that while your major may be different from the career you're starting, it will involve a system that takes some input and produces some output, just as with other fields. Continuous learning and self-evolving will be imperative."
To gain those skills and experience, don't be afraid to start with unpaid or low-paid positions.
"Apply for internships in the field you're interested in, volunteer for relevant organizations or dip into freelance work," he says. "All these will broaden your skillset and expose you to people who could mentor and nurture you. Banking on certifications by enrolling in related courses will also bolster your experience and provide you with great advantages despite your degree major."
More From GOBankingRates
Make Your Money Work Better for You