How To Transition Back to a Vacation Culture in the Post-COVID Workplace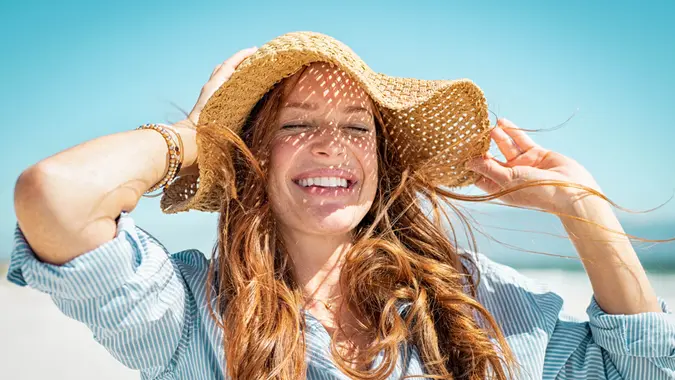 Ridofranz / Getty Images/iStockphoto
At the end of April, the CDC announced that traveling is now a safe option for fully vaccinated individuals, which means that managers will likely see an uptick in vacation requests from workers. According to an update on the American Travel Trends and Sentiment report from Destination Analysts for the week of May 17, over 72% of Americans reported dreaming about travel or planning travel recently.
Support Small: Don't Miss Out on Nominating Your Favorite Small Business To Be Featured on GOBankingRates — Ends May 31
And vacation plans are coming right up. Favored months for getaway travel this year include July-October, according to the update. And it seems the sooner, the better. During July, 32.6% of Americans plan to take vacation trips, while 31.6% plan to vacation in August. September and October are also shaping up to be popular travel months, with 25% of Americans looking forward to getting away.
Did You Know: 22 Side Gigs That Can Make You Richer Than a Full-Time Job
But as America returns to a vacation culture in a post-COVID workplace, issues will certainly arise — from managers struggling to motivate workers on the sidelines to coworkers dealing with the conflict of overlapping time-off requests. To help solve these issues, GOBankingRates gathered a few worker and manager insights. Here's what you need to know.
Make Your Money Work Better for You
Worker Insight: How To Actually Use Time Off
"I keep a calendar of my available PTO and the amount of time I've already taken and aim to plan it throughout the rest of the year," said Forrest McCall, personal finance expert and owner of the entrepreneurship blog Don't Work Another Day. "Because my PTO accounts for any reason to miss work, I leave a few days aside in case I become ill. By planning ahead, I can ensure I use all of my available PTO and respect my manager."
Worker Insight: How Taking Vacations Can Increase Productivity
Workers who are on the fence about traveling this year should know that time off can actually help them be more productive once they return to work. A simple online search about whether vacation time can increase productivity will yield a bevy of studies confirming the positive relationship between the two. Plus, there are other benefits, too.
Modern Money Etiquette: Who To Tip When You're Traveling
"Encouraging employees to take time off is essential to keep everyone off the edge," said Tammi Avallone, managing editor of FiveBarks. "This will also decrease employee burnout and result in a more productive work environment."
Make Your Money Work Better for You
Worker Insight: How To Avoid Overlapping Vacation Requests With Coworkers
With many employees ready to burn some of those built-up vacation days, it's inevitable that some overlapping will occur. Tasneem H., SEO expert and writer at The Stock Dork, shared how the employees at his workplace use a team effort to deal with conflicting vacation requests. 
Read: Should Employers Require Workers To Take Time Off?
"Before formalizing the vacation requests to the management, as employees within one team, we create a team calendar of time-offs," he said. "Together, we discuss the time that matches every one of us. We negotiate sometimes by addressing our personal reasons and sharing our motives and needs with each other. Also, all of us try to show flexibility in this regard to shape an appropriate calendar that satisfies all team members' needs. If overlapping occurs during the discussion, which is possible, usually, the deciding standard is the business interest. According to the business interests, we decide the final structure of our vacation calendar."
Manager Insight: How To Handle Overlapping Vacation Requests
"As we get closer to summer, I have been absolutely blitzed with requests for PTO," said John Ross, CEO of Test Prep Insight. "People have been sitting on their vacation time for over a year now, and with good weather on the horizon and 90% of our team vaccinated, people are putting in PTO requests almost every other day. This is a major issue for us, as we are a small team of just 10 employees and don't have too much overlap coverage. This has given me a Ph.D. in logistics, as I try to work with employees to set PTO dates and manage our company's calendar."
Make Your Money Work Better for You
Discover: Companies That Let You Work From Anywhere
"In the end," Ross continued, "because a number of employees have been very reluctant to budge on their dates, I've had to offer small incentives for employees to defer vacations until later in the summer and fall, like September and early October. I am offering those employees that defer vacations until fall an extra three days of PTO to tag on to whatever time they want in the fall. For those employees that don't have school-age children, I know this will be enticing enough to get them to move dates, ensuring us coverage. I am hoping this is the last summer that I have to get this creative with scheduling and offering perks."
Manager Insight: How To Keep Workers Motivated
"One way for managers to keep employees motivated when everyone seems to be going on vacation is by setting and sticking to project deadlines," said Ann Martin, director of operations of Credit Donkey.
"In my own office, there has been a noticeable uptick in employees using their vacation time. We have mitigated the effects on the office by maintaining a detailed schedule for when projects should be completed. Giving this structure to time in the office helps to keep employees focused and on track. Our minds tend to wander when we don't have goals to focus on, so this is especially critical during the summer and other times of the year that are popular for vacations."
Manager Insight: How To Get Reluctant Workers To Use Their Vacation Time
"As far as getting employees to actually use their vacation time, watch the way you talk about vacation and the employees who take it," Martin said. "Don't say things like, 'I don't know what we're going to do without them' or 'We're in for a rough week.' This dissuades some employees from taking time off because they perceive you as having a negative judgment of employees who do."
More From GOBankingRates
Last updated: May 20, 2021
Make Your Money Work Better for You