How To Turn Your Side Gig Into a Full-Time Job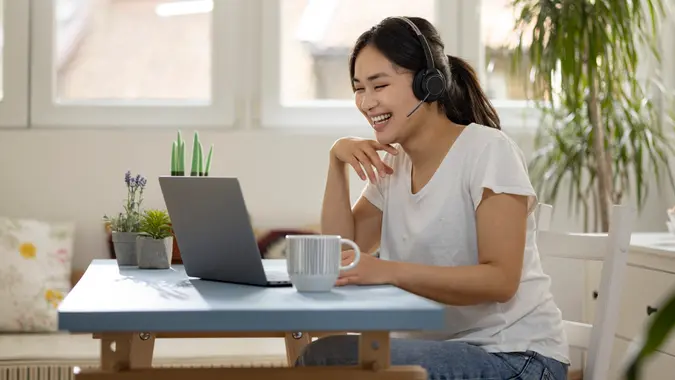 Ivan Pantic / Getty Images
If you've realized that you want to spread your wings, ditch your day job and take your side gig full-time, it is possible. But don't give your two-week notice just yet.
See: 11 Grocery Items To Buy at Dollar Tree
More: 3 Ways to Recession-Proof Your Retirement
"For many, transitioning a side gig into a full-time job doesn't just mean you let your 9-5 go," said Ali Turner, founder of Satva.io, an all-in-one business growth platform for entrepreneurs. "It doesn't mean you suddenly create your own job out of a profitable hobby, something you worked on in the evenings and on weekends. Making what started as a side hustle into your primary income stream is often much more than that: it's turning supplemental work into a business."
Ready to get started? Here are some expert tips to help you turn your side gig into a full-time job.
Have Clear, Specific Goals in Mind
"Before turning your side gig into a full-time job, take some time to figure out what you want to achieve," said Kelan Kline, co-owner of The Savvy Couple. "Set goals for yourself, like how much money you want to make and how many clients or customers you hope to have on board. Having clear goals in mind will help you stay focused and motivated along the way!"
Make Your Money Work Better for You
Devote a Consistent Amount of Time Toward It
"If you don't put in consistent effort, it's difficult to build consistent income, which you need if you're thinking of giving your two-week notice at your day job," said Nick Loper from Side Hustle Nation. "It's a simple thing, but easier said than done."
Take Our Poll: What Do You Plan To Use Your Tax Refund For?
Keep the Demands of Your Day Job in Check
"You also need to manage the demands of your day job while you prepare to go full time at your own business," said Paul Kushner, CEO of My Bartender.
"Taking on extra tasks or going the extra mile may not serve you anymore. After all, you aren't looking for a promotion, you're just looking for stability while you build your own business. So do your job, do it well, but don't take on anything extra. As your business picks up, see if you can adjust to part-time or casual hours to supplement your income as you transition."
Keep Your Expenses Low
"Most people want to replace their day job salary with their side hustle, which is a great goal but can be difficult to achieve on a part-time basis," said Loper. "If you're eager to get out on your own full-time, aim to generate a side gig income that at least covers your monthly expenses. That way, when you take the leap, you won't have to dip into savings or take on additional debt."
Make Your Money Work Better for You
He added that when he when he quit his regular job to take his side hustle full-time, this is where he was at. Loper's business wasn't fully replacing his salary, but he had a decent savings cushion and was confident he could grow it with more time to focus on it.
Consider Scale and Leverage
"Making the shift from employee to entrepreneur requires a shift in mindset — from collecting a paycheck to generating profits," Loper said. "As the business owner, think about how you can best leverage your time and skills to generate bigger results. For example, could you create a product or template once and use or sell it over and over again? Could you train another team member to free up your time for marketing and growth?"
Find a Mentor
"Having a mentor can be invaluable when you're starting a business," said Jon Morgan, CEO of Venture Smarter. "Look for someone who has experience in your industry and can offer guidance and support."
Establish Your Brand Identity
"If you want to stand out from the crowd, it's important to establish a strong brand identity for your side hustle," advised Kline. "You can make this happen by creating a professional-looking website, maintaining consistency across your marketing materials, and positioning yourself as an authority in your field."
Make Your Money Work Better for You
Be Seen
"Getting in front of as many potential customers as possible is essential if your ultimate goal is to turn your side hustle into a full-time gig," said Kline. "Attending industry events and networking gatherings can be a great way to meet new people who might need your services. Social media is another powerful tool that you can use to spread the word about what you do and connect with potential clients."
Establish Multiple Income Streams
"When you're transitioning your side hustle into a full-time gig, it's important to have multiple income streams in case one dries up suddenly," Kline said. "Instead of relying solely on one type of job or service, consider branching out and offering related services or products. It can increase your revenue and reach new customers who may not have been interested in your main service offering."
Be Patient and Persistent
"Transitioning from a side hustle to a full-time job is a process that requires patience and persistence," said Charlotte Adams, chief people officer at Overnight Jobs. "It takes time to build a successful business, so be prepared to work hard and make sacrifices along the way. Stay focused on your goals and continue to take steps toward achieving them, even when the going gets tough."
More From GOBankingRates
Make Your Money Work Better for You