How To Turn Your Seasonal Job Into a Full-Time One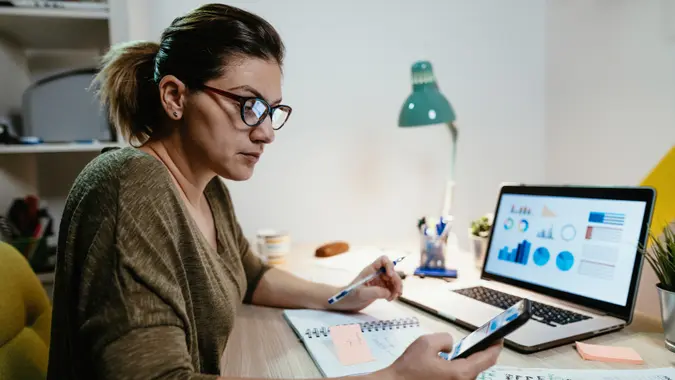 Drazen_ / Getty Images
A good way to pick up some extra cash is to get a seasonal job, and the last quarter of the year is the perfect time to get one. But seasonal jobs are short-lived. They often begin in October or November and end sometime in early January.
 But what if you don't want the job to end and you'd like to turn it into a full-time opportunity? It's a definite possibility. Here's what you need to know to help things go in your favor and get the full-time job offer you want.  
Check Out: The World's Most In-Demand Jobs That Don't Require a Degree
Take-Home: How Much You Really Take Home From a $100K Salary in Every State
How Easy Is It To Turn a Seasonal Job Into a Full-Time One?
It might be easier than you think. 
"There used to be an implicit presumption with seasonal work that an employee would be happy to turn that role into a long-term position," said Tina Hawk, senior vice president of HR at GoodHire. "However, today, that isn't generally the case, and with so much unpredictability across all sectors, employers are especially appreciative of knowing where they stand with seasonal employees.
Make Your Money Work Better for You
"Staffing shortages are still plaguing many sectors, retail in particular. Employers are offering increased incentives and rare benefits to new retail hires, especially for long-term positions. And many of those employers will actually be hoping they can retain some of their seasonal workers longer-term."
Learn More: 45 Jobs That Can Make You a Millionaire Before Retirement
When Should You Say You Want a Full-Time Opportunity?
Experts have mixed ideas on when you should say you want a full-time opportunity. Some say make it known right away, and others recommend waiting.
If you're certain that you're interested in turning a seasonal job into a full-time opportunity, you can mention it during your interview. 
"This could be the difference between you getting the job and someone else," said Shawn Boyer, the founder and CEO of goHappy Hub and former CEO of Snagajob. "You can mention that it's not a must-have for you, but that you're really hoping that if you do a great job for them, that there could be a full-time opportunity for you at the back end of the season. Again, most employers know they will need that help — and it shows that you will work hard during the season because it's like an audition for you to get the full-time job."
Make Your Money Work Better for You
Laura Barker, a career coach with more than 20 years of human resources experience and owner of Laura Barker Coaching, recommends waiting. 
"I would wait until you're hired before mentioning you want full-time," she said.  "After all, you may decide you don't want to work there full-time after spending a season working at your new company. 
As soon as you know that the company seems like a place you'd want to work full time, Barker recommends approaching both your manager and HR. 
On the Move: Companies That Let You Work From Anywhere
"I recommend speaking to both because you can't assume that the manager will update HR, and HR is the one who manages company openings and can keep you in mind as opportunities come up," she said. "Many, if not most, decent-sized businesses offer internal candidates the chance to apply for job postings first before going external."
Make Your Money Work Better for You
Boyer offered this suggestion for approaching your employer if you wait to mention your interest in full-time employment.
"I would approach them several weeks into the seasonal job," he said. "You can say that you have loved your first few weeks there and would love an opportunity to stay on full time if that need is there. Beyond that, let your work and attitude do the talking for you to show how worthy you are."
What Should You Do To Prove Yourself Worthy of a Full-Time Opportunity?
If you want to give yourself an edge and prove yourself worthy of a possible full-time opportunity, here's what the experts suggest. 
"Volunteer to pick up extra shifts if you can, recommended Boyer. "This is a big deal for employers as they constantly have to deal with call-outs. If you are available to pick up those whenever you can, it shows that they can count on you in a pinch and that you're a true team player."
"Show up on time," said Barker. "Sounds so simple, but you'd be surprised at how many struggle with it."
Boyer agreed, "Be on time every day. Better yet — be early every day! Again, this shows your reliability."
Things Won't Be the Same: Handshakes and More Office Rules Changed by COVID
Barker also suggested displaying a positive attitude. "It makes all the difference between hiring you and someone who doesn't share your sunny outlook," she said. 
Boyer also believes your attitude is one of the keys to success. "Employers talk all the time about how they can teach you how to do certain jobs but that they can't teach attitude," he said. "So, do everything you can to show up with a positive, can-do attitude."
Barker also pointed out that it's important to make an effort to learn your job and learn about the company. "The more you learn about the company, the more valuable you become to them. How does the business make its money? Who are its customers?" she said.
More From GOBankingRates
Make Your Money Work Better for You