How To Write a Good Resume With No Experience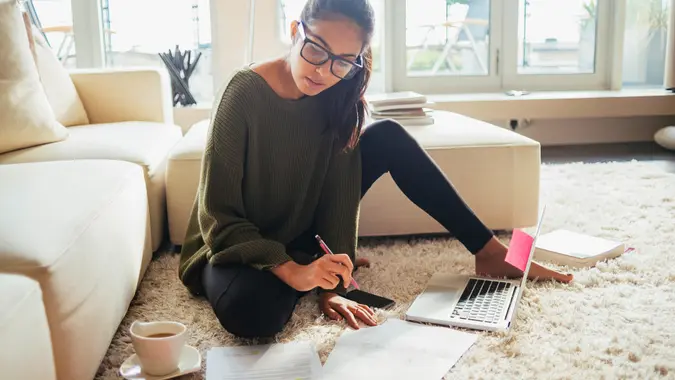 DaniloAndjus / Getty Images
When applying for jobs, your resume is the first impression you make to recruiters and hiring managers. But how do you create an impressive resume when you're applying for your first job?
Related: Is Your Resume Up To Par With the Competition?
Jobs: 20 Jobs Where You Can Make $60,000 Out of College
GOBankingRates spoke with professional resume writers and other career experts to get their best advice for writing a resume when you have no work experience yet.
Make the Most of the 'Education' Section
"Because you don't have much work experience, hiring managers will pay close attention to your education section to see if you have what it takes to get the job done," said Jacques Buffett, career expert at Zety. "While most college grads will list just their school, GPA and year of graduation, you can kick things up a notch and list some extra information about relevant coursework that's at least partially related to the job you're applying for. By highlighting relevant projects you worked on, you'll deliver an application that fits the employer's needs."
Preparation: Smart Ways You Can Prepare For Job Loss While You're Still Employed
Work Worth Considering: 28 Genius Side Hustles You Never Knew Existed
You can also include extracurricular activities in this section. This is an opportunity to list "quantifiable, measurable benefits" that you've achieved in these groups, said Damian Birkel, a certified career counselor and founder of Professionals In Transition. "Were you the treasurer of an organization on campus? How much was the budget that you managed each year?"
Make Your Money Work Better for You
Spotlight Volunteer Work
"Volunteer experience on a resume signals to employers that you're a robust candidate who takes action," Buffett said. "Not only did you choose to give back to the community, but you also walked the extra mile to pick up new skillsets. On top of that, since most volunteer jobs involve working with a diverse mix of people, prospective companies will assume you have stellar teamwork skills that will help you gel better with others."
Read: 20 Ways To Improve Your Chances of Getting a Job
Include Summer Jobs or Part-Time Jobs
Even if you've never worked a full-time job, you should highlight any work experience you do have and explain how the skills you acquired there could help you in the prospective role.
Discover: Why You Should Consider Putting 'Mother' on Your Resume
Find Out: Top Resume Mistakes That Hold Job-Seekers Back
"You can still leverage the experience you have to showcase invaluable skills such as work ethic, teamwork and problem-solving," said William Ratliff, senior career services manager at Employment BOOST. For example, "a part-time retail gig can show that you can juggle multiple responsibilities while working in high-stress environments."
Make Your Money Work Better for You
List Your Relevant Passion Projects & Hobbies
Outside of school, work and volunteering, you may have a passion project or hobby that has helped you gain transferrable skills. Be sure to list this on your resume.
Finding a Job: 40 Legit Companies That Will Pay You To Work From Home
Also See: 94 Money-Making Skills You Can Learn in Less Than a Year

"Generally, the resumes with no experience that perform the best have passion projects instead of jobs behind them," said Andrew Fennell, director at resume-writing service StandOut CV. "For example, a person looking to become a marketing assistant has grown a foodie TikTok page to 3,000 followers. Or a sales assistant has experience flipping thousands of dollars worth of furniture on eBay in their spare time. Pull your skills from these experiences into your resume, and it will show the drive, ambition and abilities you've developed."
Be Sure To Include a Section With Your Technical Skills
"List technical skills like Word, Excel, PowerPoint, Zoom and programming languages," Birkel said.
More From GOBankingRates
Make Your Money Work Better for You
Make Your Money Work Better for You