How To Improve Your Presentation, Meeting and Interview Skills on Zoom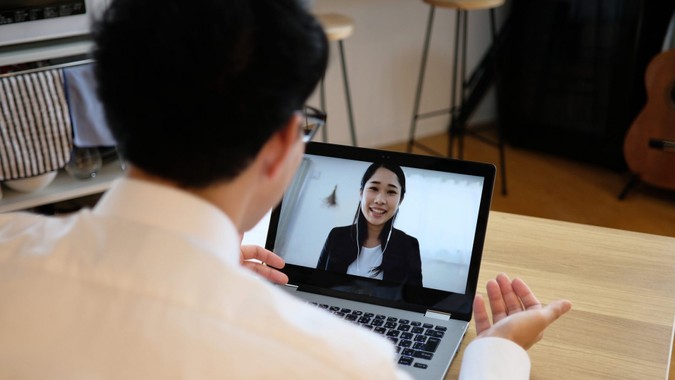 monzenmachi / Getty Images
There's no doubt Zoom is a hugely popular videoconferencing platform. The company ended 2020 with approximately 81,900 corporate customers — a 61% year-on-year increase. That increase was largely due to the pandemic forcing companies to transition their teams to remote work.
Looking Ahead: Will Zoom and These 5 Other Companies Continue Their Incredible Runs in 2021?
And now that so many companies are comfortable using the platform, it's a tool that's not likely to go away. From group meetings to one-on-ones and presentations to interviews, here are some helpful tips you can use right now to improve your skills on Zoom.
Group Meetings
Group meetings can be helpful — but only if they're needed. Michael Hammelburger, CEO of The Bottom Line Group, recommends only holding Zoom meetings when absolutely necessary to avoid wasting time. "If long Zoom meetings take away so much of your productivity, learn to only set important ones and remember to trim the agenda down to what's only important and select only people whose presence is needed in the venue. Otherwise, just drop the idea and announce it through email instead," Hammelburger said.
Sponsors of
Set Up for Success: How To Upgrade Your At-Home Work Space for 2021
Laurie Brown, a customer service and presentation skills expert, recommends signposting throughout your group meetings to help participants transition from one idea to another and stay on track. "We just spoke about XYZ … we are now moving on to ABC."
Read: How To Achieve Better Work-Life Balance in 2021
Max Woolf, a career expert at ResumeLab, recommends ending each Zoom meeting with an action plan that will set in motion whatever was discussed. "To do it, I recommend leaving around five minutes of every meeting to discuss the next steps. Figure out what needs to be done, who is responsible for what and what deadlines people should stick to. Otherwise, your Zoom meeting might have the same impact as a fly on a windshield," Woolf said.
1:1 Syncs With Direct Employees or Managers
Marci Powell, an author and coach with extensive experience in videoconferencing, recommends creating a "safe place" experience where both the employee and the manager feel relaxed but still can maintain the level of expected professionalism.
Find Out: When These Big Companies Are Planning To Return To the Office
"For remote team managers, it is good to have regular 1:1 syncs with each team member as well as team calls. Make sure they have the resources and support needed. Ask them to share weekly highlights and lowlights and let you know of any barriers in their way. You will get a better feel of what you need to be doing," Powell said.
Looking Ahead: The Pros and Cons of Continuing To Work Remotely Post-Pandemic
Powell also has these suggestions for using Zoom as a way to help employees get their questions answered without constantly interrupting your (and their) workday:
"People can queue up their questions for the 1:1 time. Rather than always interrupting your progress with questions that could wait, huddles can be a set time to ask and address needs. Video conferences are one of the best ways to huddle. Not only can you take a few moments to build camaraderie, but you can also get down to business and have a meeting of the minds," Powell said.
Sponsors of
Giving Presentations
Consider standing up to give your presentation, recommends Diane Gayeski, Ph.D., an internationally recognized thought leader in corporate communications. "Typically, if you were giving a presentation in person, you'd be standing and moving around a bit. Assemble a standing desk — even if it means putting your laptop on a box or stack of books. Turn on your camera and create a small space where you can stand and move around a bit while still staying within the camera's range. Using body language will add to the energy of your presentation."
Take a Break: How To Avoid Work Burnout During a Pandemic
Garrett Blair, public speaking performance coach at GJB Enterprises, believes screen-sharing is an invaluable tool that should be utilized during presentations. "Knowing when to switch back and forth from a screen-share to a live video makes all the difference between a dynamic and engaging presentation and the humdrum of a slide show. Share your screen to communicate the details, then switch to your full frame to expand on the importance and application of such information," Blair said.
Read More: 30 Ways Offices Will Change After COVID-19
Pablo Listingart, a career development professional and the founder of ComIT, recommends providing a format for your post-speaking period to encourage engagement and avoid awkward post-Zoom silence. "If you're taking feedback at the end of the presentation or meeting, ask your audience to use the chat function to enter their questions or comments. Then, instruct the rest of the group to up-vote the questions they most want answered, and include any additional commentary in a sub-thread below. The upvote is a unique Zoom feature that allows the most pressing questions to reach the presenter, making the most of the Q&A period after events," Listingart said.
Interviews
Candace Helton, operations director at Ringspo, believes that practicing before your interview with a friend or family member can help you ace the actual Zoom interview. Helton also recommends recording your mock interview. "The best way to improve yourself is to actually see and evaluate what you should improve. That way, you're not grasping at straws and trying out random strategies. When you review the recording, you'll be able to pinpoint exactly what you need to change in your performance — whether it's bad mannerisms, background or interruptions," she said.
More Information: How To Interview For a Job Over Zoom
But knowing how you'll answer questions isn't the only important preparation tactic. Listingart recommends demonstrating that you are actively listening by nodding, maintaining eye contact and keeping a still and confident body position during your interview. "Often when we prepare for an interview, we prepare to respond. But a lot of what takes place in an interview happens between responses; active listening is a skill that every employer looks for, and it's a skill that might come less naturally 'over the wires,' " he said.
Post-Interview Negotiations
Once you've landed the job, negotiating your salary and other terms of employment are other hurdles you'll have to face, and an effective negotiating tactic is to create a personal rapport with the other person, according to The Wall Street Journal. In his interview with WSJ, Luis Rueda, a retired Central Intelligence Agency operative, recommended that on the day of the negotiation, you should look for something in the background of the person's video call — books, art or sports memorabilia — and use the information to build rapport.
Learn More: 5 Things To Negotiate at Your Job Other Than Salary
"You've got to develop, in whatever amount of time you have, a degree of personal empathy with that person, some kind of personal connection with the individual so they look at you as other than something like a cog in a wheel," Rueda said.
More From GOBankingRates
Last updated: Feb. 5, 2021