Ready To Embrace In-Office Work Again? 4 Reasons It May Play in Your Financial Favor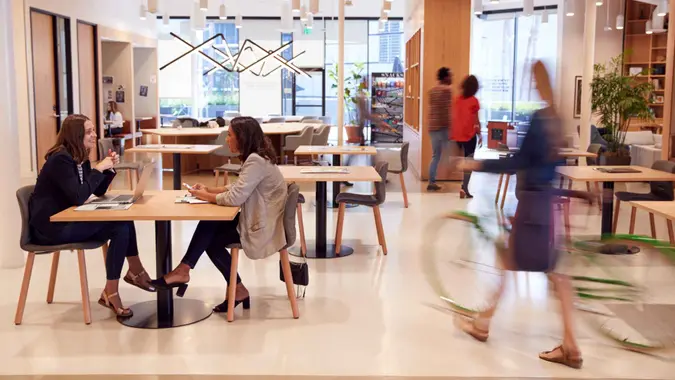 monkeybusinessimages / Getty Images/iStockphoto
The COVID-19 pandemic dramatically reshaped the work landscape, prompting many to adapt to remote and flexible work arrangements. However, as the world slowly recovers, the prospect of returning to the office is becoming more common. While remote work undoubtedly has its perks, there are compelling financial reasons why embracing in-office work again may be in your favor.
Being Social and More Communicative with Coworkers and Managers
One significant advantage of working in an office is the opportunity for face-to-face interactions with coworkers and managers. These interpersonal relationships can positively impact your career and financial prospects. The Global Survey of Working Arrangements asked thousands of workers across 34 countries from April through May 2023 how they work. Of those working in-person, 62% of respondents said socializing with coworkers is a top benefit of working in person and 54% of respondents said face-to-face collaboration was a top benefit.
Building strong relationships with colleagues and superiors can enhance your visibility within an organization, leading to better networking and more career advancement in terms of your income.
Improved Mental Health
Returning to the office can also benefit your mental health, which, in turn, can positively affect your financial well-being. RAND Corporation and Castlight Health reported in a recently published study that spending on mental health care among people with employer-provided insurance from the onset of the pandemic in March 2020 through August 2022 increased by a staggering 53%.
One benefit of in-office work is that it provides a clear separation between your professional and personal life. This distinction can reduce the stress and anxiety associated with remote work, where the boundaries between work and home life can become blurred, and reduce loneliness and isolation. In turn, better mental health can reduce healthcare costs for yourself and your family in the near and short term.
Make Your Money Work Better for You
Job Security and Advancement
In-office work can provide more visibility and opportunities for job security and career advancement. In fact, Envoy reports that an astonishing 96% of US executives admit to noticing the work of employees coming into the office more than remote work.
While this statistic does exhibit proximity bias, being physically present in the office can help you stay better connected with the company's leadership and decision-makers. This increased visibility can be a key factor in job security, as management is more likely to retain employees they know and trust. Moreover, when you're in the office, you may have easier access to information about internal job openings, making applying for promotions or job transfers simpler. All of these factors can contribute to your financial advancement within an organization.
Fosters Collaboration
Collaboration and teamwork are often more efficient and effective when done in person. The 2023 At Work trends report from Envoy indicated that employers are looking to increase their budgets for onsite events and programs by 36%. This significant change reflects the desire for employers to bring their employees back together.
Spontaneous interactions and impromptu meetings are common in an office setting, allowing for quicker problem-solving and idea-sharing. When employees work together in close proximity, it often leads to better project outcomes, innovation, and the ability to tackle complex tasks more efficiently. Enhanced collaboration can lead to more successful projects, increased recognition within the company, and potentially higher compensation for your contributions.
More From GOBankingRates
Make Your Money Work Better for You