Inflation Relief via Minimum Wage? 3 States Pushing To Pay Workers $20 an Hour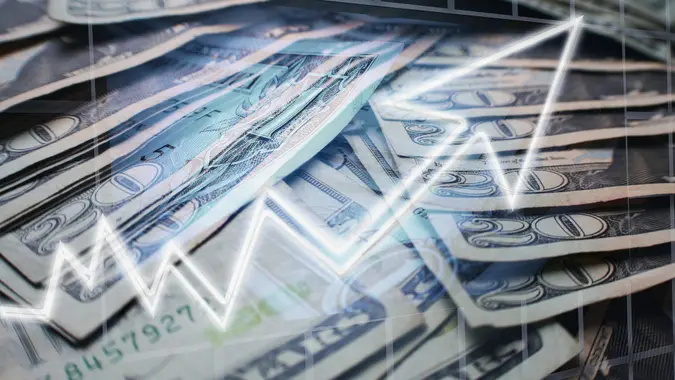 Darren415 / Getty Images/iStockphoto
While the federal minimum wage remains at $7.25 per hour, many states have their own rates. More than half of U.S. states have announced adjustments to their minimum wages in 2023 to help residents with the impact of high inflation.
But with gas, food, utilities and rent costs at staggering highs, minimum wage earners get hit the hardest. As the Associated Press (AP) reports, labor supporters in three states are pushing to pay workers at least $20 an hour.
The initiatives of groups in California, Massachusetts and New York come as inflation continues to outpace any worker gains in income significantly and supply chain disruptions caused by the pandemic and the Russia-Ukraine war keep consumer prices high.
"You can't tell us that after the pandemic, that $15 is going to still be enough for us to keep food on our tables," said Sen. Jessica Ramos (D-N.Y.). "That's why we want $21.25, nothing less. The price of everything is going up except for wages."
Make Your Money Work Better for You
In Ramos' home state, supporters of a minimum wage hike are hoping to see one passed through the state budget, which will be finalized in April. Gov. Kathy Hochul's proposal links minimum wage increases to annual inflation and will gradually raise the minimum wage to $21.25 by 2026, per AP.
New York currently has tiered rates by region. Minimum wage workers make $15 per hour in New York City and in Nassau, Suffolk and Westchester counties and $14.20 per hour in the remainder of the state.
Per the State of California's Department of Industrial Relations, effective Jan. 1, 2023, minimum wage is $15.50 per hour. Some cities and counties have higher minimum wages than the state's rate. However, there is a drive to increase the standard in light of current inflation and the state's high cost of living.
A voter initiative aimed at raising wages and improving working conditions for more than a half-million fast food workers has qualified for the Nov. 5, 2024 election ballot. If the action is passed, it would eventually raise the minimum wage to $22 per hour, affecting some 550,000 fast food workers statewide.
Make Your Money Work Better for You
In 2018, former Massachusetts Gov. Charlie Baker signed a law, green-lighting an annual minimum wage pay bump to $15. Some argue the increase is not enough because of cost of living and inflation. Talking to CBS Boston, Lewis Finfer, a community organizer and a leader at Raise Up Massachusetts, said, "The solution is really to move toward a living wage," suggesting that $30 per hour is probably closer to what the minimum wage should be.
Although that is an unrealistic amount for any state, the members of the Raise Up coalition is pressing lawmakers to support legislation that details four annual minimum wage hikes to bring the standard rate up to $20 by 2027. The act will also nearly double the separate minimum wage for tip workers to $12 per hour.
Of course, increasing minimum wages for workers comes at a price for small businesses, many of whom are still reeling from the effects of the COVID-19 pandemic. Wage increases are tantamount to "a smack in the face to small businesses," said Barry Nicholson, the owner of four businesses in Corning, New York.
Make Your Money Work Better for You
More From GOBankingRates
Make Your Money Work Better for You