Is an Unpaid Internship in These Top Fields Worth It?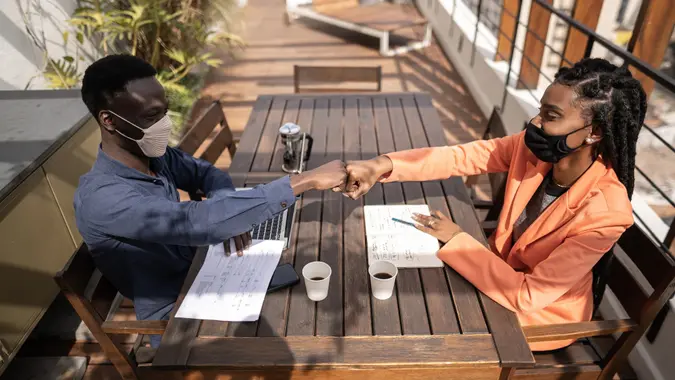 FG Trade / iStock.com
Internships are like a gray area between education and career, and they're a common tactic used by companies to attract young, eager talent to their organization. Often, these internships offer applicable, hands-on experience, which can make young professionals more viable candidates when it comes to job hunting. 
Related: The (Sometimes) Ugly Truth About Internships
Check Out: The World's Most In-Demand Jobs That Don't Require a Degree
Not all internships are created equal, however. That goes for both the experiences they provide and, more notably, the kind of compensation they offer. Which, often, is none at all. In fact, an April 2021 study by the National Association of Colleges and Employers (NASE) cited roughly 40% of all internships are still unpaid, which has become a hot-button topic of conversation as to the drawbacks and benefits that can result.
Most unpaid internships, it should be noted, are often found in a handful of specific fields. Here's a closer look at which ones are more likely to offer unpaid internships, what that can mean and how they can help further your career. 
Good To Know: 15 College Degrees That Won't Make You Money
Fashion
To state the obvious, the fashion industry can be very difficult to break into. Due to it being such a sought-after industry littered with unconventional career paths, unpaid internships are quite common. This often means working long hours, over 40 hours per week, for the opportunity to learn the ropes and make a positive impression on potential future employers. 
Make Your Money Work Better for You
According to a 2020 study, which compiled two years of research, the average fashion design student at the University of Cincinnati paid $37,607.50 for the expenses related to their internship experiences. Almost 78% of those who took internships had to rely on family just to make ends meet during that time, as well, with similar programs in other states yielding similar results.
The report also cited interns were left with menial tasks that didn't necessarily translate to real-world skills. Before making such a substantial commitment, it's worth doing your research and finding out which companies' internship programs have the most potential benefits in the long run. 
Publishing
Like fashion, positions in publishing (and media in general) are often highly sought-after, with applicants far outnumbering the positions available. Given that budgets are also a regular concern in a constantly changing media landscape, most internships in publishing are unpaid, and are often viewed as the best way to try and get a proverbial foot in the door. 
However, there can be other issues that arise. While interns are legally protected from doing 'real work' that companies would otherwise pay a wage for, that line can often become a little blurry in publishing environments, which are already hectic by nature. 
Make Your Money Work Better for You
Read: 45 Jobs That Can Make You a Millionaire Before Retirement
Production
Possibly the most difficult to obtain of all careers is showbusiness, which is why internships are so prevalent in the industry. Whether it be for a record label, TV network or movie studio, these in-demand positions tend to fill up fast, and internships are often the only way in. 
Of course, there are those that fall outside the boundaries of what's legally allowed. Back in 2011, a group of unpaid interns filed suit against the 20th Century Fox feature "Black Swan," alleging that the interns were doing what should be legally classified as work. After multiple verdicts and subsequent appeals, it was eventually settled out of court five years later.
Beyond the settlement itself, the lawsuit brought to light how unpaid internships can be used to exploit workers, and brought more scrutiny to the practice overall. 
Government
The federal government is the largest employer in the U.S., so it's no surprise there are vast internship programs at the federal, state and local levels. While the federal government recently switched to a mandated paid internship model in 2019, state and local governments are likely to offer unpaid internships in a variety of fields that fall under their umbrella. 
Make Your Money Work Better for You
Like the other fields on this list, jobs in government are often sought-after careers, and getting involved as an intern has the potential to make you a more qualified candidate. 
Getting Started: These 50 Jobs Pay Entry-Level Workers More Than You'd Expect
Nonprofit
Another field that's known for offering unpaid internships are nonprofits. Given these operations tend to be overly budget-minded, almost 55% of nonprofit internships are unpaid. Companies that operate as a nonprofit also tend to rely on volunteers to help keep operations running. 
Internships, however, are a great way of communicating your commitment to their cause, which is often considered a priority when they're looking to fill paid positions. 
Are Unpaid Internships Worth It?
While internships in general can be beneficial to your career in the long term, the chances are higher if that internship is paid. Back in 2019, NACE found that 57.5% of applicants who were just out of college and had done a paid internship received at least one job offer within the first year, versus 47.3% of applicants who'd done an unpaid internship. Which puts the latter about on par with applicants who'd done no internship at all. 
Still, if you're passionate about what you want to do, even unpaid internships have a lot of potential to be helpful in the long run. Of course, you should be aware of your rights in order to protect yourself, as well as look at factors like time commitment and cost of living should you have to relocate. 
More From GOBankingRates
Last updated: Nov. 4, 2021
Make Your Money Work Better for You