Is Job Interviewing More About Likability Than Qualifications? Here's What the Experts Say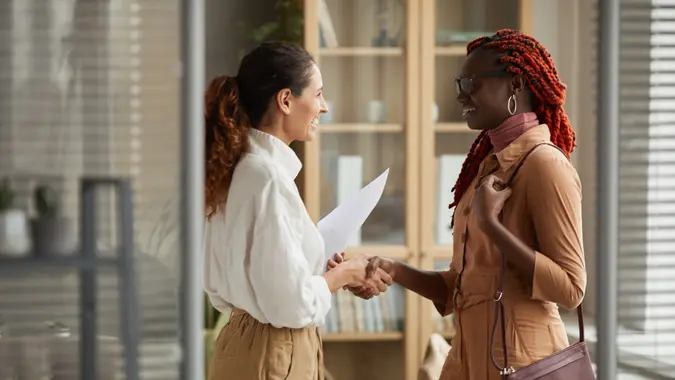 SeventyFour / Getty Images/iStockphoto
Searching for a job is exhausting, and it isn't getting any easier. The process is grueling. Between tailoring your resume to meet the specific job requirements and researching the company before an interview, you could spend hours of preparation only to come up empty-handed. According to TopResume, the average job search takes around five to six months. Interviews alone can take weeks, depending on the position.
The Future of Finances: Gen Z & How They Relate to Money
Looking To Diversify in a Bear Market? Consider These 6 Alternative Investments
With the time and energy that you are putting into your job hunt, you want to be sure you're taking the right steps to increase your chances of getting hired. GOBankingRates asked experts from around the globe what matters most in an interview. The answer might surprise you.
While qualifications get you in the door, your personality may be what gets you hired.
Make Your Money Work Better for You
First: The Role of Technology
Today, how companies vet job applicants is vastly different compared to even a few years ago. Technology plays a huge role in which resumes are seen by human eyes. Acting as a gatekeeper, algorithms pull data from a potential candidate's CV to determine whether it matches the job description posted by the hiring company. Just to have a hiring manager look at your resume, you have to learn how to customize it to beat the algorithm.
What this boils down to is by the time jobseekers are sitting down to an interview, everyone likely has the same basic skill set and meets the requirements for the position. If a job requires a degree in computer science, you better bet every candidate waiting to get interviewed has that qualification. Perhaps, this is why likability is playing a more critical role in whether you get hired.
Take Our Poll: Are You Concerned That Social Security Benefits Will Be Reduced During Your Lifetime?
Make Your Money Work Better for You
The Importance of Likability
Experts overwhelmingly agree that being likable is increasingly important in job interviews.
Maxime Legardez, CEO and founder of Maki, a talent assessment tool used by companies, notes that, "Meeting the job qualifications is not enough to get the job. Interviewers are also looking into the personality of the applicant to see if it will fit the company's culture and working environment."
Josh Tyler, CEO of Tell Me Best, personally handles the recruitment process at his company. He says, "While qualifications matter, likability makes a candidate stand out.  From my experience as a recruiter, it's 49% qualifications and 51% likability. This is because candidates that know how to strike a connection with the interviewer are almost always a guarantee that they can integrate well with the team when hired."
Making a Good Impression
Given that experts agree likability can be a deciding factor when hiring a potential candidate, are there ways to make yourself more personable? Unfortunately, unlike technical skills, social skills are harder to be taught, and trying to seem likable may actually backfire by coming off as disingenuous or fake. 
Kimberly Tyler-Smith, head of marketing with Resume Worded, notes that she is most impressed when a candidate is "able to show a genuine interest in the job and company they're interviewing for." Furthermore, she is more likely to hire a jobseeker if they "come across as passionate about their personal goals and ambitions because it shows that they're not just looking for a job but an opportunity to grow as well."
Make Your Money Work Better for You
Setting Yourself Apart from the Crowd
For job searchers hoping to set themselves apart from the crowd, there are several things that recruiters look for when hiring a candidate. Lorie Carson, founder and marketing manager for Real People Finder, says successful interviewees are "aware of their body language throughout the interview." She says it is best to "sit up straight to maintain a neutral posture. Leaning backward or forward can make you feel disinterested or aggressive." 
Another important thing to remember is to "keep eye contact" when speaking or being spoken to and to "keep arms wide to avoid coming off as defensive." She states that mimicking or mirroring the interviewer's body language is essential since "similar body language makes people more comfortable with one another."
More Pro Tips From an Expert
Alex Constantinou, managing director at The Fitness Circle, offers five important interview tips for any job seeker. He recommends that job applicants: "1) Attend your interview on time since job interviews require punctuality. 2) Do corporate research. 3) Consider nonverbal cues. 4) Be courteous. 5) Be interview-ready."
Now that you have some tips on how to ace your interview, you are ready to take on the world…or at least the classifieds.
More From GOBankingRates
Make Your Money Work Better for You