Is Networking Overrated?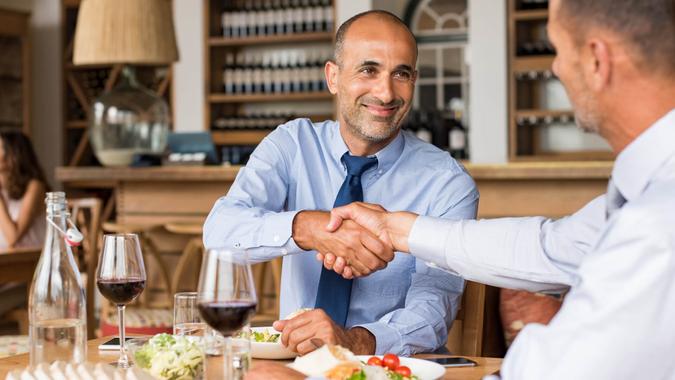 Ridofranz / Getty Images/iStockphoto
LinkedIn turns 18 years old in 2021. But as the site enters adulthood, is the network that took the handshake and the business card out of professional networking still necessary or even beneficial? In fact, is professional networking in general still a thing that deserves the time and energy that goes into it, especially considering that most people seem to loathe everything about it?
Tips: 10 Small Changes To Stay on Track With Your Career Goals
Find Out: Is Your Resume Up To Par With the Competition?
After 18 months of a pandemic that rearranged the nature of work and communication, yesterday's concept of professional relationship-building is long overdue for a makeover.
A Key LinkedIn Statistic Tells the Tale
For people who hate small talk, corporate talk and marketing talk — and for anyone who thinks their time would be better spent doing something that produces tangible results that might actually impress future employers or partners — networking is a chore. For introverts, agoraphobes, people who are shy, not confident or who just aren't good with people, it ranks up there with public speaking as one of life's most dreaded fears.
Make Your Money Work Better for You
Be Aware: Top Resume Mistakes That Hold Job-Seekers Back
The proof is in the stats.
LinkedIn now has 722 million members, but according to Influencer Marketing Hub, less than 4% of them are active users who check in two or three times per month. A full 49.6%, on the other hand, are completely inactive.
An expert quoted in The Wall Street Journal summed it up neatly: "Most people have an account because they've been told they should or need to have one."
In many ways, the exact same thing could be said about networking, in general — most people probably do it because they've been made to believe they have to and would be hard-pressed to give an example of what they've gained from their efforts.
Keep Learning: 94 Money-Making Skills You Can Learn in Less Than a Year
Good To Know: How To Interview for a Job Over Zoom
Make Your Money Work Better for You
Social Media Didn't Kill Networking, but It Can Absorb It
It's no secret that people love social media. The average user spends 35 minutes on Facebook every single day, but when you add resumes to the mix, the party stops — users average just 17 minutes per month on LinkedIn.
The moral of the story is that people love socializing and hate networking. The good news is, you can use the former to camouflage the latter.
Check Out: Signs Your Resume Needs a Complete Makeover
Tips: How To Approach Your Job Search With Renewed Energy
Social media has evolved into a one-stop shop where people turn for news, shopping and romance — and networking can be bundled into that package just as easily. Platforms like SproutSocial make a good argument for investing the time you would have spent networking in building your brand on Facebook, Twitter, Instagram, TikTok, Pinterest and YouTube, where — unlike LinkedIn — people spend their time voluntarily because they want to and not because they feel like they have to.
Make Your Money Work Better for You
Successful social media branding introduces you to prospective employers and partners, positions you as a credible player in your field, and presents you as someone who people want to work with.
In short, it does everything that networking always aims to achieve, but so rarely does. And it does it without nametags, elevator pitches or hours squandered building a profile and expanding a network on LinkedIn which, more times than not, catches more spam invitations in its net than it does opportunities.
More From GOBankingRates
Last updated: June 30, 2021