Job Priorities Have Shifted & Higher Pay Is No Longer the No. 1 Factor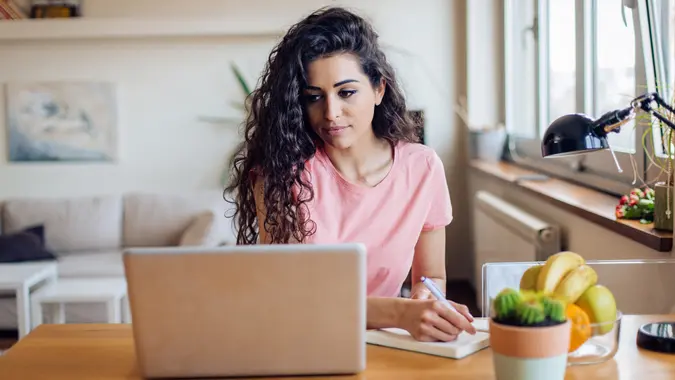 RgStudio / Getty Images
The COVID-19 pandemic has made many people rethink what's important to them when it comes to choosing a job — and, perhaps surprisingly, pay is not the main factor anymore. A survey conducted by Elements Global Services found that 72% of workers under 40 are considering a career change and 70% say that their priorities for their career have changed since the pandemic started.
See: 20 Best and Worst Jobs for Work-Life BalanceFind: Should You Refinance Now With the Low Mortgage Rates?
Here's a look at what's most important to millennial and Gen Z workers now.
Workers Want Careers They Find Meaningful
According to the survey, the top priorities among workers younger than 40 are having a job that is meaningful (58%) and the ability to work remotely (58%). These are now higher priorities than higher pay (57%).
See: 10 Small Changes to Stay on Track With Your Career GoalsFind: The Top Seasonal Side Gigs to Help You Make Extra Cash This Holiday Season
"During the course of the pandemic, millions of professionals got a taste of the freedom of remote work — and for many, it is impossible to imagine going back," said Tina Hawk, SVP of human resources at GoodHire. "Of course, it isn't just the autonomy inherent in remote work that is attractive. The savings of time, stress and money on transport are hard to overstate, not to mention the possibilities regarding relocation. Priorities are shifting simply because professionals are willing to compromise on salary somewhat if it means they can have that coveted remote lifestyle."
Make Your Money Work Better for You
See: Applying for a Job? Even a White Lie on Your Resume Could Cost You the Position
Find: 27 Most Lucrative Side Hustles for People Over 50
"One thing to keep in mind here is that for younger generations, the preference for meaningful work over high salary has been steadily growing for many years," Hawk continued. "The experience of the pandemic may well have influenced that change, but we can't say that the pandemic is solely responsible for it."
Despite This Shift, Pay Still Matters
Although pay is no longer the top priority among many workers, it's certainly still important. An analysis of the top job- and career-related Google searches conducted as part of the report found that among the top searches are "jobs that pay well" (No. 1 search), "careers that pay well" (No. 6) and "what jobs make the most money" (No. 7).
See: 10 Warning Signs That Online Job Offer Is a Money Scam
Find: How to Approach Your Job Hunt in the Current Market
"Having a good chunk of money to compensate for all your hard work at the end of the month has a certain level of satisfaction that is irreplaceable," said Lattice Hudson, business coach and former human resources professional. "Your passion cannot compensate for an empty stomach. Nevertheless, I will not deny the utmost importance of being passionate about what you do for half of your life. The prevalence of having meaning behind jobs over pay can be attributed to the rise in the paranoia of death and the value of life during this time. We were all afraid for our lives during this time day in and day out — it only makes sense that we sought value from our jobs in terms of more than money."
Make Your Money Work Better for You
As Matt Erhard, managing partner at the recruiting firm Summit Search Group notes, prioritizing high pay doesn't mean that workers are not also prioritizing meaning in their jobs.
See: 14 Warning Signs That You Shouldn't Apply for That JobFind: When to Consider Job-Hopping to Maximize Your Pay
"A competitive pay rate is often a sign of a company that understands the value its employees bring to the table, and this makes it more likely they'll respect their employees' value in other ways, too," he said. "This is one possible reason many candidates are sorting open positions based on their pay rate — not only for the pay, but also for what a high-paying position indicates about the company."
Workers Are Torn About the Need for Social Interaction
One interesting finding that came out of the report is that workers are pretty split on the importance of social interaction in their next job — 47% of workers younger than 40 want less interaction with people and 39% want more interaction with people.
See: Why You Should Ask for More Money at Your Next Job InterviewFind: 14 Reasons You Didn't Get a Call Back After a Job Interview
Hudson said that the way we worked amid the pandemic has primed workers to want less social interaction: "Post-pandemic, there has been a rise in social anxiety in dealing with people," she said. "We became extremely accustomed to getting all our tasks done from the vicinity of our rooms. This is why there is a tug of war between the level of social interaction that employees are comfortable dealing with. When we have all witnessed how convenient and quick it was to get a task done with minimal people interaction — it became a want rather than a need to have less of it."
Make Your Money Work Better for You
However, while the pandemic may have exacerbated this dichotomy, it's not a new phenomenon, Erhard said.
Read: 6 Job Search Rules You Should Stop Following Now
See: Best (and Worst) US Cities for Work-Life Balance
"Different styles of workers want different levels of interaction with their co-workers, and are well-suited to different types of work environments," he said. "An introvert may work best when they're left mostly alone, while an extrovert thrives in a more collaborative setting. This dichotomy isn't new. The difference in 2021 is that more employees feel able to find that ideal work environment, and are therefore more likely to seek it when they're looking for a new position."
More From GOBankingRates