10 Jobs Millennials Loved in 2022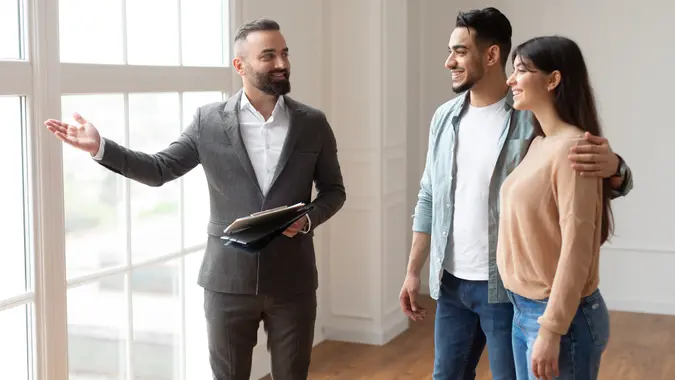 Prostock-Studio / iStock.com
They worked hard for the money, but millennials were much happier in some jobs than others this year. A recent Glassdoor report revealed which jobs were most enjoyed by professionals born between 1981 and 1996, approximately.
Holiday Spending: Get Top Holiday Shopping and Savings Tips
Take a Look Back: 2022 Year in Review
Based on a five-point scale — with one being very dissatisfied — Glassdoor asked millennials to name their current position and rate their level of satisfaction with it. The job site then compiled their responses into a list of the top 10 millennial jobs of the year.
Some of these jobs might seem spot-on for a generation known as tech savvy and driven, while also craving jobs with flexibility and a solid work-life balance. However, others might come as a bit of a surprise.
Ready to find out which jobs brought millennials the most satisfaction in 2022? Here's a look at 10 positions that topped the list.
Make Your Money Work Better for You
1. Realtor
Average Yearly Salary: $156,665
Also known as a real estate agent, these professionals help clients buy and sell homes. In 2021, there were 6.12 million existing-home sales in the U.S. — according to the National Association of Realtors –and millennial agents had their hands full well into 2022.
2. Corporate Recruiter
Average Annual Salary: $88,367
These professionals are tasked with filling open positions at companies. Many corporate recruiters specialize in a certain field, allowing employers to feel even more confident in their ability to find the best person for the job.
Take Our Poll: How Has Inflation Impacted Your Holiday Shopping Plans?
3. Full-Stack Engineer
Average Annual Salary: $121,532
As senior-level computer programmers, full-stack engineers are responsible for coding both front and back-end systems, as well as project management duties. They're tasked with designing user interactions on websites, developing servers, creating databases that allow websites to properly function and writing code for mobile sites and apps.
4. Chief Operating Officer
Average Annual Salary: $351,692
Part of the executive team, a COO oversees an organization's business operations — i.e., staffing, executing the company strategy, managing administrative functions. In many cases, they're second in command at a company, as they work closely with the CEO.
Make Your Money Work Better for You
5. Technical Account Manager
Average Annual Salary: $122,627
When customers purchase certain products, they rely on a technical account manager to help them get set up and learn how to use them. This job requires a strong mix of customer service skills and technical abilities, and professionals work in many different industries.
6. SEO Analyst
Average Annual Salary: $65,353
Part of the search engine optimization team, an SEO analyst is tasked with creating and implementing SEO strategies and campaigns that increase website traffic. They carefully monitor SEO efforts to determine what's working and where changes need to be made.
7. Executive Director
Average Annual Salary: $233,419
Employed by both corporations and nonprofits, executive directors oversee a company's administration and strategy. Typically on the board of directors, some of their key responsibilities include ensuring business practices remain efficient, seeking ways to improve business practices, cultivating and maintaining company culture and nurturing a strong sense of team.
8. Technical Recruiter
Make Your Money Work Better for You
Specializing in technology positions, a technical recruiter is responsible for finding, recruiting, screening and presenting hiring managers with candidates. To find the right candidates, they work closely with hiring managers to understand the needs of both the role and the company as a whole.
9. Salesforce Developer
Average Annual Salary: $132,861
Salesforce is a major customer relationship management (CRM) platform, and Salesforce developers are needed to create, code and implement the company's applications. These professionals use the Salesforce platform to develop unique solutions for companies.
10. President
Average Annual Salary: $347,732
The leader of the executive team, the president of a company is in charge of strategic planning and organizational vision. They supervise top-level managers, oversee the budget and report directly to the company's board of directors.
It certainly isn't a surprise that nearly half of these jobs — full-stack engineer, technical account manager, technical recruiter and salesforce developer — require the sharp technical skills this generation is known for. The fact that millennials are not only in these jobs, but are thriving and enjoying high levels of career fulfillment, is telling.
Additionally, the top leadership positions on the list — chief operating office, executive director and president — show millennials' reputation as motivated professionals is paying off. The oldest part of this generation is now hitting middle-aged, and they've clearly worked their way up the ladder.
This generation has also long-been known for their desire to give back and help others, which could easily explain why both corporate recruiter and technical recruiter made the list. Clearly, helping companies find top talent — while connecting candidates with fulfilling new jobs — is something this group really enjoys.
Any millennials feeling like they lack career satisfaction might want to take a look at this Glassdoor report, as it could offer a job suggestion that will change their life for the better in 2023.
More From GOBankingRates
Make Your Money Work Better for You