20 Jobs That Pay $20 an Hour in 2022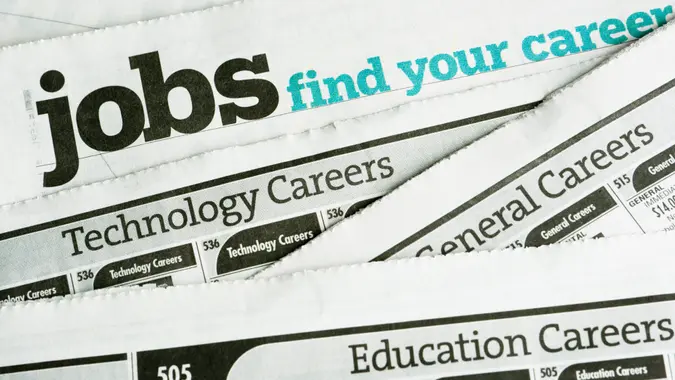 YinYang / Getty Images
The Great Resignation is still going strong, and many U.S. employees are actively seeking or considering looking for a better-paying job — some even looking for new roles that are outside of their current field. For job seekers who want a starting hourly salary of $20 or more in their next position, there are plenty of options.
Here are 20 jobs to consider that pay $20 an hour or more in 2022.
20 Jobs That Pay $20 an Hour or More
Listed below are numerous jobs in various industries with a starting salary of at least $20 an hour — a figure which equates to $41,600 a year. Each job's estimated gross monthly salary is also included.
Multimedia Designer
Hourly: $20.83
Monthly: $4,642
Multimedia designers are professional content creators who use their abilities in animation, graphic design and other audio-visual skills to generate content such as videos, advertisements and interactive entertainment that can impact an audience.
Full Charge Bookkeeper
Hourly: $21.40
Monthly: $4,202
Commonly working in small or midsize businesses, a full charge bookkeeper takes care of all the accounting needs for their company. They perform tasks like keeping track of the business' ledger, bank accounts and revenues, as well as preparing financial statements, tax returns and so much more. 
Make Your Money Work Better for You
Heavy/Tractor-Trailer Truck Driver
Hourly: $23.23
Monthly: $4,026
Truck drivers have the straightforward task of transporting large quantities of goods or resources from one place to another. However, they must endure routes that span thousands of miles and long lengths of time traveling. The job requires a commercial driver's license and there are several certifications that drivers can earn to improve their reputation and qualification for work in the future.
Writer
Hourly: $20.79
Monthly: $4,686
As their title suggests, writers create textual content for various forms of media, whether as scripts for creative production, as content for advertising and digital marketing, or as articles for news outlets and other important publications. Like multimedia designers, writers must be versatile but can thus work in a variety of fields. 
Carpenter
Hourly: $21.73
Monthly: $4,171
Carpenters construct and fix various areas around homes and other structures. They work with clients in planning various improvement projects and use their construction skills to build or install all kinds of features.
Interior Designer
Hourly: $21.90
Monthly: $4,409
Interior designers assist clients with renovating or redesigning various rooms and spaces, usually in their homes but in other buildings as well. Their job is to learn client needs and preferences — research colors, lighting elements and other features — and plan possible designs that fit the prospective budget and schedule.
Make Your Money Work Better for You
Maintenance Mechanic
Hourly: $22.51
Monthly: $4,248
Maintenance mechanics work in a variety of industries performing maintenance, repairs and installations for vital systems in buildings and facilities. These include heating, cooling and ventilation systems, as well as other types of large-scale machinery.
Plumber
Hourly: $22.75  
Monthly: $4,901
Plumbers install, maintain and repair all aspects of a structure's water and plumbing system. They ensure that a given building has proper water supplies and temperature, as well as working drainage to ensure all waste is safely disposed of. 
Surgical Technologist
Hourly: $23.22
Monthly: $4,062
A surgical technologist is responsible for preparing the operating room before surgery, as well as assisting the surgeon and surgical assistants during the operation. They also care for the patient by disinfecting incision sites, treating wounds after surgery and taking them to recovery.
Electrician
Hourly: $23.12
Monthly: $5,000
Electricians design, install and maintain electrical systems and connected utilities found in homes, businesses and other facilities. Most electricians train through apprenticeships or technical schools and many states require them to earn licenses.
Make Your Money Work Better for You
Wind Turbine Technician 
Hourly: $23.80 
Monthly: $5,000
Wind turbine technicians are responsible for inspecting, installing and maintaining wind turbines. They ensure that turbines operate effectively by performing preventative repairs, troubleshooting and consistent inspections of their systems. 
Police Officer
Hourly: $23.12  
Monthly: $4,513
Among the most recognized professions, the police officers' job is to protect and serve their communities, including the lives and property of their citizens. They also enforce state and federal law, maintain public order and assist in the investigation of crimes in their area.
Private Detective or Investigator
Hourly: $22.71
Monthly: $4,523
Private detectives, better known today as private investigators, are hired by individuals, law enforcement agencies and businesses to perform research and investigations into various types of cases. They gather evidence through interviews, database and records research and surveillance. 
Industrial Mechanic
Hourly: $24.61
Monthly: $4,200
Industrial mechanics are responsible for installing, repairing and maintaining industrial machinery. They often work in the manufacturing, construction and production businesses, maintaining industrial equipment and ensuring they work properly when needed. 
Mobile Application Developer
Hourly: $27.50  
Monthly: $6,366
Mobile application developers are the programmers and software specialists that help code and produce the many apps people enjoy using on their phones and tablets. They code and create application programming interfaces that are the foundation of mobile apps, as well as design and test them to ensure they are ready to be placed on app stores worldwide.
Aircraft Mechanic/Service Technician 
Hourly: $25.94
Monthly: $4,850
Aircraft mechanics and service technicians are specialists who are trained and skilled in performing inspections and maintenance of various aircraft. Prior to scheduled take-offs, they ensure an aircraft's mechanical components operate properly and safely and they perform any necessary replacements and repairs.
Physical Therapy Assistant
Hourly: $26.43
Monthly: $4,313
Physical therapy assistants help patients perform their prescribed therapy and exercises. They will also assist patients in performing massages and stretches that help promote pain relief and recovery for patients suffering from injuries or diseases.
Vascular Technologist 
Hourly: $32.76
Monthly: $6,497
Vascular technologists are responsible for performing vital diagnostic and imaging exams on patients, specifically focusing on determining their vascular health. They perform X-rays and ultrasounds on areas of the cardiovascular system to check on a patient's blood flow, blood pressure and lung capacity, and they organize that information for cardiologists, radiologists and surgeons.
Ultrasonographer
Hourly: $33.83
Monthly: $5,413
Ultrasonographers work in hospitals or medical testing facilities, where they use ultrasound machines to take videos or images of the internal structures in a patient's body. They work with doctors to help diagnose the condition of a patient's internal health. 
Dental Hygienist
Hourly: $35.76  
Monthly: $5,177
Dental hygienists work to help diagnose and treat oral diseases when they arise, as well as to perform dental hygiene treatments that prevent them from worsening. They perform teeth cleanings, take dental X-rays and provide patients with advice on how to best maintain their dental health.
Final Take
While many people could make a living doing odd jobs, the professions listed above offer you a guarantee of $20 an hour or more. For those who wish to jump-start their job search this year with renewed energy, these roles are a great starting point. Perhaps one of them may even be a stepping stone toward your dream job!
Cynthia Measom contributed to the reporting for this article.
Information is accurate as of Sept. 30, 2022. 
Our in-house research team and on-site financial experts work together to create content that's accurate, impartial, and up to date. We fact-check every single statistic, quote and fact using trusted primary resources to make sure the information we provide is correct. You can learn more about GOBankingRates' processes and standards in our editorial policy.
Make Your Money Work Better for You