Layoff Preparedness: Two-Thirds of Americans Have No Backup Plan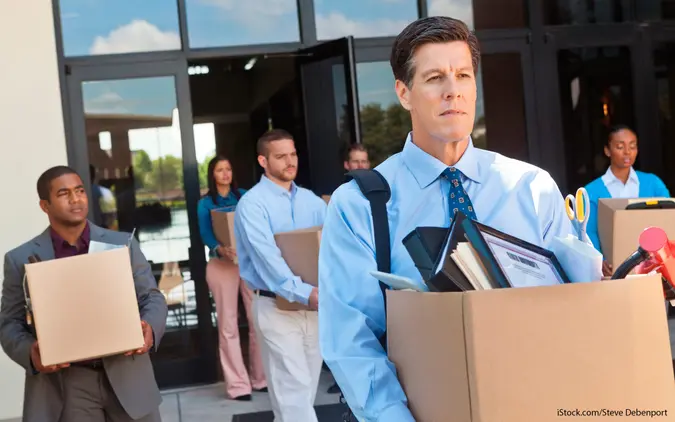 It's a confusing time for the job market. Though hiring freezes are happening and mass layoffs are scorching various sectors (predominantly tech), the unemployment rate is strikingly low.
SNAP Benefits: How Long Do They Last?
With a Recession Looming: Make These 3 Retirement Moves To Stay On Track
With a recession still quite possibly on the horizon, there's speculation over how long this can last and what the coming months will bring. Career experts, ever vigilant, typically advise that everyone "career cushion" — i.e., have a job backup plan/strategy in case a current job falls through. 
Yet, according to a new poll by GOBankingRates, just 27% of working Americans have a second job/backup plan. A third are worried they will be laid off yet do not have second jobs or backup plans, and 35% do not have second jobs or backup plans but believe their jobs are safe.     
The Gender Pay Gap Makes Women Plan More for Job Loss 
The poll found that women are more likely than men to have backup plans and also more likely to be worried about being laid off. One reason women might be more likely to worry about layoffs and have income backup plans is the gender pay gap. Essentially, they're already used to financial hurdles that their male counterparts don't face. 
Make Your Money Work Better for You
"In the U.S., for every dollar men earn, women earn $0.83," said Laura Adams, MBA and personal finance expert with Finder.com. "That means women face more financial challenges providing for their families, saving for emergencies, and investing for retirement — and they want a secure future."
Women also might have a deeper need for financial security than men — a need that also ties in part to inequality between the sexes and the increased burden placed on women as caregivers. 
"The need for financial security and stability plays a role in why women may be more likely to have a backup plan or be concerned about being laid off," said Tiffany Tanori, career strategist at Get the Job. "Whether responsible only for themselves or for providing for a family, women will begin to think of their next move should they feel uncertain about their finances or job."
People Over 65 Are Still Working — and Still Have Backup Plans 
The poll found that 21% of people 65+ are still working and that half those people consider their jobs safe, and 21% have backup plans. Why are so many people this age still working and why do so many have income backup plans?
Well, first, it should be noted that the full retirement age is now 67, so they're technically not there yet. As for why 21% are presumably concerned enough about their current employment to have income backup plans, that could be due to their desire to hit financial goals. 
Make Your Money Work Better for You
Adams said, "Workers over 65 may have income backup plans to ensure they can still reach critical financial goals such as saving for retirement and leaving a legacy."   
Low-Income Workers Are Most Likely To Have No Backup Plan 
According to the poll, people making $35,000 or less are most likely to have no backup plans and be worried about layoffs. Why is this? It's really the perfect storm of lack of resources and lack of opportunities. 
"Low-income workers may be less likely to understand how to create a backup plan," Adams said, "and may be worried about a layoff if they believe they'll have few career opportunities." 
Employees Should Always Be 'Looking' for the Next Job 
Rather than living in worry over a future job loss — or in an ignorance-is-bliss mode (because layoffs can and do happen) — employees should always be looking, even if at a relaxed pace, for a new job. This is largely because finding a new job can take time. 
"I would recommend constantly keeping the foot on the gas when it comes to career opportunities, especially at the executive level," said Somer Hackley, executive recruiter and CEO of Distinguished Search. "Landing a new position takes time, and most people I know want the right job, not just any job. Be proactive versus reactive."
Make Your Money Work Better for You
Create a Network of Recruiters 
It is advisable to create a network of recruiters — even when you're not actively searching for work.  
"Create a gravitational pull around you so that great jobs come to you months and years from now," Hackley said. "Respond to recruiters when they approach you, even if you're not interested in the position. Let them know when to think of you so that when your dream job comes across their desk in the future you're the first person they think to call. It feels better to take control of your career, where opportunities are coming to you versus you having to go find them."  
Start Applying — It Can't Hurt  
"Once you have a backup plan, it doesn't have to be dormant," said Vicki Salemi, career expert at Monster. "You may want to tap into it and start applying to jobs, explore opportunities, have meaningful conversations, conduct informational interviews to gain insight into various employers' cultures and hone your interview skills.
"You never know: You may land a job when you didn't even expect to! And if anything, it keeps your job search skills in a fluid motion with momentum so if you do lose your job, you don't have to feel overwhelmed or down and out — you already know what you need to do."
More From GOBankingRates
Make Your Money Work Better for You