A Look Back at Jill Biden's Career in Education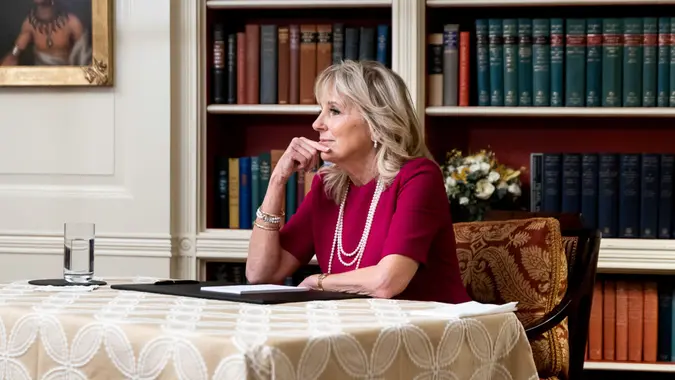 White House/News Pictures/Shutterstock / White House/News Pictures/Shutterstock
Dr. Jill Biden has made history as the first first lady to hold a paid job outside the White House, ABC News reported. She is currently teaching writing at Northern Virginia Community College — on Zoom from the White House — continuing in the teaching role she started while she was the second lady, People reported.
"I taught all eight years that I was second lady," Biden — who holds a doctorate in educational leadership — told People. "As Joe knows, that's my passion; that's my life."
Did You Know: How Much Is President Joe Biden Worth?
Biden has been teaching since 1976, when she got her first job teaching English at St. Mark's High School in Wilmington, Delaware, according to her official White House bio. Next, she worked as a reading specialist at Claymont High School. Although it's unknown what Biden earned in these positions, the median salary for a high school teacher is now $61,660, according to the Bureau of Labor Statistics.
Make Your Money Work Better for You
While pursuing her master's in English from Villanova University, Biden taught English at Rockford Center psychiatric hospital. In 1993, she accepted a job at Delaware Technical Community College. When the Bidens relocated to Washington, D.C., when Joe became vice president, Jill began teaching at Northern Virginia Community College, where she continues to teach to this day. And according to her students, she can be tough.
Read More: What Does Joe Biden's Presidency Mean for Your Bank Account?
"I'm not gonna lie, she gives A LOT of homework, makes you work for the good grade, but its 101% worth it," one student wrote on Rate My Professors. "Loved her and would take her classes over and over again."
Although Jill is likely not keeping her job for the money, it's worth noting that the median salary for postsecondary teachers is $79,540 per year, according to the BLS.
Find Out: How Investors Need To Prepare Now for the First Year of the Biden Administration
With over three decades of teaching behind her, it's clear that education is a true passion for Jill. For her first official event as first lady, she held a virtual meeting for educators across the U.S., Today reported.
Make Your Money Work Better for You
"I couldn't wait one more day to have this meeting, to say thank you on behalf of a grateful nation, to educators for their heroic commitment to students during this pandemic," she tweeted of the meeting. "You've been so strong; and we will be strong in our support for you."
More From GOBankingRates
Make Your Money Work Better for You