Looking For a New Job in 2023? Hiring Managers Reveal Major Mistakes To Avoid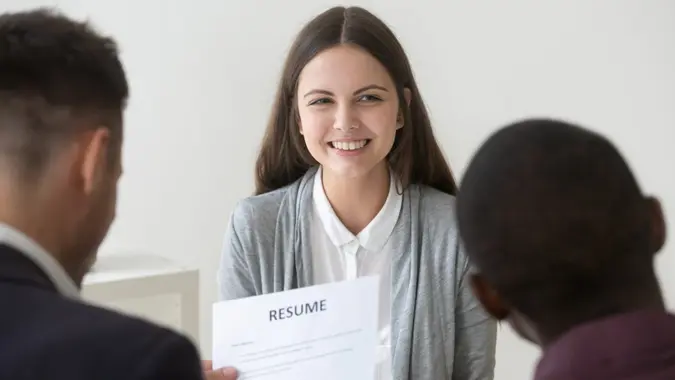 fizkes / Getty Images/iStockphoto
Jobs are being lost left and right, with Amazon and Salesforce being the latest tech giants to announce widespread layoffs. With positions being dissolved, people are looking for new jobs in this new year. That means it's time to brush off the resume, update your LinkedIn, and up the networking. It also means it's time to apply to new gigs — and to avoid making some serious mistakes when doing so.
Good Question: Does Working After Full Retirement Age Increase Your Social Security Benefits?
Explore: GOBankingRates' Best Credit Cards for 2023
We all know about the classic mistakes to steer clear of when applying for a new role. Like dressing inappropriately, badmouthing your old boss and using poor grammar on your cover letter and resume. But what about the deeper, more problematic errors that you might not notice? 
Sarah Doody, career strategist and founder of Career Strategy Lab, asked hiring managers the top mistakes candidates make. Here's what she found out — and what she recommends doing instead. 
Make Your Money Work Better for You
Mistake: Failing to Say Exactly What You Accomplished In Your Last Job 
"Many resumes sound like job descriptions and use the phrase 'I was responsible for' and fail to quantify the scope and outcomes of what [the candidate] did," Doody said. "For example, if you are a bookkeeper for a medium-sized tech consulting company and your resume says, 'I was responsible for reconciling the monthly books,' the reader of your resume has no idea if you did bookkeeping for one business or 20 businesses.
"Furthermore, a resume of responsibilities doesn't communicate the impact or results of what you did," Doody continued. "For example, maybe you helped save a certain client a lot of money or improve their cash flow. This would be an excellent thing to highlight. But the reader of your resume won't know this if you only focus on generalized responsibilities."
Take Our Poll: How Do You Think the Economy Will Perform in 2023?
Solution: Use Action Verbs and Provide Evidence 
"To write a resume that stands out in a sea of sameness, focus on not just saying what you did, but also providing examples or evidence of this," Doody said. "Go beyond responsibilities and use action verbs to convey what you accomplished. For example, sentences that start with verbs such as 'designed,' 'launched' or 'decreased' speak to outcomes versus responsibilities. 
Make Your Money Work Better for You
"Quantifying what you did can help add additional context to your experience and impact," Doody continued. "You likely won't be able to speak to the impact or outcomes of everything you did, and that's fine. But you can speak to the scope. With our bookkeeper example, you could convey the scope of your experience by saying, 'Reconciled the monthly books and made cash flow optimization recommendations for 20 businesses. Decreased business' yearly expenses by 20% on average.' This combination of action verbs, quantifying and examples helps show the depth and impact of your skills and experience."  
Mistake: Go At It Alone  
"Many candidates keep their job search a secret and are shy to ask for help or let people know they're looking for a job," Doody said. "However, according to a study by the U.S Bureau of Labor and Statistics, 85% of jobs are fulfilled through networking."
Solution: Leverage Your Network 
"Instead of keeping your job search a secret, let everyone know you're looking for a new role and the specifics of what you're looking for," Doody said. "There are a few ways to do this, such as:
Posting an update on LinkedIn with details or any deal-breaker criteria you might have  
Posting in any communities you belong to — you never know whose company might be hiring or who might see a job and tell you about it  
Emailing friends, family and other contacts — even if they don't work in your industry or niche, they might see things on their social feeds or have a partner or friend who does  
Lastly, don't forget about cold emailing people — if you find specific roles or have companies you really want to work at, don't be afraid to send cold messages to people to try and learn more about the role, let them know you applied or ask for a referral." 
Make Your Money Work Better for You
Mistake: Failing To Follow Up and Nurture Every Application 
"Many candidates have a very hands-off approach after they apply and believe things such as thank-you notes and cover letters don't matter today," Doody said. "However, these personal touches can be the difference between moving on in the interview process and getting offers. In sales, there's the phrase 'always be closing' and follow-ups are your chance to try and close the deal — in your case, getting hired."
Solution: Send a Follow-Up Email 
"After every interaction in your job search, send a thank-you email," Doody said. "This is also a great chance to mention things you maybe forgot to say on a call or in a job interview. You might even mention resources or articles that come to mind based on the conversation you had during the call or interview. A follow-up email is yet another opportunity to connect the dots between what a company is looking for and how your experience and skills set you up for success in that role."
More From GOBankingRates
Make Your Money Work Better for You