Mark Cuban Says He Went Through a Career Evolution — Here's How It Paid Off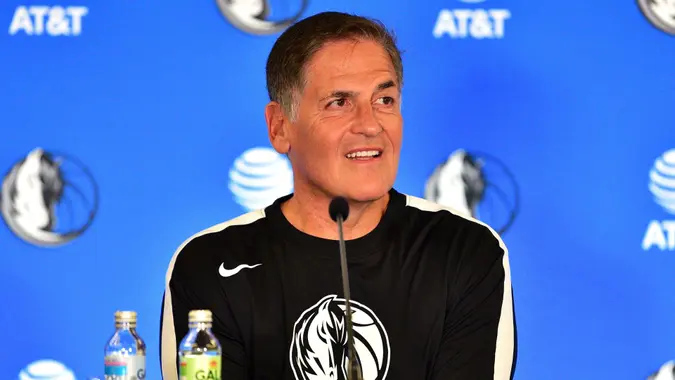 Igor Kupljenik / MI-PRESS / Shutterstock.com
Mark Cuban is well-known as the outspoken owner of the Dallas Mavericks, as a tech guru, and as a shark on the popular TV show "Shark Tank." Because of his reputation, Cuban is constantly asked for his advice on various business matters.
One of his most notable interviews, particularly for those interested in learning about the evolution of Cuban's careerpath, was on the podcast "Bio Eats World" on June 13, 2023. Here are some helpful insights from the conversation that helped Cuban become who he is today.
How Did Cuban Get His Start?
In his own words, Cuban got his start in the business world when he was just 15 years old. After his dad wouldn't buy him the shoes he wanted, suggesting that he earn the money himself, Cuban began to question what he could do as a young kid to earn some money to get what he wanted.
A friend of his dad's offered him the chance to sell garbage bags door-to-door, so he immediately went to work. From that moment on, he was destined to become an entrepreneur.
What Were the Companies That Made Cuban a Billionaire?
Although Cuban made enough money selling door-to-door to buy the things he wanted as a kid, he began to dream bigger as he got older. The first company he founded, MicroSolutions, was entirely self-funded and ultimately sold to CompuServe for $6 million in 1990.
Just four years later, Cuban and his friend Todd Wagner invested $10,000 into a computer startup known as Cameron Audio Networks. Over time, the pair acquired growing interest in the company, ultimately owning almost the entire business. They changed the name to Broadcast.com and sold the company to Yahoo for $5.7 billion.
Make Your Money Work Better for You
Cuban always believed that owning equity is the key to generating wealth, and he was proven correct with his first two companies. Along the way, Cuban learned some lessons that he wished he had known right at the outset of his career. 
What Does Cuban Wish He Did Differently When He Was Younger?
When asked what he wished he knew when he was younger, Cuban said he wishes someone told him to be nicer when he was on his way to becoming a billionaire in his 30s. Although the laser-focused determination to be "a success" no doubt helped contribute to his wealth, Cuban said he wouldn't want to do business with who he was in his 20s and early 30s. In fact, Cuban feels that if he hadn't learned the skill of "being nice" in time, he might not be a billionaire today — and his businesses might not have succeeded.
Cuban's concept of "being nice" might seem at odds with the image of the hard-driven business person, but there's a lot of evidence that shows he made the right choice. A 2020 Gallup survey noted that workers value four things in their bosses above all others: trust, compassion, stability and hope, making kindness a valuable leadership trait. As Caitlin Duffy, director of research at Gartner, told CNBC's "Make It" program, those traits actually correlate with better business performance as well.
The Bottom Line
Entrepreneurs need to be focused on their businesses in order for them to thrive. But according to billionaire Mark Cuban — and others in the industry — "being nice" isn't just a good thing to do. It can actually drive increased business performance.
Make Your Money Work Better for You
Cuban's business partner once told him that he was "scaring some people" who would ultimately quit, and it seemingly rang a bell in Cuban's head. No business can thrive when its best people quit, so keeping them comfortable and engaged is important. "Being nice" can enhance productivity and success both for individual workers and for a business as a whole, and Cuban is living proof of this. 
More From GOBankingRates