What Men Need To Know About the Wealth Gap and Ways To Take Effective Action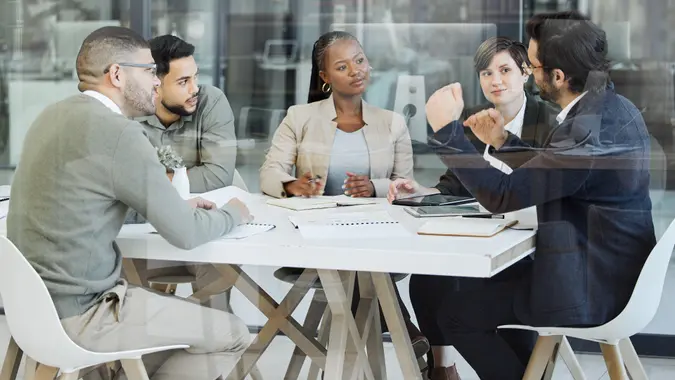 PeopleImages / iStock.com
Though the wealth gap is a fact, with working women earning 84% of what their male counterparts earned in 2021, according to the U.S. Census Bureau, men either don't believe it, or don't know it.
According to a new survey by Monster, 77% of men think men and women are paid the same where they work, while just 24% of women agree. Equal pay isn't the only thing that the wealth gap obstructs for women, either. Let's explore other aspects of financial life around which women face challenges that men generally do not.
Women Have Lower Financial Literacy
Droves of studies suggest that women are less financially literate than men, often because in a heterosexual couple, financial decision making is left to the male in the relationship.
Women Invest Less Than Men
Due to lower financial literacy and higher risk aversion, women do not invest as frequently or ambitiously as men, which is harmful to their financial wellbeing.
Women Are Less Likely to Be A Boss
Women are less likely to be a boss or manager than their male counterparts. According to findings from Zippia, 33.4% of bosses are women and 66.6% of bosses are men.
Women Feel More Pressure at Home
According to a Pew Research Center survey conducted in October 2022, 48% of women feel a great deal of pressure to focus on their responsibilities at home, compared with 35% of employed men. This is more intense with working mothers of children under 18 at home; 67% of them answered the same, compared with 45% of working fathers.
Make Your Money Work Better for You
So what can men do with this information? Here are some actionable tips from Melanie R. Savelli, PhD, founder of empowerHERcareer.
Acknowledge the Gender Pay Gap: "The pay gap is not a myth or a made-up issue. It's a real problem that affects women in various industries and at all levels of seniority."
Understand the Root Causes: "The gender pay gap is caused by various factors, including discrimination, unconscious bias, lack of mentorship and sponsorship opportunities, and women's disproportionate responsibility for caregiving and domestic work."
Take an Active Role in Promoting Pay Equity: "Men can become advocates for pay equity by advocating for equal pay policies, sponsoring women for promotions, and working with HR to close pay gaps in their organizations."
Recognize the Impact of Intersectionality: "Women who belong to marginalized groups (such as women of color, LGBTQ+ women, and women with disabilities) experience a more significant wealth gap due to systemic oppression."
Support Women's Career Advancement: "Men can help women advance in their careers by offering mentorship, sponsorship and networking opportunities. They can also help women negotiate salaries and promotions."
Challenge Gender Stereotypes: "Men can challenge gender stereotypes that limit women's career choices and reinforce gender norms that keep women in low-paying and undervalued jobs."
Encourage Work-Life Balance: "Men can advocate for family-friendly policies and flexible work arrangements that allow women to balance work and family responsibilities."
Address Sexual Harassment and Gender Discrimination: "Men can help create safe and inclusive work environments by calling out and addressing sexual harassment and gender discrimination when they witness it."
Recognize the Value of Women's Work: "Men can advocate for better pay and recognition for women who work in undervalued fields such as caregiving, education and social work."
Become an Ally: "Men can become allies to women by listening to their experiences, amplifying their voices and working together to create a more equitable and just society."
More From GOBankingRates